10 Great Beaches You Must visit in Maldives
Last Updated On November 04, 2021
The Maldives, a series of 1,200 islands which is situated in the Indian Ocean, is one of the world's most calm, romantic, and breathtakingly beautiful locations. The Maldives beaches, many of which are white-sand beaches as known as perfect vacation paradises for visitors.
Top 10 Beaches on Maldives Island
1. Baros Beach
The Maldives' Baros Island is surrounded by crystal-clear waters and a coral reef and is covered with white sand. The beach is one of the nicest lagoons in the Maldives and is a popular destination for couples wishing to relax, unwind, and chill out. Guests in Baros Beach can stay in a hotel with a spectacular view of the beach. You can stay at the hotel as a guest on the private island to appreciate and experience the tranquil scenery at Baros beach.
How to get Baros Beach
On the island of Baros, there is a private beach. You must take a 25-minute hotel boat journey from Male International Airport to Baros Beach.
Popular activities in Baros Beach:
Reef snorkeling is a popular activity for visitors to Baros Beach.

2. Veligandu Island Beach
In the Maldives, Veligandu Island is a small, charming beach with a resort and spa. As a tourist on the island, you'll find villas over water, soft sand, and a long-stretching sandbar. Only Veligandu Island Resort & Spa guests have access to the expansive beach. And there's enough room on the beach to make you feel like you're on your private beach.
How to get to Veligandu Beach?
Apart from staying at the resort, the best and most cost-effective way to get to the beaches on Veligandu Island is to take a government ferry to Rasdhoo Island and then hire a local to take you by boat to the island.
Popular activities in Veligandu Beach:
As a Veligandu beach visitor, you can participate in exciting activities such as snorkeling, swimming in the crystal clear water, and strolling along the beach.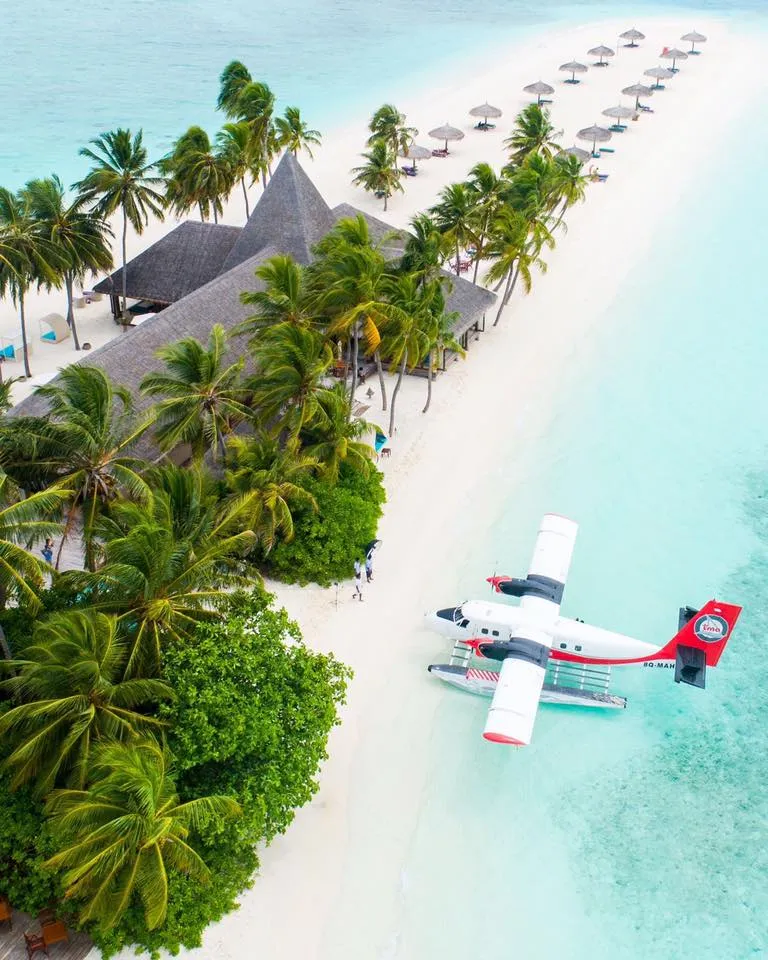 3. Kanuhura Island Beach
Kanuhura is a natural wonderland known for its wide sandy beaches that wrap around the island, amazing turquoise lagoons, and lush green vegetation. With two private islands available only to resort guests,
How to get to Kanuhura Island?
Kanuhura is a whale-shaped island in the Lhaviyani Atoll, 30 minutes via seaplane from Malé International Airport, and is surrounded by popular dove locations. Families, couples, and lone travelers will enjoy this because it has top-notch cuisine and excellent beaches.
Popular activities in Kanuhura Beach :
Although there isn't as much snorkeling here, the large, white, gently sloping beaches are ideal.
4. Thulusdo Island Beach
Thulusdhoo, the capital of the Kaafu Atoll, is a Maldivian surfing paradise. While most of the Maldives' islands are home to luxurious resorts, there are a few local hotspots, such as Thulusdhoo, where tourists may experience the authentic culture of this idyllic archipelago. Take an inexpensive hour-and-a-half ferry ride from Malé to Thulusdhoo. On the island, there is a range of hotels to suit all budgets. Tourist Beach is ideal for sunbathing, whereas Cokes Beach is ideal for skilled surfers looking for tremendous swells.
How to get to Thulusdo Island?
The capital of the Kaafu Atoll, this tropical island is approximately 28 kilometers north of Male. We can reach this island by taking a scheduled speedboat journey from the airport, which takes only 25 minutes and runs every day (except Friday). You can also travel around by taking a local ferry to Thulusdhoo.
Popular activities in Thulusdo Beach
Local sports, surfing, sandbank visits, snorkeling safaris, night fishing, and scuba diving are among the recreational activities at Thulusdhoo Island Beach.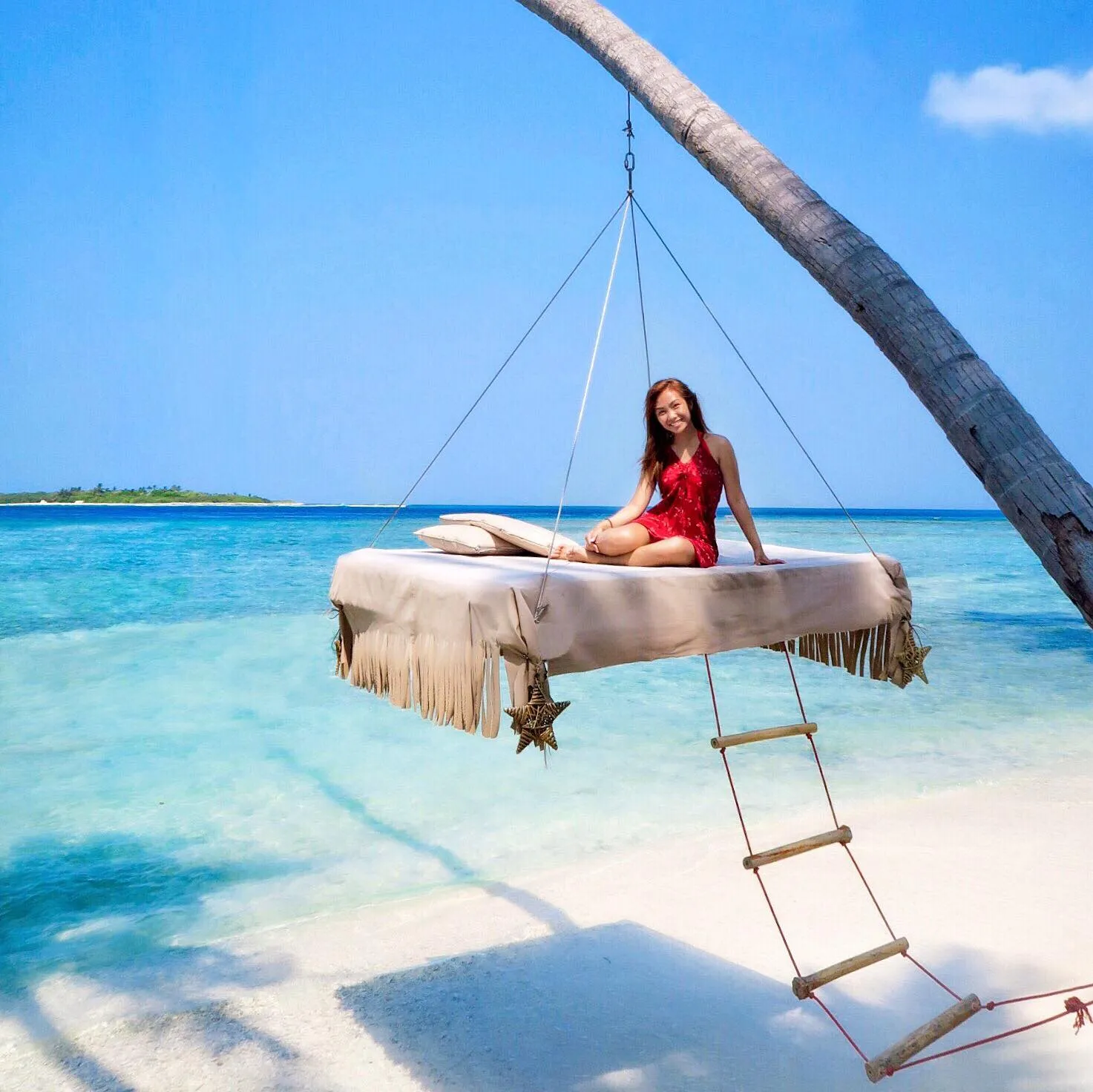 5. Reethi Beach
Reethi Beach has a hotel resort and is one of the Maldives' most remote beaches. You can only use the beach if you are a guest. The Reethi Rah beach, which spans three and a half kilometers along the coast, offers 12 quiet and breathtakingly stunning sections of sand. If you want to spend the day in the sun, the island has its time zone (one hour ahead of Malé) and offers beach loungers.
How to get to Reethi Island?
The Reethi Beach is a luxury beach and one of the most luxurious places in the Maldives. It is located in the Baa Atoll on a small island.
From Male, you can take a seaplane to Reethi Beach. It will take around 35 minutes to complete this excursion.
Popular activities in Reethi Beach
At Reethi Beach, There are many things to do. You may walk around Reethi Beach, go on special tours, or rest at the resort's spa and wellness center to learn more about it.
6. Hulhumale Island Beach
The Hulhumale beach is on Kaafu Atoll, which is in Male Atoll's northern part. It's one of the best Maldivian beaches you can visit and enjoy without breaking your wallet. Also, this beach is one of the Maldives' most accessible beaches.
How to get to Hulhumale Beach?
This beach is only a 2-kilometer drive from Male International Airport, and it takes 10 minutes to get there by car.
Popular activities in Hulhumale Beach
You can enjoy a variety of engaging activities at Hulhumale Beach, including paddleboarding, group snorkeling, scuba diving, and seeing the changing colors in the sky throughout the sunset on a Sunset Cruise.
7. Dhigurah Island Beach
The Dhigurah island has one of the quiet beaches where you may swim with whale sharks and dive with them. Whale shark sightings and diving are on these beaches (there is a dive center). While walking around Dhigurah island, you can quickly discover hotels and inexpensive cafés. You'll also find gathering sites for several fish species and sea turtles if you look around the water that surrounds the sugar-sand beach.
How to get to Dhigurah Island?
The stunning beach is found in the South Ari Atoll and is considered one of the greatest in the Maldives. The Maldives' Dhigurah island is located in the South Ari Atoll, around 60 miles from Male.
Popular activities in Dhigurah Beach
There are many activities to enjoy on the Island; you should try diving, swimming, walking along the beach, and visiting local eateries while at Dhigurah beach.
8. Taj Exotica Beach
The Taj Exotica beach, dubbed "South Male's treasure," is located near the international airport in the South Male Atoll. The beach is known for its friendly service and breathtaking scenery.
How to get to Taj Exotica Beach?
The Taj Exotica Beach is near the International Airport on the South Male Atoll. You can take a hotel boat trip from Male International Airport to the Taj Exotica beach.
Popular activities in Taj Exotica Beach
Scuba diving and viewing animals while roaming around the Taj Exotica beach are two of the activities available.
9. Omadhoo Island Beach
Omadhoo island is one of the peaceful and beautiful beaches that you can find in the Maldives. It's located in the South Ari Atoll and has a lovely white sand beach with turquoise water. The beaches on Omadhoo Island are immaculate, with a long sandbank that slices through the crystal-clear ocean. A reef home surrounds the shores of a variety of fish, whale sharks, and turtles. With roughly 800 residents, the native community on Omadhoo island gives the area a Maldivian atmosphere. If you want to learn about the local culture in the Maldives, this is the place to go.
How to get to Omadhoo island?
Omadhoo Island Beach is located in the South Ari Atoll, about 70 kilometers from Male, the capital. From Malé, you can take a scheduled speedboat or a slow ferry to Omadhoo. The journey may take roughly 4.5 hours.
Popular activities in Omadhoo Island Beach
You can enjoy enjoyable activities like snorkeling, Robinson Crusoe, scuba diving, and resort visits as an Omadhoo Island Beach guest.
10. Bikini Beach
Bikini beach is a beautiful beach in the Maldives which is most accessible, and it IS budget-friendly! Bikini Beach is the Maldives' official bikini beach, where you're allowed to wear bikinis and display your body, as the name implies.
The Island is located on Rasdhoo Island and provides spectacular views of the beach, surrounded by green palm trees and comfortable sunbeds.
How to get to Bikini Beach?
Bikini Beach is one of the few beaches in the Maldives where you can wear a bikini. It is located on Rasdhoo Island. From the airport, you must take a 1-hour speedboat ferry ride to Bikini Beach.
Popular activities in Bikini Beach
Sultan Park, Gunbaru Beach, and the National Museum are among the tourist sites around Bikini Beach that you can visit. Swimming, snorkeling, and wading are just a few of the activities available at Bikini Beach.