10 Most Beautiful Beaches in Thailand
Last Updated On June 25, 2022
Thailand is well known for its bright white sandy beaches and visually stunning, clear blue seas. Thailand's southernmost coast is a beachgoer's paradise. It offers visitors a wide variety of beaches to choose from, including quiet, secluded coves and stretches of sand filled with wild partying tourists. If you are looking for peaceful serenity, stroll the beaches overlooking the towering limestone monoliths and caves in the green water, you can head on over to Krabi Province. Phuket Island is also famous for its active beach scene. With this list of the best beaches in Thailand, you can find what you're looking for.
1. Railay Beach
Railay Beach, one of Krabi's numerous beautiful beaches, is exceptionally picturesque. Because it is located on a narrow peninsula, it can only be reached by longtail boat, but it is well worth the effort. This little pocket of white-sand paradise is incredibly stunning, with the glittering waters of the Andaman Sea to one side and spectacular jagged rocks to the other. The Railay beach is not only one beach; it is a combination of several beaches within proximity. The beach itself is relaxed and peaceful; not many tourists come here as you cannot drive to the beach. This stretch of coast is ideal for mixing typical beach time with island exploring. There are some luxury accommodations, which means you can spend the day relaxing on the gorgeous white beaches and then spend the evening relaxing with the lush gardens, elaborate pools, and views of the beach even when you return to your hotel to unwind.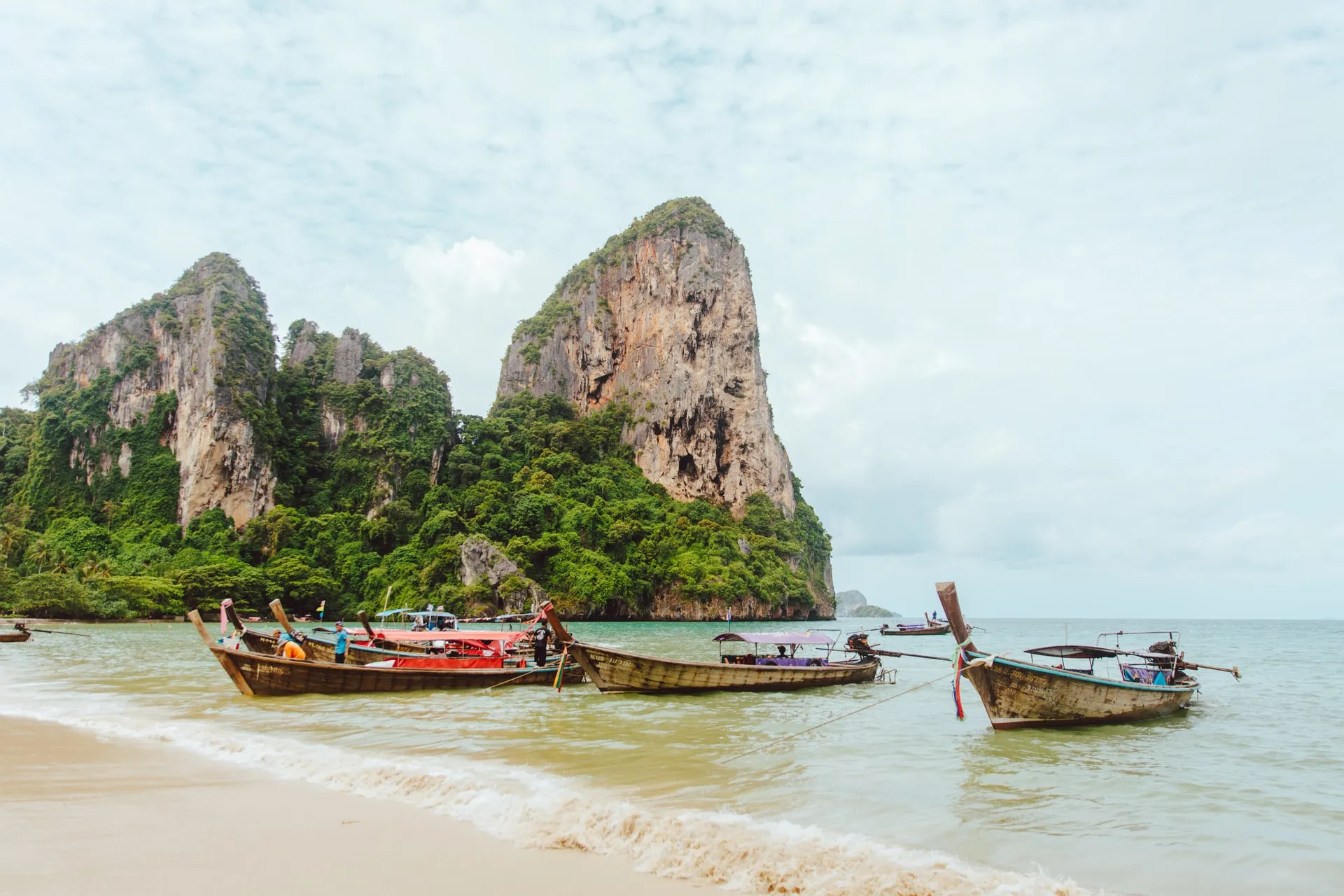 2. Nai Harn Beach, Phuket
With its crystal-clear blue water, bright white sand, and friendly waves are not overbearing when swimming, and the Nai Harn Beach is still one of the most popular beaches in Phuket, Thailand. The stable climate and weather conditions that make it appropriate for year-round visits are the key reasons this beach receives international prominence. Nearby restaurants and local food vendors make the beach a nice place to relax and enjoy a full day at the beach. You can find Numerous resorts within walking distance of the beach.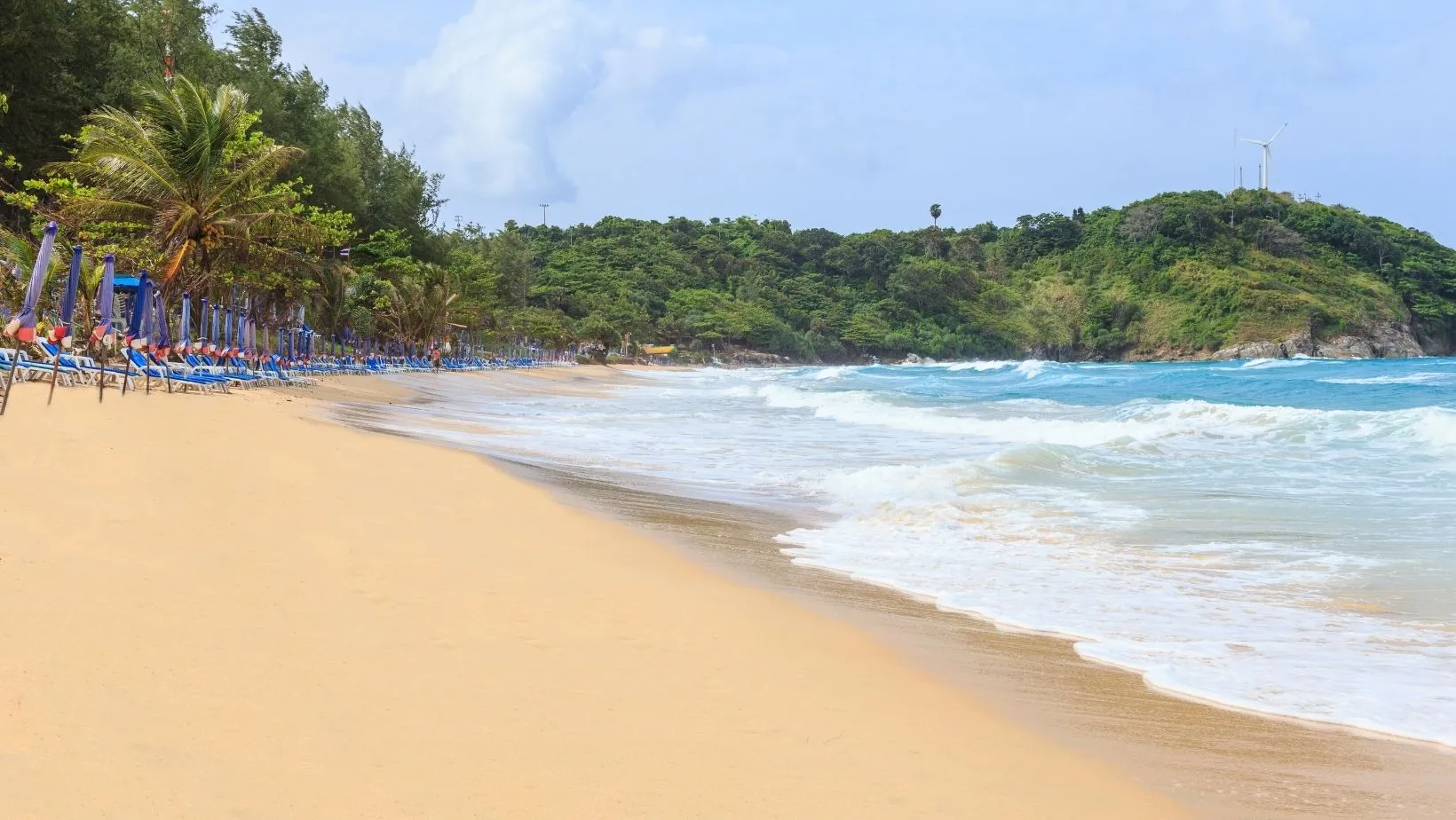 3. Haad Rin, Koh Phangan
Haad Rin Beach, located on the small island of Koh Phangan, is world-famous for its Full Moon Party. Approximately 30,000 visitors coming to the parties a relaxing sunbathe on the beach is a thing of the past. The beach is lined with massive sound systems and crowded with partyers during this popular event. Because the Full Moon Parties have become popular among tourists, half-moon and quarter moon parties are taking place, making this the island's party capital. In addition to this most popular event, parties are held practically every night on the beaches and streets of Haad Rin. The beach is also well known for spontaneous volleyball games, swimming, and water sports like jet skiing and kayaking. As the Haad Rin is located on a narrow peninsula, visitors are gifted with both stunning sunsets and sunrises views over the sea.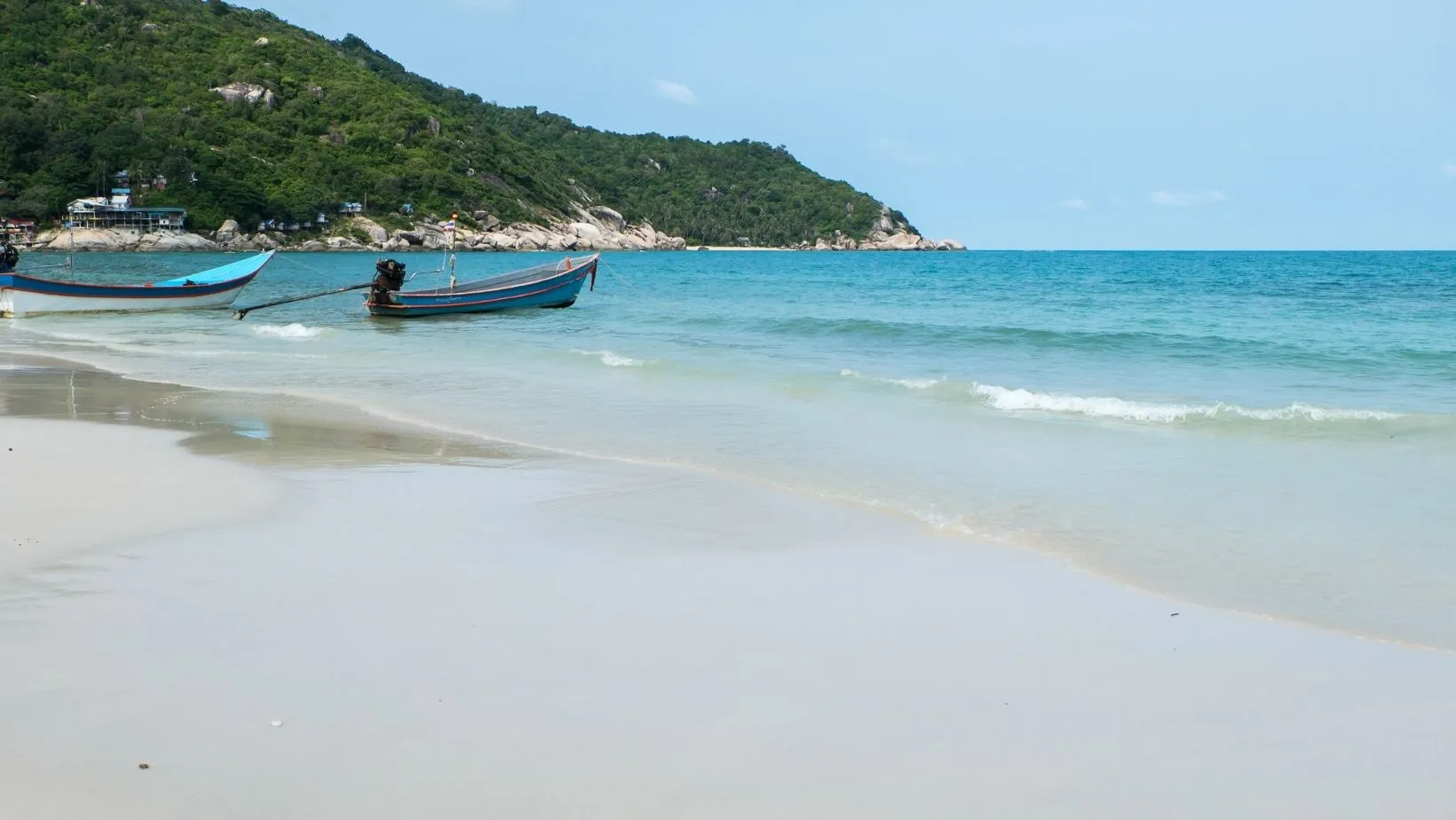 4. Phra Nang Cave Beach, Krabi Province
Phra Nang Beach, located in the Krabi Province in southern Thailand, is often ranked among the most beautiful beaches globally. Characterized by outcroppings of cliffs famous for rock climbing, the shallow water combined with beautiful white sands, this beach makes it a favorite stop for tourists and families looking for safer waters to swim in. Add coral reefs, sea caves, and a sprinkling of food and drink vendors, and it's a veritable tropical beach haven. If you want to learn how to climb these rocks, there are several teachers in the vicinity who will literally show you the ropes. May and October are the best times to visit for decent weather and fewer crowds. The high season is November through April. You can reach the beach by a longtail boat from Ao Nang.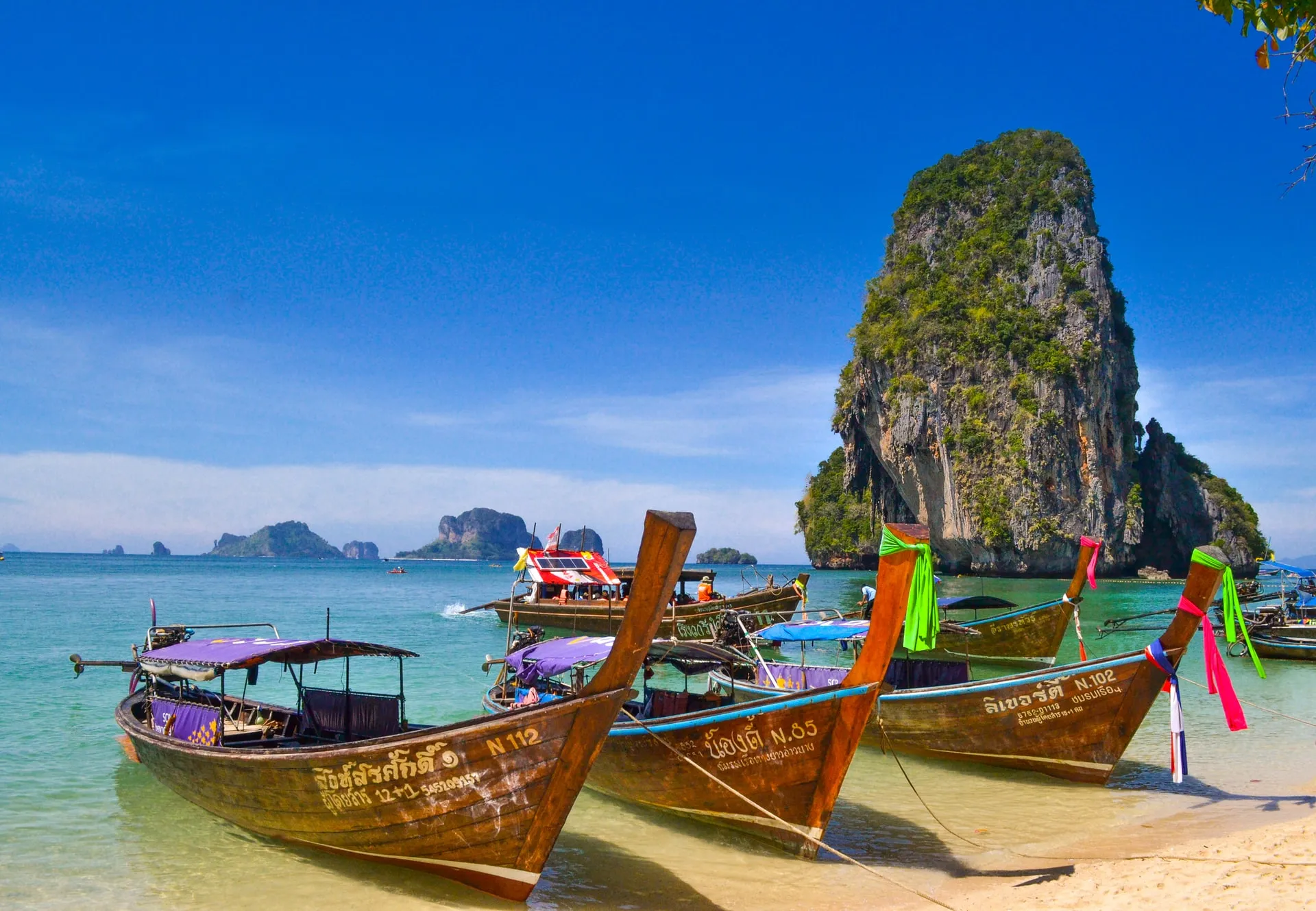 5. Maya Bay, Koh Phi Phi
Maya Bay on Koh Phi Phi, one of the world's most beautiful islands, is encircled nearly entirely by massive limestone monoliths. This gorgeous site s now famous for being the location of Leonardo DiCaprio's film "The Beach." The beach features silky soft sand, undersea coral, clear water, and unusual fish; the phrase paradise simply does not do this beach justice–snorkeling is a favorite activity here. visitors must pay a 200 baht entrance charge because Phi Phi Leh is a national park. Accommodation can be found on the more prominent Ko Phi Phi Don, which is just as stunning. The best time to visit Maya Bay is between November and April to avoid the unpredictable weather that can hit these parts of Thailand.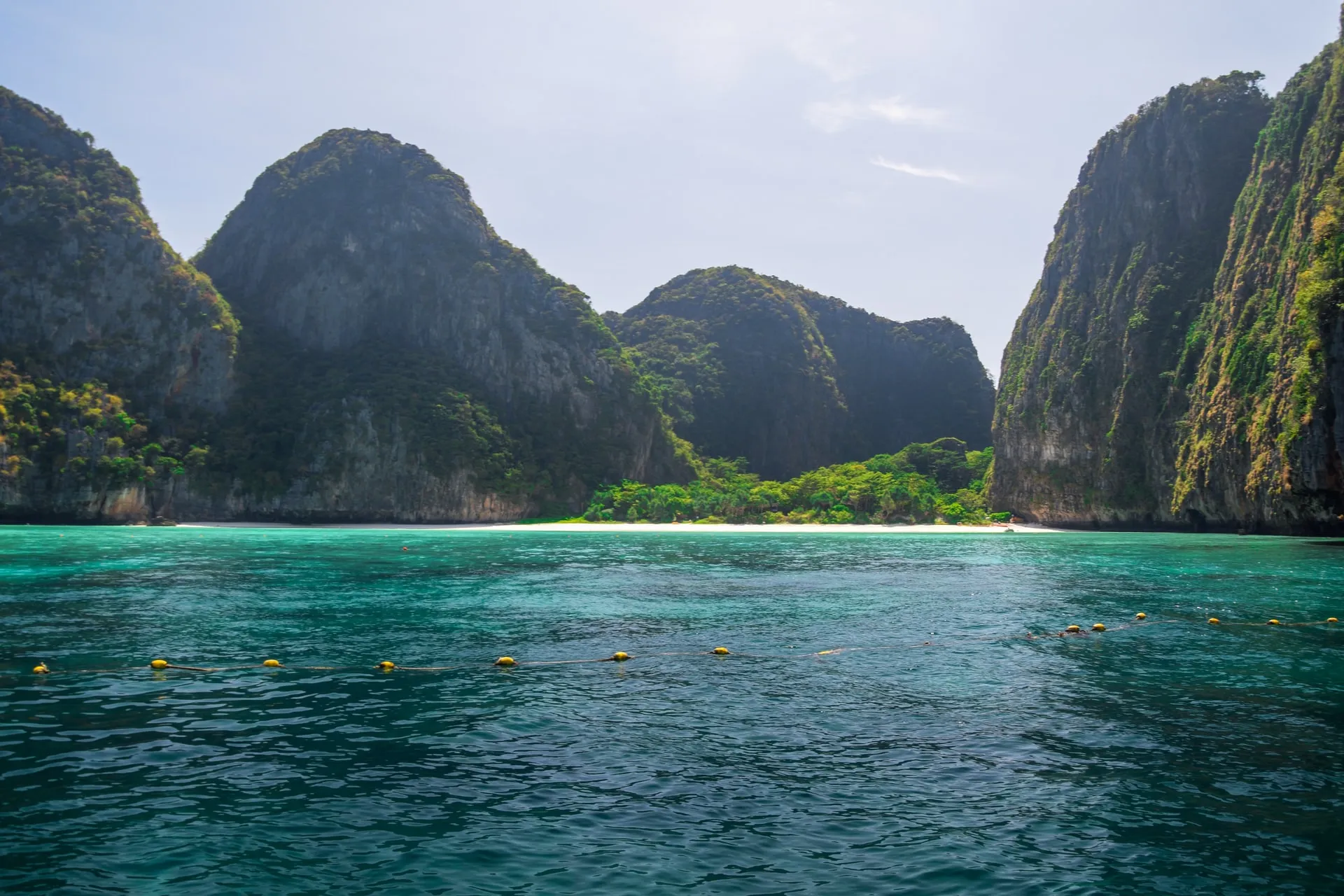 6. Pattaya Beach
This is another famous tourist beach on Thailand's Gulf coast, about an hour from Bangkok. The specialty of the beach, there is a hillside temple that sits above the sand. Once the area was a fishing village, but now it is with resorts and shopping malls. Pattaya Beach is well known for water sports like parasailing or Jet Skis that you will not find on smaller beaches. Pattaya Beach can be crowded at times due to its proximity to Bangkok, but it is still great if you prefer wandering along the crescent beachfront or promenade area. March to May is the best time to visit Pattaya beach when the weather is typically acceptable.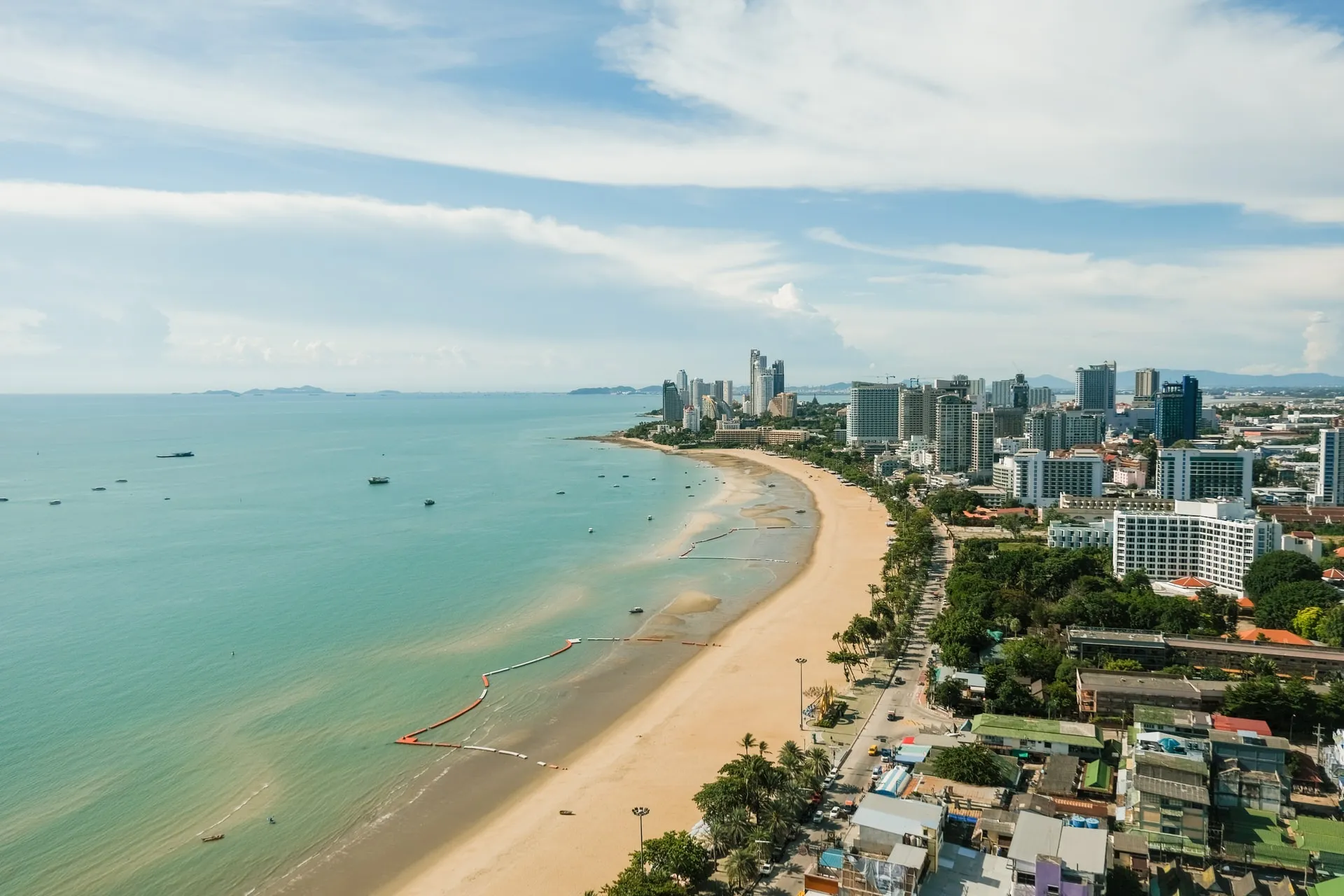 7. Chaweng Noi Beach, Koh Samui
Chaweng Beach is where Koh Samui comes to life. It is the biggest and most famous town on the island and has possibly the most beautiful beach. This beach is ideal for a day of relaxation away from the crowd due to its shallow water, calm surf, and peaceful coastline. In addition, the beach also provides opportunities for enjoyable nightlife with plenty of bars and restaurants to keep everyone entertained. You can take your lunch from one of the many small beach restaurants with a view of the tranquil blue ocean and taste some local food items from the local vendors. You can find some resorts with luxury facilities on the beach. If you travel between late December and April, you will get the most fabulous beach weather on the island.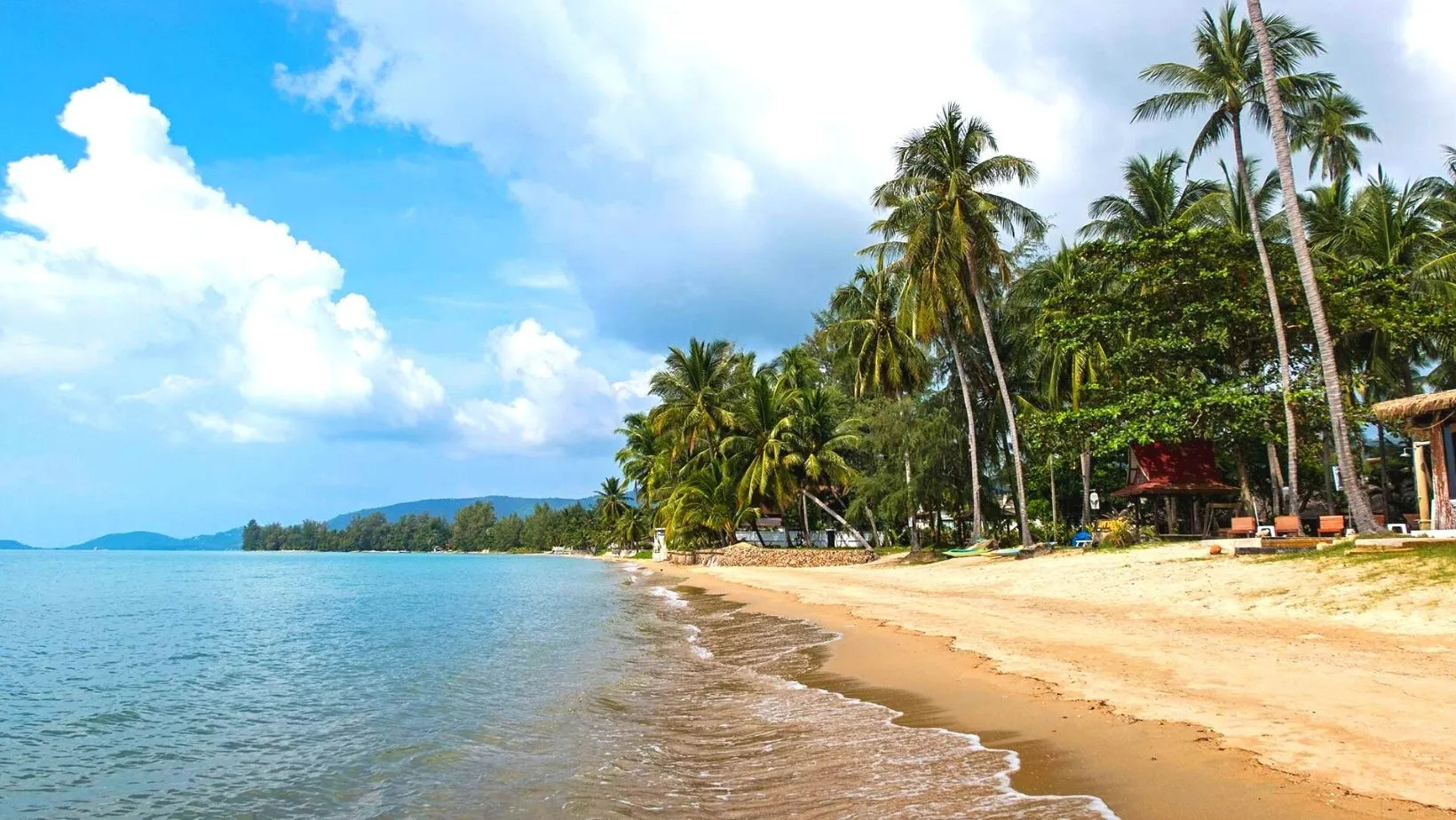 8. Freedom Beach, Phuket
Freedom Beach, Phuket's ultimate beauty, is a fantastic area to relax and snorkel in the clear sea. Because it is difficult to reach by land, you need to take a longtail boat from Patong. And also, you'll need to pay a small entrance fee, but those who do make an effort are rewarded by a 300m (984ft) stretch of super-soft white sands surrounded by jungle and hills and breathtaking views. Freedom Beach is a typical example of a lovely, untouched beach with a laid-back vibe. The best time to visit here is December through February.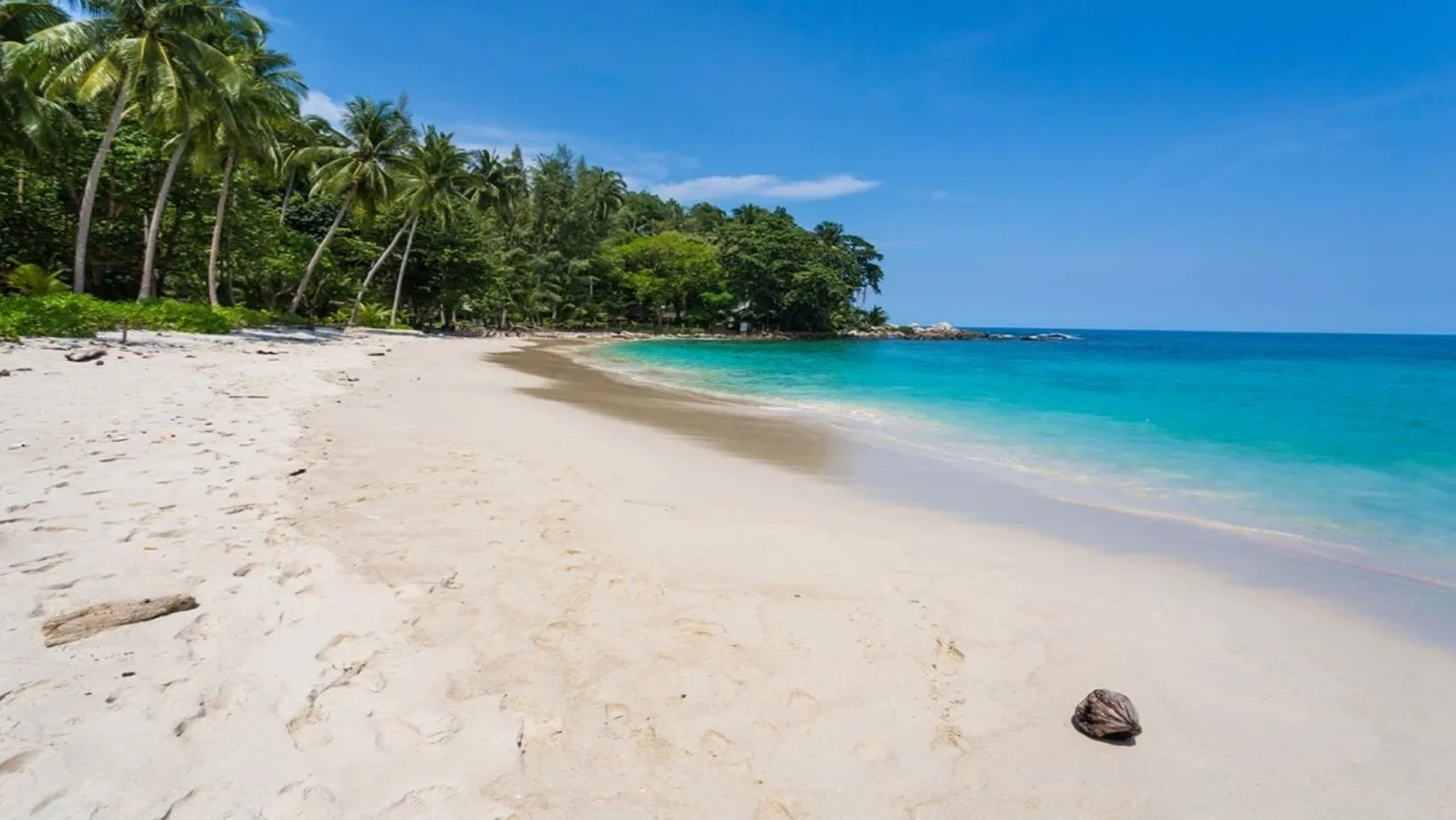 9. Bottle Beach, Koh Phangan
Bottle Beach is sitting on the opposite end of the Koh Phangan, where all the full-moon parties occur. It's wild and gorgeous in its natural state. On the other hand, this beach can be practically isolated and tranquil at times. The beach is nestled in its cove, and there are only four bungalows here, making it very private. A couple of restaurants dotted around that serve freshly caught fish and southern Thai cuisine at affordable prices. Bottle Beach can get crowded during peak season, but for a good reason. The easiest way to get here is taking a long tail boat from Chaloklum, but you can also walk through the jungle following a trail.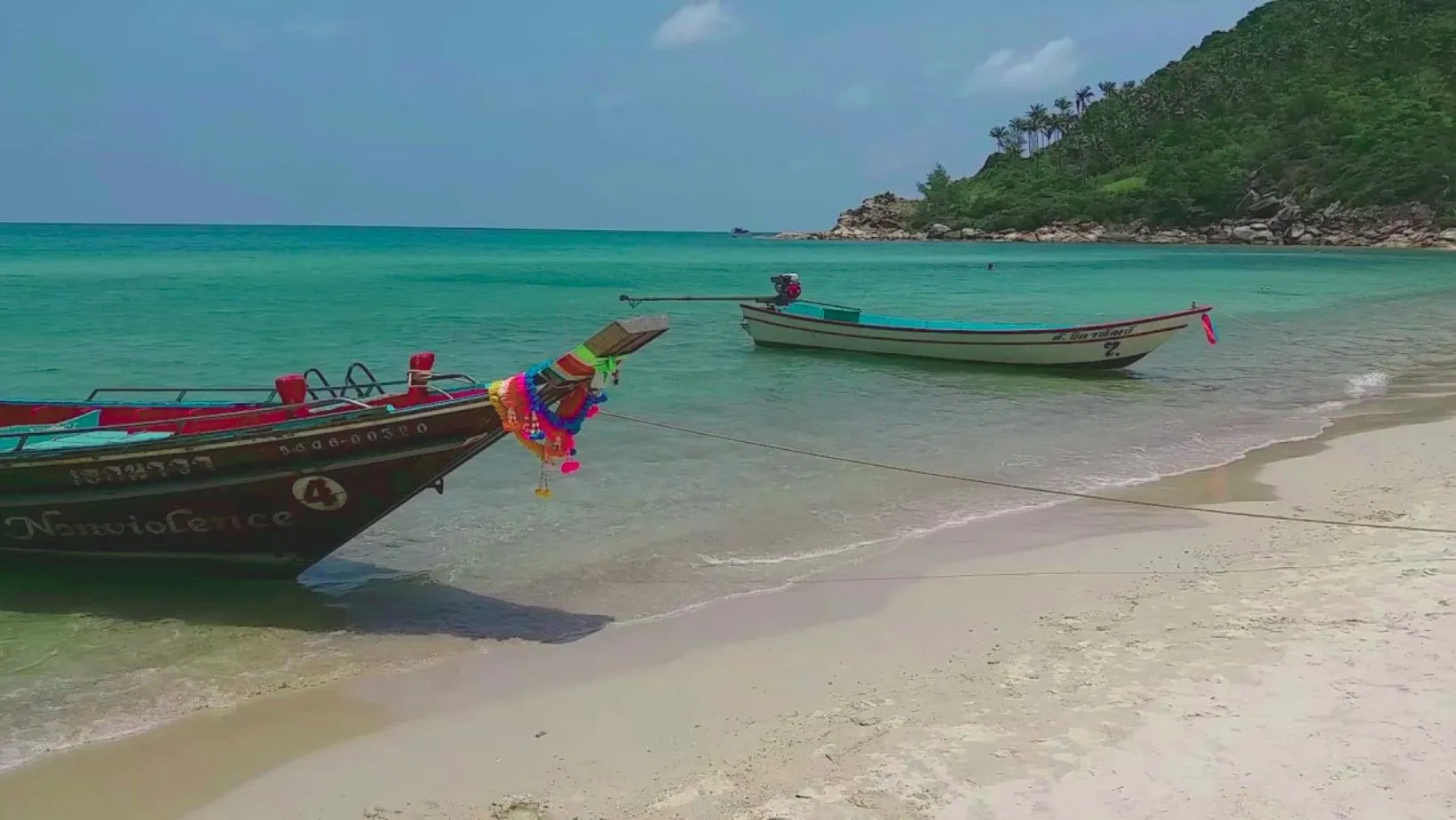 10. Sairee Beach, Ko Tao
Sairee Beach is the longest beach on the island of Koh Tao, also sometimes referred to as Turtle Island. It is approximately one mile long and popular for snorkeling and scuba diving. Surrounding the beach are some lush green hills and plenty of coconut trees. The long, narrow beach is also great for walking, with unobstructed sunrise and sunset views, which is a famous beach for photographers. Despite its low-key nature, this region is home to several nightclubs and bars. You may get to the beautiful island of Ko Tao by plane or by ferry.