Best Beaches In Turkey
Last Updated On July 04, 2022
With 7,200 kilometers of coastline, it's no surprise that millions of tourists visit Turkey's beaches each year to soak up a few weeks of sun, sand, and sea. With its ultimate mix of culture, history, and beach bliss, there's something for every type of traveler here, with many beach resorts to choose from. If you like your beach vacation with a dash of city life and plenty of tourist attractions and family-friendly activities, Turkey's beaches are one of the best places to be.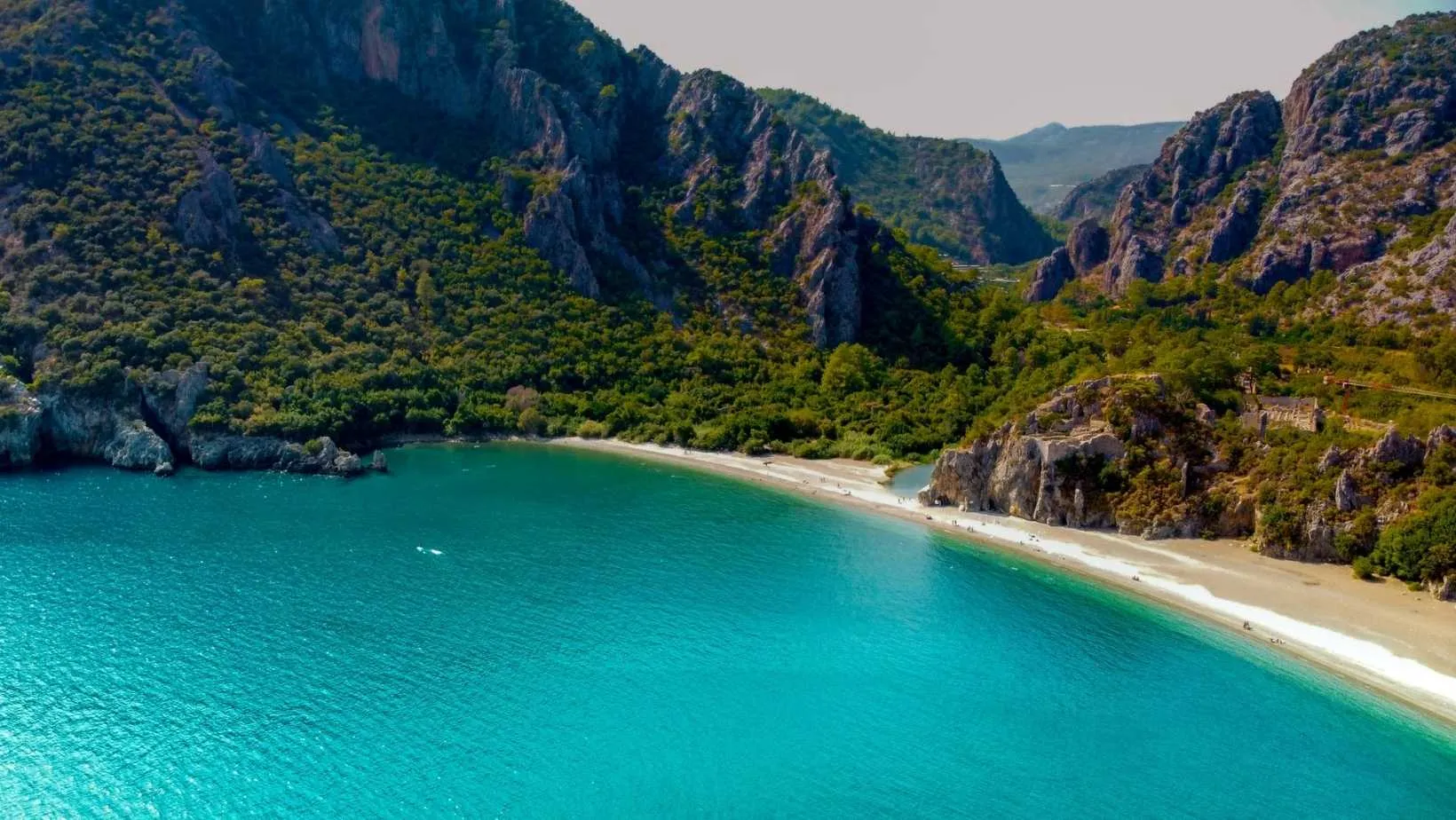 Do you prefer nature and a more relaxed beach experience? In this article, we explained the best beaches that you can choose in Turkey. The peak season for Turkey is in July and August. At this time, hotel prices skyrocket, and the sand on the most popular beaches becomes overcrowded. Avoid the peak season to get a cheap but beautiful experience when traveling.
1. Patara Beach – Gelemiş, Lycia, Turkey
Patara is the longest beach in Turkey 18 kilometers long. This beach is also a part of a national park. Thus, the local birdlife is thriving, and the beach is a loggerhead turtle breeding ground. As a result, the beach has little to no development, and you can easily find a lovely spot to enjoy it in private.
Things to Do in Patara Beach
The waters here are warm and shallow, making them ideal for long walks in the sand, sunbathing, and swimming during your villa holiday in Turkey. Patara is off-limits to humans after sunset, giving the turtles free reign of the sand.
How to get to Patara Beach
By plane - Fly to Dalaman or Antalya airport. After passing Kalkan, there is the Antalya-Fethiye Road, where you will find a path to Patara. Take the road, and after six kilometers, you are in the residential area near Patara beach.
Patara Beach was named after the nearby ancient Lycian city of Patara. You must pass through the ruins to get to the beach, but you may pay a small admission fee at the entrance. The ruins of old temples, streets, and arches provide the perfect backdrop for this picturesque stretch of coastline and the sparkling Mediterranean Sea.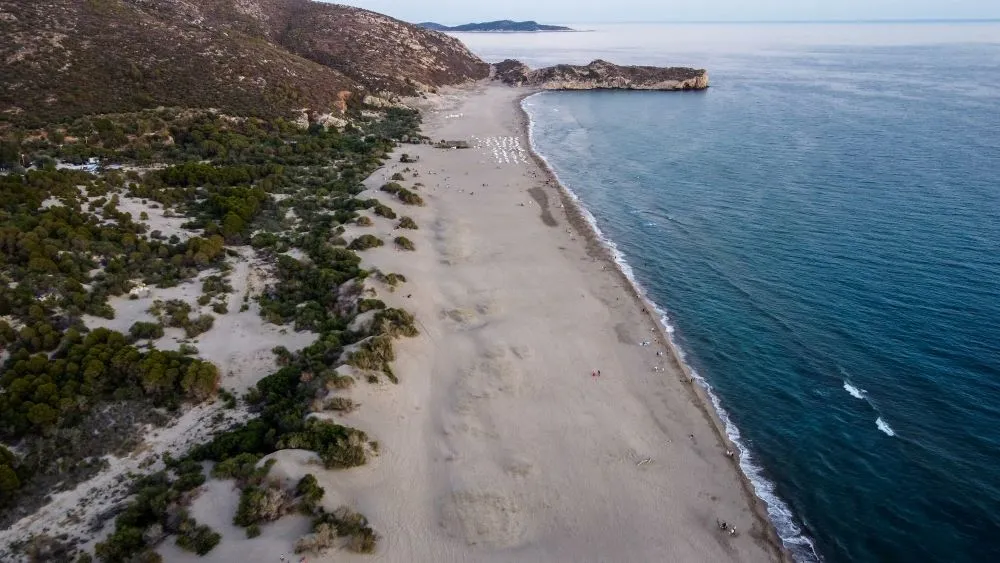 2. Kaputaş Beach – Kas
The best match beach for the title of 'Most Beautiful Beaches in Turkey' is Kaputas Beach. Kaputaş Beach is a tiny bay on the main coastal road between the harbor towns of Kalkan and Kaş on Turkey's Mediterranean Coast.
Things to Do in Kaputas Beach
Swimming and snorkeling in the lovely turquoise waters can be enjoyed while sitting on the white beach. If you're coming with children, you can let them play in the shallows while enjoying the modern amenities that have just been added to Kaputas Beach. While popular with both locals and tourists, you won't find too many people here during your luxury villa vacation in Turkey. There are usually just enough people to keep the beach cafés open.
Kalkan is only a seven-kilometer hop to the west, so it's another good place to visit.
How to get to Kaputas Beach
The stunning beach is set beneath two forested cliffs at the mouth of Kaputas Canyon. To get here, you must either walk down the long, 200-step staircase from the coastal highway above or arrive by boat from Kalkan or Kaş. Kaputaş is most striking when seen from the sea, making boat trips here the preferable way to arrive. But if you choose the road to arrive here, don't forget to stop and marvel at the view from above and take a photograph to memorize it forever.
3. Butterfly Valley Beach – Faralya, Fethiye
This breathtaking beach is located in Butterfly Valley, where over 80 species of butterflies come to lay their eggs. Please make a point of climbing the hill at the top of this beach to photograph it. However, be cautious because the hiking trail is not well-maintained. The beach is difficult to reach from the hills.
The most convenient option is to charter a boat from Lüdeniz Beach to Kelebekler Vadisi Beach and spends a few minutes or hours there. During your stay, make time to visit Lüdeniz Beach, which is a 15-minute drive from Kelebekler Vadisi.
How to Get Butterfly Valley Beach
Book your flights to Dalaman Airport or Antalya Airport. Book a boat in Ölüdeniz to explore this beautiful beach because this beach is difficult to access by land.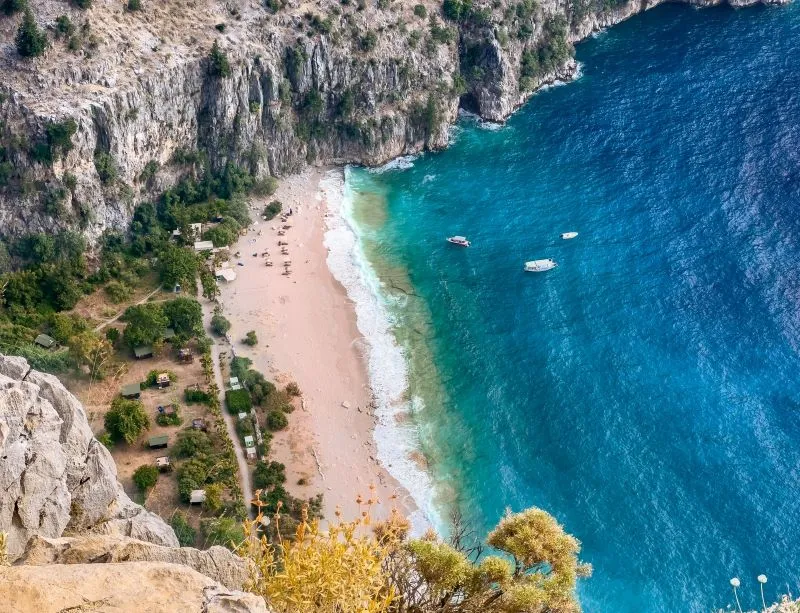 4. Cirali Beach – Kemer
Cirali beach is a beautiful and quiet beach among Turkey's best beaches. Although it is less popular than some other beaches, it is popular with visitors seeking peace. Even during the peak season, this beach is a tranquil haven for those seeking relaxation of their minds, idleness, and recharging amid nature. Since Cirali is a small village in the middle of a natural park, you can't find large hotels and structures here. Rather than a large hotel in Cirali, you can see tiny but beautiful guest houses and hotels for an addable price.
Things to Do in Cirali Beach
Rather than the everyday beach activities, if you want to go beyond the sand, the ruins of the ancient Lycian city of Olympos can be found on the far southern end of the beach. You can hike up Mt. Olympos in the evening to see the famed eternal flame.
If you're interested, there is a camping area close to the seashore.
How to Get Cirali Beach
You can go to Cirali in an hour from Antalya by car. Else you can take a bus too.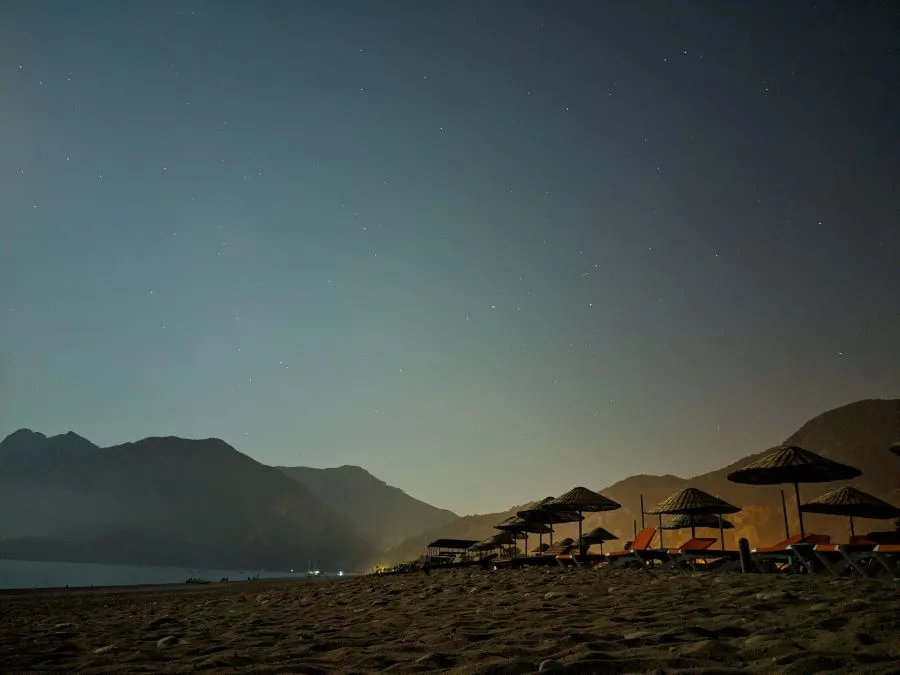 5. Kabak Beach - Faralya, Fethiye
This magnificent beach is less crowded than some other Turkish beaches. Most visitors are Turkish families who have come to enjoy their lives a little. Surprisingly, there appears to be a small group who like to meet on this paradisiacal beach at any time of year. This beach attracts diverse people who all share a passion for nature and beautiful scenery. During your stay, be sure to visit Ölüdeniz Beach. Located 30 minutes by car, it is also ranked among the most beautiful beaches in Turkey.
How to Get Kabak Beach
Book your flights to Dalaman Airport, and in Dalaman, you can take a shuttle bus from the small airport to Fethiye. Then take a minibus from Fethiye to Kabak, and you can access the beach. Access to this beach is difficult and requires agility, so we do not recommend it for travelers with mobility issues or families with small children.