Devon Falls
Last Updated On December 23, 2021
Devon Falls is one of the stunning waterfalls located in the hill country of Sri Lanka that cascade from various corners of Hatton and Nuwara Eliya. Positioned as a tiered cascade that goes through three drops in total, Devon Falls covers a downward distance of 97 meters (318 ft) before kissing the rocky surface beneath, and it is the 19th heights waterfall in Sri Lanka. The waterfall is irrigated by the Kothamale Oya stream, which is a tributary of the Mahaweli river. It got it named after a leading English coffee planter called 'Devon,' where his plantation is situated around the waterfall. Although the waterfall is known as Vail of the valley, it is not familiar among travelers.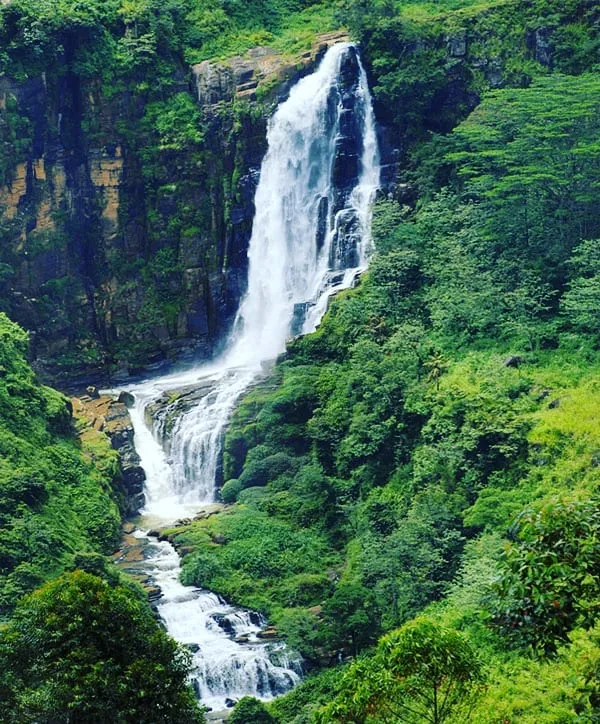 There are various viewpoints to the waterfall. The viewpoint located at the Hatton-Nuwara Eliya road in the Dimbula area is the finest. Because parking is available, almost everyone who travels on this road to Nuwara Eliya stops here and takes a short break. You can drink a fresh cup of tea at the tea center near the viewpoint while enjoying stunning views of the cascade amidst the lush hillside. It will surely amuse your eyes.
There is no clear trail to reach the base of the waterfall. But you can get to the mouth of the waterfall by the foot trail located on Nawalapitiya-Dimbula road.
However, you're not recommended to swim or take a bath near or beneath the fall once you arrive as it is highly dangerous. Close to Devon waterfall, you can see St. Clair waterfall as well.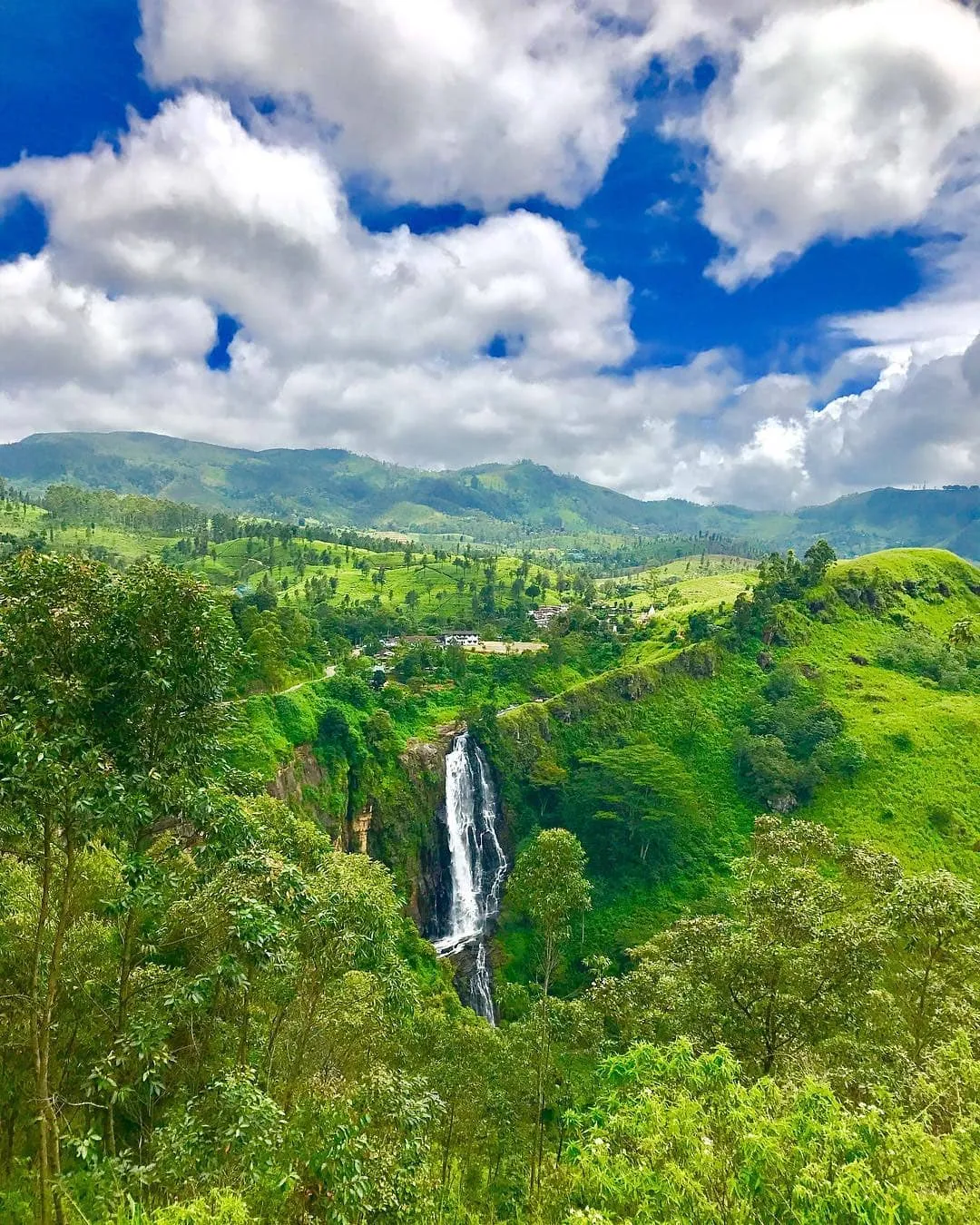 Best time to visit Devon Falls
If you visit there in December through March, you can enjoy a massive amount of water coming down, splashing around in silver color. But at this time of the year, the rainfall in the area is at its highest. But the best time to visit Nuwara Eliya, where the falls are situated, is February to May, when there is less rainfall.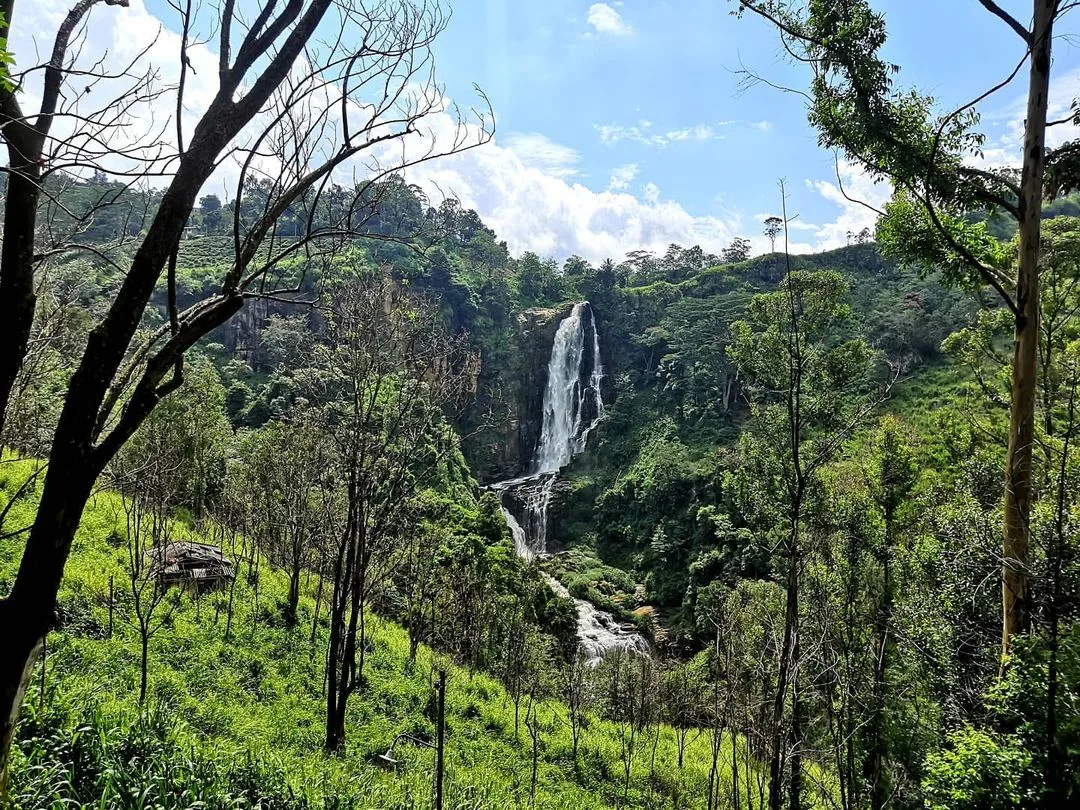 How to get to Devon Waterfall
1. From Colombo
Take the Colombo – Hatton – Nuwara Eliya (A7) highway to Pathana junction. Travel 500 meters further, and the waterfall will be on your left.
2. From Kandy
Take the Gampola road (A5) to Gampola, then continue on the Kandy road (AB13) to Nawalapitiya. Turn left onto the Nawalapitiya – Kotmale road (B317), then right onto the Nawalapitiya – Dimbula road. Turn left at the Pathana crossroads.
If you want to reach to the top of the waterfall, take a left out of Dimbula (before the tea center) and travel 700 meters along the Dimbula – Nawalapitiya Road.