Diamond Beach on Nusa Penida - Most Beautiful Beach in Bali
Last Updated On January 21, 2022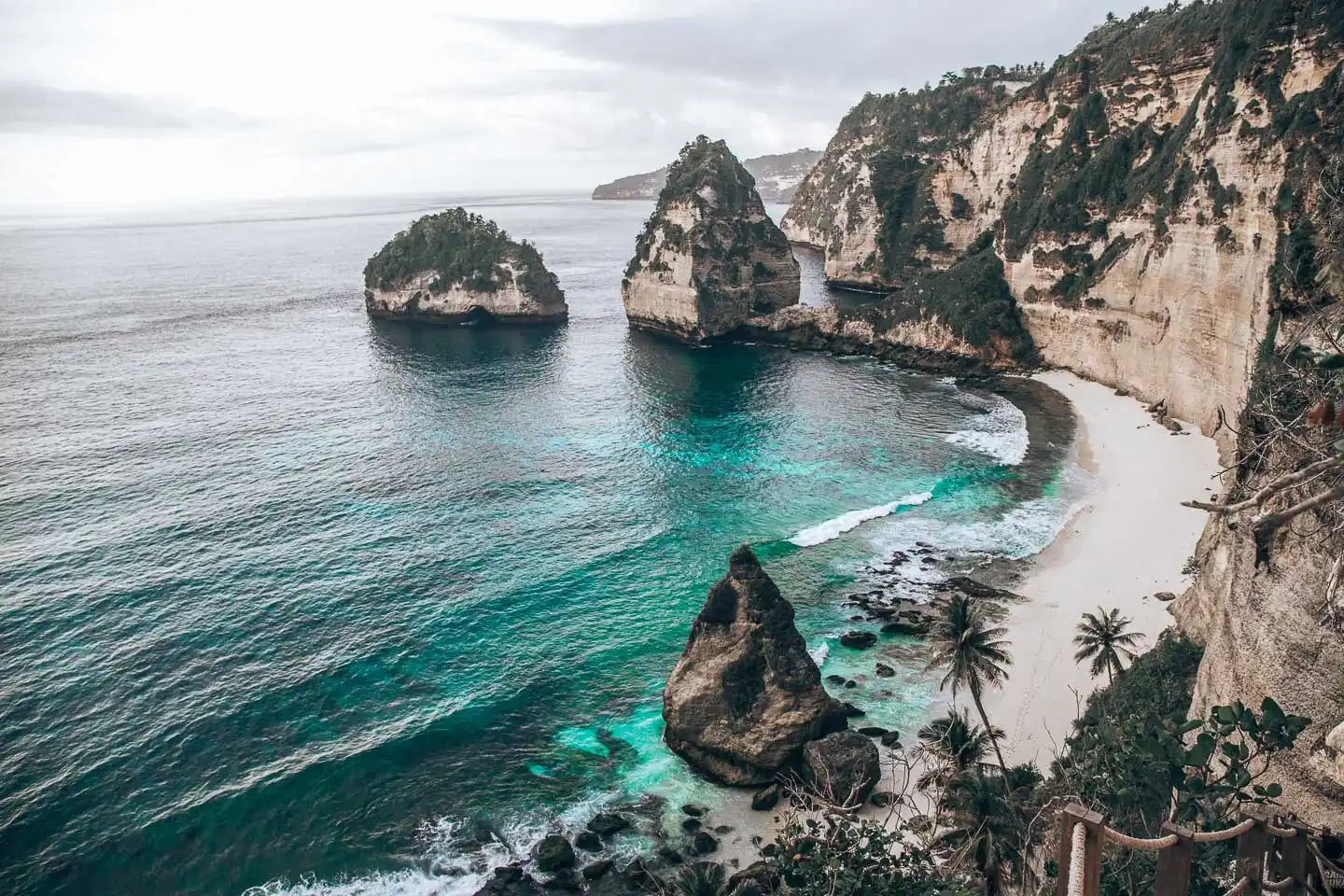 Diamond Beach is a stunning hidden beach located at the bottom of a sheer cliff on the eastern tip of the island of Nusa Penida. Diamond Beach is the next beach over from another Nusa Penida gem known as Atuh Beach. The island of Nusa Penida has risen to fame over the last few years because of the incredible Kelingking Beach.
However, the coastline of the entire island is incredible. There are so many amazing viewpoints from the top of the towering cliffs that look down to those classic blue waters Nusa Penida is famous for.
Many of those cliffs look down onto beaches that are inaccessible and that was exactly the situation at Diamond Beach on Nusa Penida. You would look down from the cliffs at the beautiful beach below. That was until a set of stairs were carved into the side of the cliff is quite an unbelievable fashion. Diamond Beach Bali on Nusa Penida island is to the public. The stairway only takes a few minutes to reach the bottom.
With a long stretch of white sand, palm trees, rock pools, and a glistening turquoise sea, Diamond Beach is the epitome of paradise, and I feel privileged to have been one of the first people to enjoy its untouched beauty.
What you going to know about diamond beach after reading further is as follows,
Diamond Beach Viewpoint
How to Get to Diamond Beach Nusa Penida
Access to Diamond Beach Bali
What To Expect at Diamond Beach Nusa Penida Island
Best Time To Visit Diamond Beach Nusa Penida
Diamond Beach Bali Entrance Fee
Diamond Beach Viewpoint
The view from the top of Diamond Beach is one directly from the postcards. A stunning white beach, silky blue water, limestones, and palm trees are creating a dream destination.
Diamond Beach is without a doubt one of the things you must do in Bali. You can walk up all the way up to a small building where you find a viewpoint overlooking the beach. The viewpoint is an easy 5-minute walk from the parking area.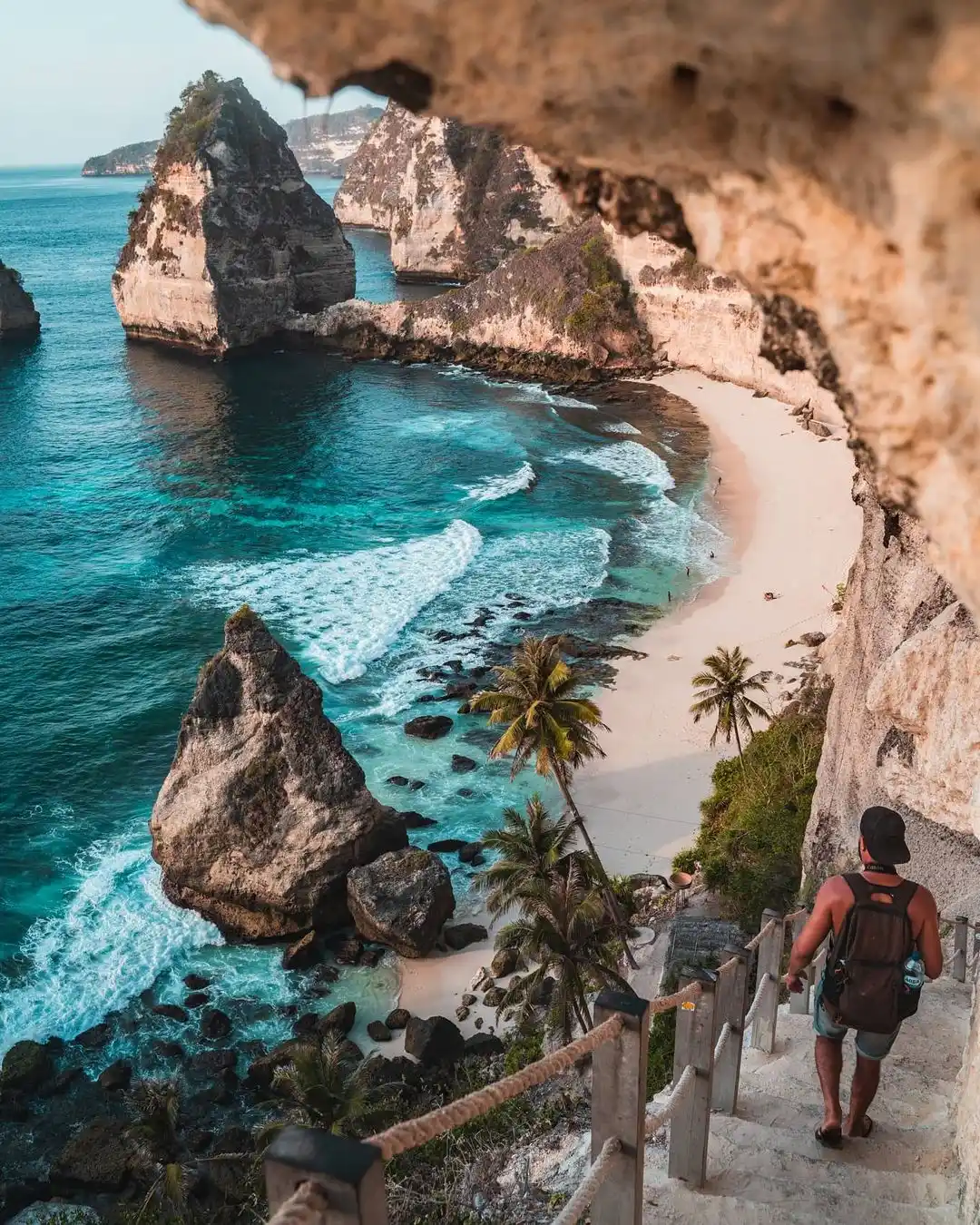 How to Get to Diamond Beach Nusa Penida
As mentioned earlier Diamond Beach Nusa Penida island is located on the east coast of the island, right next to the more famous Atuh Beach.
It takes around one hour to drive from Toya Pakeh Harbour to Diamond Beach and the best way to get there is by hiring a scooter.
These will most likely be available to rent from your hotel or guest house for about 80,000 IDR to 100,000 IDR a day.
However, due to the fast driving cars and narrow roads, we don't recommend driving a motorbike on Nusa Penida.
Access to Diamond Beach Bali
Access to the beach wasn't possible until late 2018. With the new stairs, carved out of the limestone, you can now get down to the beach in 20 minutes.
It is advised to only visit Diamond Beach during low tide. The sea on this side is very rough and can easily be dangerous. You can reach the beach by walking over and around the rocks.
The hardest part is actually once you make it down to the ground, where you'll need to navigate your way through some bushes, down a stony hill, and over some rocks in the sea.
Unfortunately, Diamond Beach is not made for swimming. Every wave contains a lot of coral and rocks which makes it quite painful.
If you are fast enough and go in between the waves you can have a good cool down in the sea.
Just be very careful with the current. It is a new, unknown spot and there is no help down here.
What To Expect at Diamond Beach Nusa Penida Island
There are two parts to Diamond Beach, one has vivid green mossy rocks and tidal rock pools but unfortunately quite of bit of trash was washed up on the sand here.
The second part of Diamond Beach Nusa Penida island has glistening white sand, coconut palm trees, small caves, and a more suitable spot for swimming.
The huge cliffs tower over you as you lay on the untouched sand. It is almost a little nerve-wracking being below such a huge wall of rock.
The most important rock though is the diamond-shaped rock in the shallows of the water. The beach is after all named after this diamond-shaped rock I believe.
A small warung resides down on Diamond Beach Nusa Penida island where you can buy cold refreshments and local dishes such as Mie Goreng and nasi goreng.
There is also some underlying reef and rock so it isn't the best beach for swimming but it is definitely possible. There were also a few turtles about!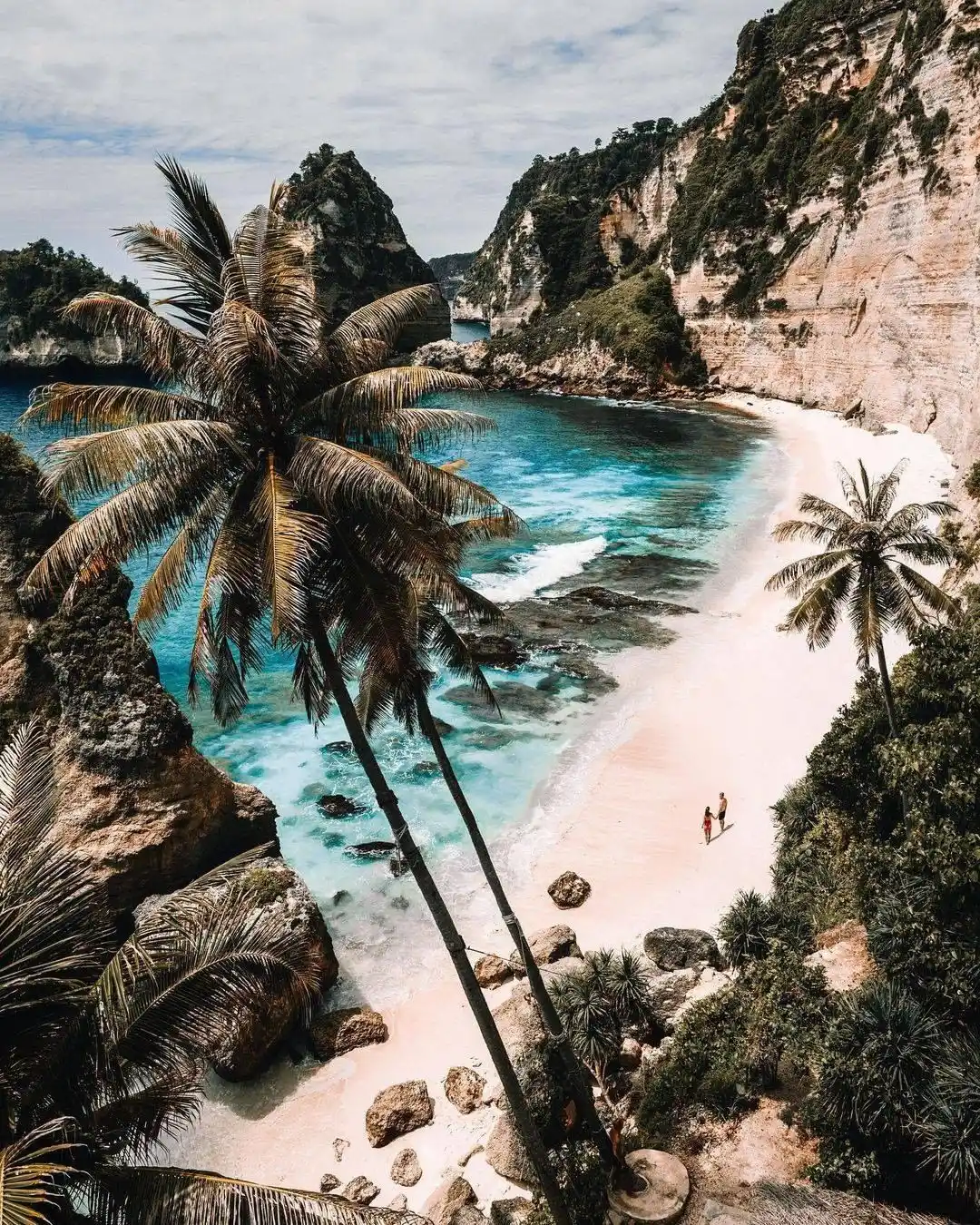 Best Time To Visit Diamond Beach Nusa Penida
Diamond Beach Bali can be visited at any time of the day, between March and November, avoiding the rainy season which is December through till February.
However, the best time to visit is in the morning, around 05:30 am for sunrise. Due to the location of Diamond Beach facing east.
That being said if you plan for a good sunrise in Nusa Penida then either Diamond Beach, Atuh Beach, Molenteng Beach, or Rumah Pohon Treehouse and Thousand Island Viewpoint are definitely the best spots out East.
Diamond Beach Bali Entrance Fee
Visit the Diamond Beach bali are subject to an entrance fee of 10,000 IDR per person, and 5,000 IDR for parking. These fees can be slightly changed because of the pandemic situation now.
And you can access both Diamond Beach and Atuh Beach by parking in the same car park as well.
And the payment should be cash in Indonesian Rupiah (IDR), so please prepare small cash before you come here.