Hanthana Mountain Range
Last Updated On December 02, 2021
If you're looking for hiking mixed with some thrilling adventure, there are no better options for you than Hanthana. It is a beautifully located mountain range southwest of Kandy city, adjacent to the University of Peradeniya. The mountain range consists of seven peaks, out of which the highest is "Ura Kanda," and It rises to an elevation of 1,158 m (3,800 ft). This mountain range is typically cloudy and frosty. However, there are times when there is no mist, exposing the entire region in front of your eyes. The summit of the peak offers breathtaking views of Kandy city. The panorama at the top also included the Knuckles mountain range, the hills of Sabaragamuwa, and the Dolosbage range of Aranayake. Besides being an excellent place for hiking, the Hanthana mountain range is also well known for bird watching and adventures camping. If you want to enjoy the picturesque views of beautiful Kandy city in one day, without a doubt, trek up the Hanthana mountain range is the best way that you have. The Hanthana mountain range was designated as an environmental protection area under the National Environment Act in 2010 due to its high biodiversity.
Best time to visit
Hanthana Mountain Range
It is best to visit the Hanthana mountain range during the months from December to February. The weather may follow you with a light mist, adding to the splendor of the scenery.
Hiking in Hanthana
If you are planning to climb Hanthana, it would be better to start the hike early morning before the Sunlight becomes trouble for you. It will take approximately 4/5 hours to reach the summit and another 3/4 hours to climb down. There is no fixed route up to the mountain. You can make your way to the top and even cause the hike more challenging if you want. But it is recommended to take a guide with you. If not, you will get lost as some paths are hard to find during the mist. It is difficult to find water during the ascent, so do not forget to bring some water and other necessary items. On the way, you can see occasional bushes, wildflowers, chirping birds or the dozens of butterflies, etc. Be careful when you take photos at the summit of the mountain.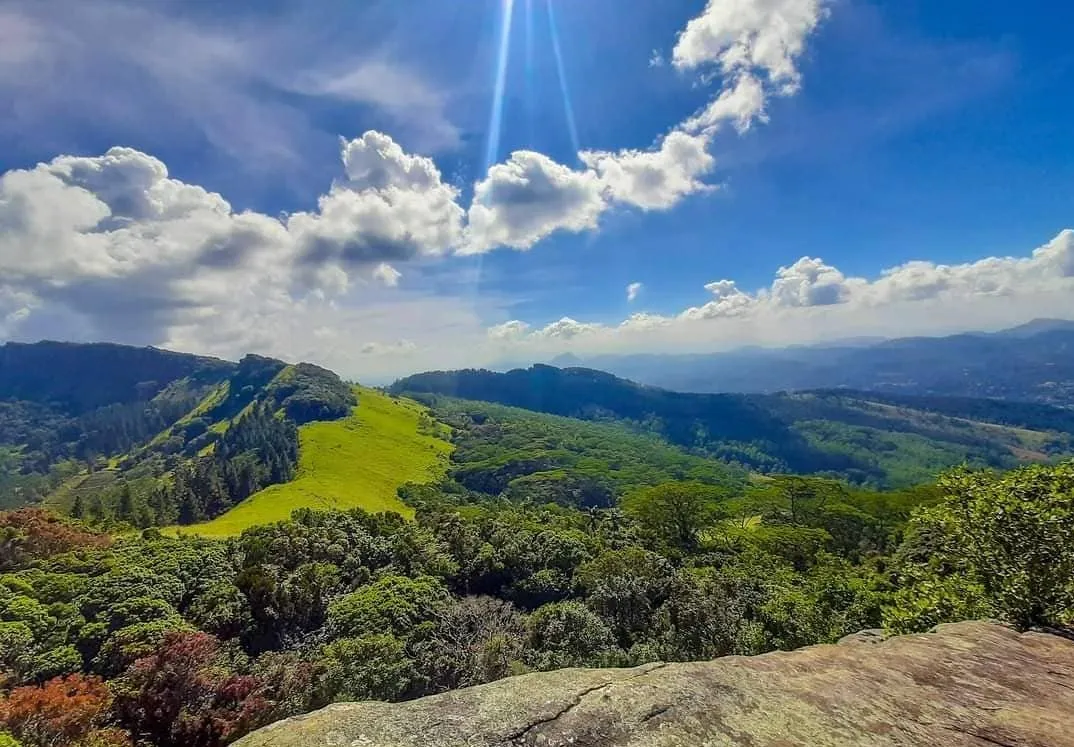 How to get to Hanthana mountain
Most travelers take the train to Kandy and then a bus or tuk-tuk to Dalhousie, but you can also rent a cab. You can arrive at the University of Peradeniya, the Amaya Hills hotel, or Sarasavigama.