Skuleskogen National Park – The Ultimate Travel Guide 2024
Last Updated On October 19, 2023
Nestled in the heart of Sweden's natural wonders, Skuleskogen National Park stands as a testament to the breathtaking beauty and geological marvels that have shaped this pristine landscape. With its grandiose views of lush forests, expansive seas, serene lakes, and towering spruce-clad valleys, Skuleskogen is a true gem in Sweden's wilderness.
This national park is one of 29 National Parks in Sweden which is established in 1984, offers an unparalleled blend of high mountains, ancient forests, and a dramatic seacoast that is unlike any other in the country. Not only does it provide fantastic hiking opportunities, but it also serves as a captivating natural geography textbook, revealing the profound influence of inland ice sheets, land uplift, and oceanic forces on its terrain.
Why is this worth visiting?
Skuleskogen National Park is a significant natural area and is one of the most popular national parks in Sweden, which is in both Örnsköldsvik and Kramfors municipalities, is part of the High Coast World Heritage Site. This park offers a 30-square-kilometer area with no roads, so you can experience the wilderness up close. There are marked trails and cozy cabins, making it perfect for both short trips and longer hikes, no matter the season. Because this park is well known for its stunning scenery and fantastic hikes, it is considered a must-visit for anyone who loves nature and outdoor activities.
How to get to Skuleskogen National Park?
A mere 40 kilometers south of Rnsköldsvik, in the town of Docksta, is where you'll find Skuleskogen National Park. There are three entrances to the National Park and all of them are accessible by car and are clearly marked from the E4 highway.
The West Entrance (Entré Väst)
At around 300 meters above sea level, the West Entrance is in the northwest section of the park. The park is particularly accessible from this entrance because of its wide, wheelchair- and stroller-friendly paths. A wide boardwalk leading 200 meters into the forest from the parking lot leads to a sizable viewing platform with chairs, a barbecue pit, and details about the park and the High Coast World Heritage Site. From here, you can take a wheelchair- and stroller-accessible gravel walk that leads to the Nylandsruten overlook. After about 300 meters, the trail continues into Lngtjärnhällorna and goes on into the national park.
The Southern Entrance (Entré Syd)
The South Entrance is situated on the lush southern slopes of Moberget and is constructed from stunning red Nordingr Granite. You can quickly locate a spot to sit down from this entrance and take in the breathtaking views of the Bothnian Sea. The South Entrance is where the High Coast route passes through. Near to the entrance, the route makes a left turn and descends to Kälsviken's sandy beach, a favorite site for summer picnics and swimming. The sole entry to the park that is accessible during the winter is the South entry.
The North Entrance (Entré Nord)
From the car park on the park's boundary, there is a 70 m long boardwalk that goes to the edge of the river Salsviksbäcken's steep banks. Here, at the foot of Krypenberget and surrounded by tall firs and aspens, you will find a barbecue area with seating and information for visitors.
Public Transport in Skuleskogen National Park
If you wish to reach there by bus, the number 50 bus will take you from Härnösand or Örnsköldsvik to the West Entrance. Get off at the bus stop Skule Entré Väst E4 and walk the last 1.5 km to the entrance.
During the peak season, the national park is offering a free bus transport to the park called Nationalparksbussen. This means you can leave your car somewhere around Naturum Höga Kusten and get to the national park with ease.
Also if you are train lover, you can reach there by train. From Umeå or Sundsvall, you can get into the train. After reaching Örnsköldsvik, you have to get down and take a bus to the latter part of your journey. We advise you to take a bus, because it is the easiest method to reach the park.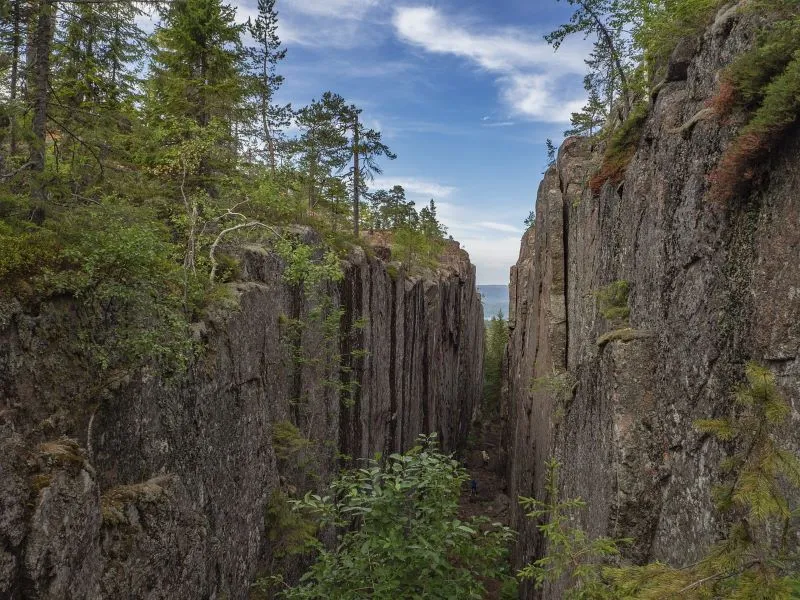 Things to do in Skuleskogen National Park
1. Hiking
Hiking is the most famous outdoor activity that you can participate in here. It doesn't matter where you are a solo hiker or a family hiker, the Skuleskogen National Park contains varies trails according to your preference. Looking for an easy hike? There are easiest hiking trails in Skuleskogen National Park that are great for the whole family. Looking for a more strenuous hike? There are also trails ranging from 56 to 3,162 meters in elevation gain. Whatever you have planned for the day, you can find the perfect trail for your hike in Skuleskogen National Park.
2. Camping
Wild Camping is an immensely popular activity in Sweden, particularly in the North. Spending the night under the tent with a roaring campfire, howling wolves, and waking up with the fresh sunshine gives you an unforgettable experience in here. Instead of other Parks, the ** national park has plenty of beautiful, designated campsites where you can pitch your tent. If it's raining, do not worry. There are also free cabins scattered throughout the park and if you want them you can use. But before going to there, keep in mind that you can only stay there for three nights.
3. Fishing
Fishing is another famous activity in here. But if you wish to do fishing, you will need a valid fishing license which can be purchased from online or from a local store. There are plenty of shops and you can purchase your fishing gears from them.
From June to August is the best months for fishing, because its easy to do fishing during this time. The best fishing spots are in the rivers and streams that run through the park. When you do fishing, be aware of the different fishing regulations that apply in the park. For example, there is a catch limit on salmon and trout.
The below list shows well-knows fishing spots are fames fishes in those spots. According to your preference, you can choose one of them for your fishing experience. But always as a good traveler be respectful of the natural environment and dispose of your fishing line and other waste properly.
Skuleån River - Salmon and Trout.
Mannaminne River - Perch and Pike.
Tresticklan Lake - Trout and Grayling.
Nämforsen Waterfall - Salmon and Trout.
Canoeing and kayaking
4. Birdwatching & Wildlife watching
Whether you are a Bird lover or Animal lover, it doesn't matter. In Skuleskogen National Park you can watch both Birds and Wildlife without any disturbance.
Skuleskogen National Park is home to an abundance of birdlife, with over 100 different species recorded in the park. The varied habitats of the park, including forests, mountains, and coastline, provide a variety of niches for different bird species. Common Raven, Eurasian Jay, Willow Tit, Common Crossbill, and Eurasian Woodcock are some of the bird species that you can watch in here.
In addition to birds, Skuleskogen National Park is also home to a variety of other wildlife, including mammals, reptiles, and amphibians. Red Fox, Eurasian Elk, European Hare, Adder, Common Frog are some of the most common animals in the park.
If you are a bird watcher or a wildlife watcher, consider about these points. It will increase the chance to you to capture an amazing event in the forest.
Be patient: Animals are often shy and elusive, so it is important to be patient and wait for them to come out of hiding.
Look for signs of animals: Look for tracks, scat, and other signs of animal activity.
Be quiet and walk slowly: Walking slowly and quietly will give you a better chance of seeing animals before they see you.
Bring binoculars: Binoculars will help you to see animals that are far away.
Go early in the morning or late in the evening: Animals are most active at these times of day.
Respect the animals: Do not approach or try to feed wild animals or birds. Sometimes if they feel uncomfortable, they will hurt you.
5. Rock Climbing
Skuleskogen National Park is a popular destination for rock climbing, with a variety of cliffs and crags to suit all levels of experience. The park is home to some of the most challenging climbs in Sweden, as well as plenty of easier routes for beginners.
One of the most popular climbing areas in the park is Skuleberget, a mountain that offers a variety of climbing routes, from easy slabs to multi-pitch trad climbs. The views from the top of Skuleberget are stunning, and the mountain is also home to a via ferrata, which is a great way to experience the thrill of climbing without the need for ropes or equipment.
Another popular climbing area is Slåttdalsskrevan, a narrow canyon with towering rock walls. The canyon is home to a number of challenging climbs, as well as some easier routes that are perfect for beginners.
But before going to rock climbing, make sure about the weather, otherwise it will get bored. Also always climb with a partner with correct equipment. It will help you to save your life if something happens.
6. Skiing & Snowboarding
Skuleskogen National Park is also a great place to go skiing and snowboarding in the winter. The park is home to several cross-country skiing trails, as well as a few downhill ski slopes.
The most popular cross-country skiing trail in the park is the Slåttdalsskrevan Trail, which is a 5-kilometer loop that takes you through the heart of the park. The trail is well-maintained and offers stunning views of the surrounding mountains and forests.
If you are looking for a more challenging cross-country skiing experience, you can try the Skuleberget Trail, which is a 10-kilometer loop that takes you to the top of Skuleberget. The trail is steep and challenging, but the views from the top are worth the effort. If you are interested in downhill skiing or snowboarding, there are a few small ski resorts located near Skuleskogen National Park. The most popular ski resort is Skulebacken, which has a few lifts and a variety of runs to suit all levels of experience.
Before going for the snowboarding, always check about the snow condition. And also dress appropriately, it will help you to protect from the cold weather.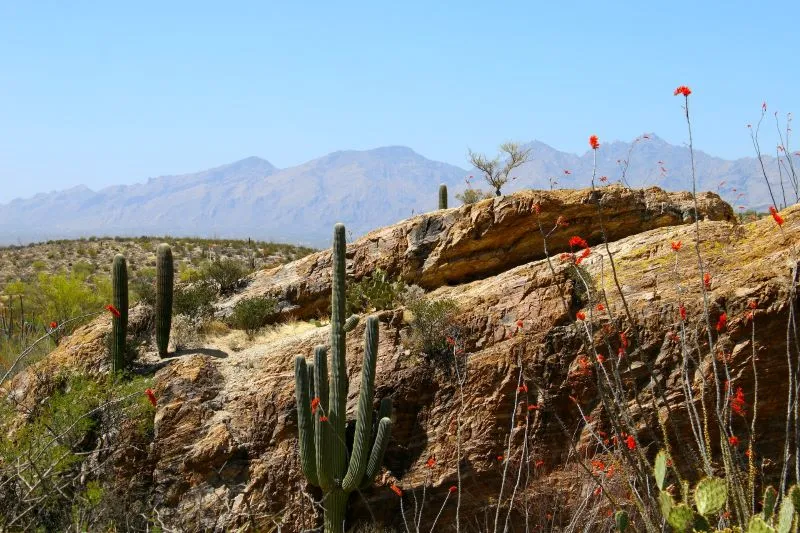 Where to stay?
Do you ever wonder why the Skuleskogen National Park is more famous than others. One reason for that is, in here there are seven beautiful open cabins for staying the night. They are open all year around, no fee and cannot be booked. Only thing is if more people arrive you must share.
Open Cabins
Staying a night in such a beautiful cabin would be another fantastic experience for a traveler. But if you wish to stay, you must keep these things in your mind.
Bring your own sleeping bag, pillow, cookware, and utensils.
The cabins are open for everyone and if more guests arrive you must share. Guests who have already slept one night have to give up the beds if new guests arrive. A maximum of two nights per guest is allowed.
Dogs are under no circumstances allowed in the beds!
The wood stove does its job to heat up the cabin, but it is very slow to cook on. It is therefore a good idea to bring a camping stove for cooking. But use it wisely indoors.
The newer cabins are much easier to heat up and keep warm and might therefore be a better choice during winter. These are: Skrattabborrtjärn, Näskebodarna and the larger cabin at Tärnättholmen.
Firewood is supplied by the park management and is stored at the woodshed close to the cabin. You must chop it yourself. Refill the wood basket inside the cabin before you leave so that new guests will have dry wood to start a fire with.
All guests are expected to tidy up after themselves and bring all rubbish with them. There is no cleaning service. Everyone should leave the cabin the way they would want to find it themselves.
Leave no food. Because this can attract rodents and will be unpleased for all.
Tents
Rather than cabins, you can stay a night in a test also. But the Tents are only permitted in designated tent areas from 1 May to 30 September. Tent areas are located near all cabins and near the beaches of Kälsviken and Salsviken. Please make sure to clean the surrounding before you leave the tent are.
Hotels & Hostels
Outside of the national park, there are several options for lodging. Camp sites, Bed & Breakfast, hostels, hotels, and cabins for rent are available in the villages of Docksta, Ullnger, Köpmanholmen, Bjästa, Skoved, and Kornsjö. Docksta has several caravan and camper parking areas which will be a different experience for a traveler.
Food and drink near Skuleskogen National Park
Since Skuleskogen National Park is a popular destination among worldwide, there are many Restaurants and cafes near the park. You can simply find them by searching in google maps. Here are some of my recommendations but when you choose a restaurant, please refer rating before those them.
Skuleberget Mountain Lodge
This restaurant offers stunning views of the park and serves a variety of dishes, including Swedish classics and international cuisine.
This cafe offers a variety of light meals and snacks, as well as hot and cold drinks. It is a great place to relax and enjoy the views after a day of exploring the park.
This cafe is in the village of Skule and offers a variety of coffee drinks, pastries, and sandwiches. It is a great place to grab a bite to eat before or after your visit to the park.
Also, there are numerous groceries inside the park to buy your foods and other supplies. So, don't worry about them when you plan your journey.
Best time to visit Skuleskogen National Park
The best time to visit Skuleskogen National Park is during the summer months, from June to August. The weather is warm and sunny during this time of year, and the park is in full bloom. However, the park can get quite crowded during the summer months, so it is best to avoid visiting on weekends and holidays.
If you are looking for a more peaceful experience, you can visit the park during the shoulder seasons, which are May and September. The weather is still mild during these months, and there are fewer crowds.
You can also visit the park during the winter months but be aware that the weather can be cold and snowy. Some of the trails may also be closed due to snow and ice. But, if you are a snow lover and seeking for a great experience, this season may be the best season for you.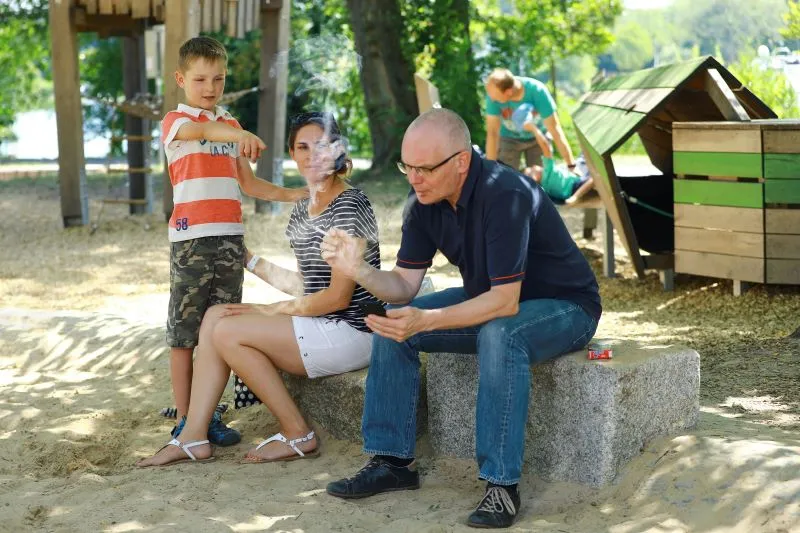 What to pack?
What to pack defend on your purpose of journey. If you visit the park just for one day, you do not need many things. But if you go to a hike, your backpack should well be enough to survive in your hike. Here is a list of some essential items to pack for your visit to Skuleskogen National Park.
Comfortable hiking shoes or boots
Backpack
Water bottle
Snacks
Sunscreen
Insect repellent
Hat
Rain gear
Map and compass
First-aid kit
Also, if you are camping in the park, you will also need to pack a tent, sleeping bag, sleeping pad, and other camping gear.
How to stay safe in the park?
Always be aware of your surroundings.
Stay on the marked trails and do not venture off trail.
Be careful when climbing rocks and boulders.
Be aware of the wildlife in the park and do not approach wild animals.
If you are camping in the park, be sure to put out your campfire completely before leaving it.
Things to do in case of an Emergency
If you have an emergency in Skuleskogen National Park, call 112 immediately. This is the emergency number in Sweden. Also, you can call the the visitor center of High Coast Naturum on a case of emergency. The contact details of the visitor center is listed below.
Phone: +46 613 700 200
E-mail: [email protected]
If you are able, try to provide the dispatcher with your location and the nature of your emergency. You can also use the map and compass that you packed to help the dispatcher find you.
If you are lost or injured, stay put and wait for help to arrive. Do not try to hike out of the park on your own, as this could put you in further danger.