11 Amazing Things To Do In Iceland
Last Updated On January 13, 2022
There are so many reasons why Iceland should be your next travel destination. With its sparkling beaches, enormous glaciers, lava caves, ancient forests, and some of the world's most significant waterfalls, Iceland has become an outdoor enthusiast paradise. Among the thousands of things to do in Iceland, we have prepared a list of the top 10 things you must do. We are sure you can enjoy your Iceland tour very well, with our list of the top 10 things to do in Iceland.
1. Skaftafell Ice Cave Tour & Glacier Walk
If you're looking for a fantastic glacier trip in Iceland, then you have to go on a tour to Vatnajokull glacier, the largest glacier in Europe. The Skaftafell ice caves will be a highlight on this tour. These ice caves are naturally formed and can be seen only in the winter season between November and March. Inside the caves, you will feel like you're in a different world. It's such a fantastic creation of nature. During the glacier walk, you can explore breathtaking ice formations and test your ice climbing skills.
2. Getting Hot Spa From Blue Lagoon
The Blue Lagoon is a geothermal spa located on the Reykjanes peninsula, South West Iceland. The water in this lagoon has Dramatic Glacial Blue color, and We can assume that this is why the name 'Blue Lagoon' was given. Another specialty of the water here is its temperature, averaging 37 °C-39°C is very comfortable for hot bathing and swimming. So the Blue Lagoon also has numerous tourist attraction sites in Iceland. After taking a hot bath, you can also enjoy cocktails, health products, delicious meals, and treatments like a massage from the restaurants near the Blue Lagoon. You can reach Blue Lagoon; just a fifteen minutes drive from Keflavik International Airport.
3. Myvatn Nature Bath
Myvatn, a popular stop on the Iconic Ring road, is a beautiful volcanic lake in Nothern Iceland. It is considered to be the fourth largest lake in Iceland. Including its rich birdlife, beautiful lakes, and volcanic creators, there is so much to discover at lake Myvatn. While enjoying its unique surrounding, you can also take a nature bath.
4. Whale Watching
Whale watching is another one of the best things to do in Iceland. During the summer months, June, July, and August, the seawater are calm and warm, attracting these migratory giants. It's given you a great chance to observe these majestic animals in their natural habitat. There are several whale-watching spots in Iceland, but whale watching in Husavik Akureyri or Reykjavik is highly recommended. If you're lucky, you will see at least one Humpback or Blue whale in action.
5. Reynisfjara Beach
Reynisfjara is a stunning Black sand beach found on the South Coast of Iceland. With its Black volcanic sands, enormous basalt columns, roaring Atlantic waves, and breathtaking panoramas, Reynisfjara is considered the most famous beach in Iceland. It is also previously ranked as one of the top 10 nontropical beaches to visit on the planet. From the beach, you can see the uniquely shaped basalt sea stacks, Reynisdrangar. It was an extremely breathtaking sight. Please be kind enough to stay far back from the water's edge because waves can be dangerous and unpredictable.
6. The Great Geysir
Geysir is a hot spring located along the Golden circle in Haukandalur valley, a geothermal area of southwest Iceland. It was amazing that the Geysir eruption instantly emerged, splashed water up to an impressive height of 70 meters, and quickly disappeared within seconds. Besides the Great Geysir, there are many things to see in this geothermal area, like hot bubbling fields of steam, primitive plants, mud spots, steam vents, etc.
7. Raufarholshellir
Raufarholshellir is a 1360 meters long lava tunnel that you can walk, and it takes 4th place among the most extended lava tubes in Iceland. During the journey, you can be able to explore Rainbow colored walls and stunning rock formations. If you're an adventure seeker, Raufarholshellir will be a really thrilling adventure for you. You can reach this amazing lava tunnel within a 30 minutes drive from Reykjavik.
8. Hallgrimskirkja
Hallgrimskirkja is a church located in the center of Reykjavik. With a height of 74.5 meters. It is one of the tallest structures in Iceland, and its tower can be seen all over the city. But of course, you need to go near, to take a spectacular panoramic view of this notable landmark.

Photo by Matheus Bertelli from Pexels
9. Silfra
Silfra is a great diving and snorkeling spot in Iceland that should be at the top of your list of things to do in Iceland. Silfra is the only place in the world where you can dive between the Nothern American and Eurasian tectonic plates. Immerse yourself in the crystal clear water, and float between two continents may give you an unforgettable diving experience.
10. Nothern Lights(Aurora borealis)
Without seeing Aurora borealis, one of the most spectacular sights to be seen in nature, your Iceland tour will be meaningless. The best time to visit this aurora borealis is the hours around midnight between October and March. Watching this colorful celestial light dance across the sky will make your Iceland tour more impressive. If you can't find a time to join, go somewhere outside of populated areas to see this natural phenomenon.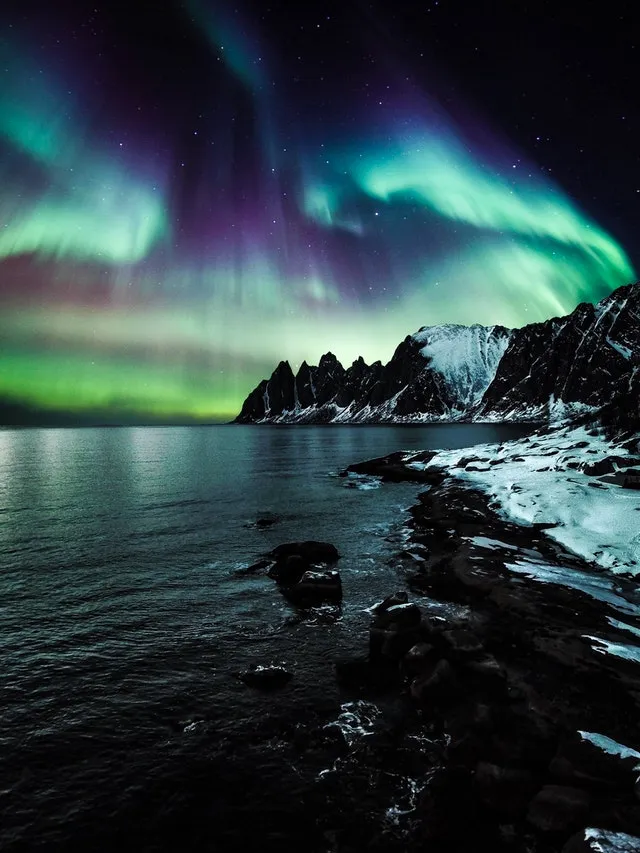 11. Experience the Waterfalls
Iceland is also well known for its wide array of waterfalls. Some are the world's most significant. You are unlikely to see as many waterfalls in a single trip as you will in Iceland. In the southern part of Iceland, you will find the most remarkable waterfalls.