18 Must Things to Do in Nusa Penida (Bali)
Last Updated On January 31, 2022
Nusa Penida is the largest of the three Nusa Islands, and a short boat ride off the southeast coast of Bali. It attracts visitors with its breathtaking blue waters in so many different shades that you'll lose count, incredible underwater life ranging from manta rays to a plethora of colorful fish, and out-of-this-world views. Tourism in Nusa Penida has increased dramatically due to Kelingking Beach and Angel's Billabong. You'll need at least a 3-day trip to explore the entire island. These are the 18 Best Things To Do On Nusa Penida.
18 Things To Do In Nusa Penida
1. Diamond Beach
Diamond Beach, which involves descending a set of stairs that run down the side of a cliff, is a must-visit destination on Nusa Penida. These are less dangerous, but they may still be difficult for anyone afraid of heights. Diamond Beach has a beautiful white sand beach, surrounded by towering cliff walls. However, there isn't much shade here, nor are there any lounge chairs. So the hike down is worthwhile for the photos. From the top of the stairs, the view of Diamond Beach is breathtaking! Make a point of stopping here to take some pictures. It's a popular Instagram location, so arrive early if you don't want other people in your photo.

2. Kelingking Beach
Kelingking is the main attraction on Nusa Penida that draws visitors in because of the unique shape of the land that juts out, creating a shape that many claims that looks like a dinosaur, a T-Rex to be specific.
It's a massive cliff that juts out into the sea, resembling a T-Rex. A rocky path runs down the T- Rex's back leading to a secluded beach far below. Kelingking Beach is probably the most well-known attraction on Nusa Penida.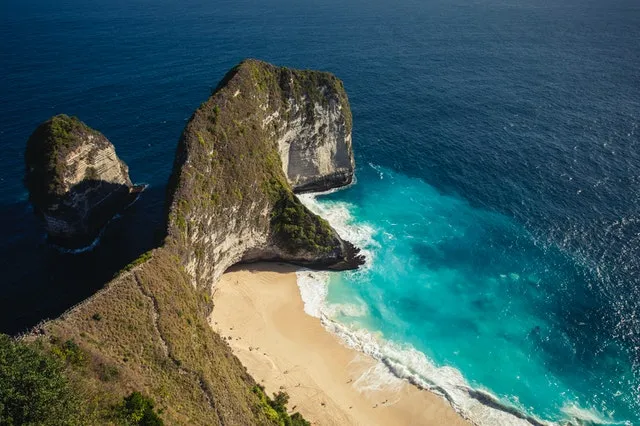 3. Angel's Billabong
The second popular thing in Nusa Penida is visiting the natural infinity pool named Angel's Billabong. Take a dip in the super clear water. Be aware to not go too near the edge of the pool since the sea gets over and creates dangerous situations.

4. Broken Beach
The small impressive cove near Angel's Billabong is called Broken Beach. Walk over a bridge made by nature. Unfortunately, you can't visit the beach down there.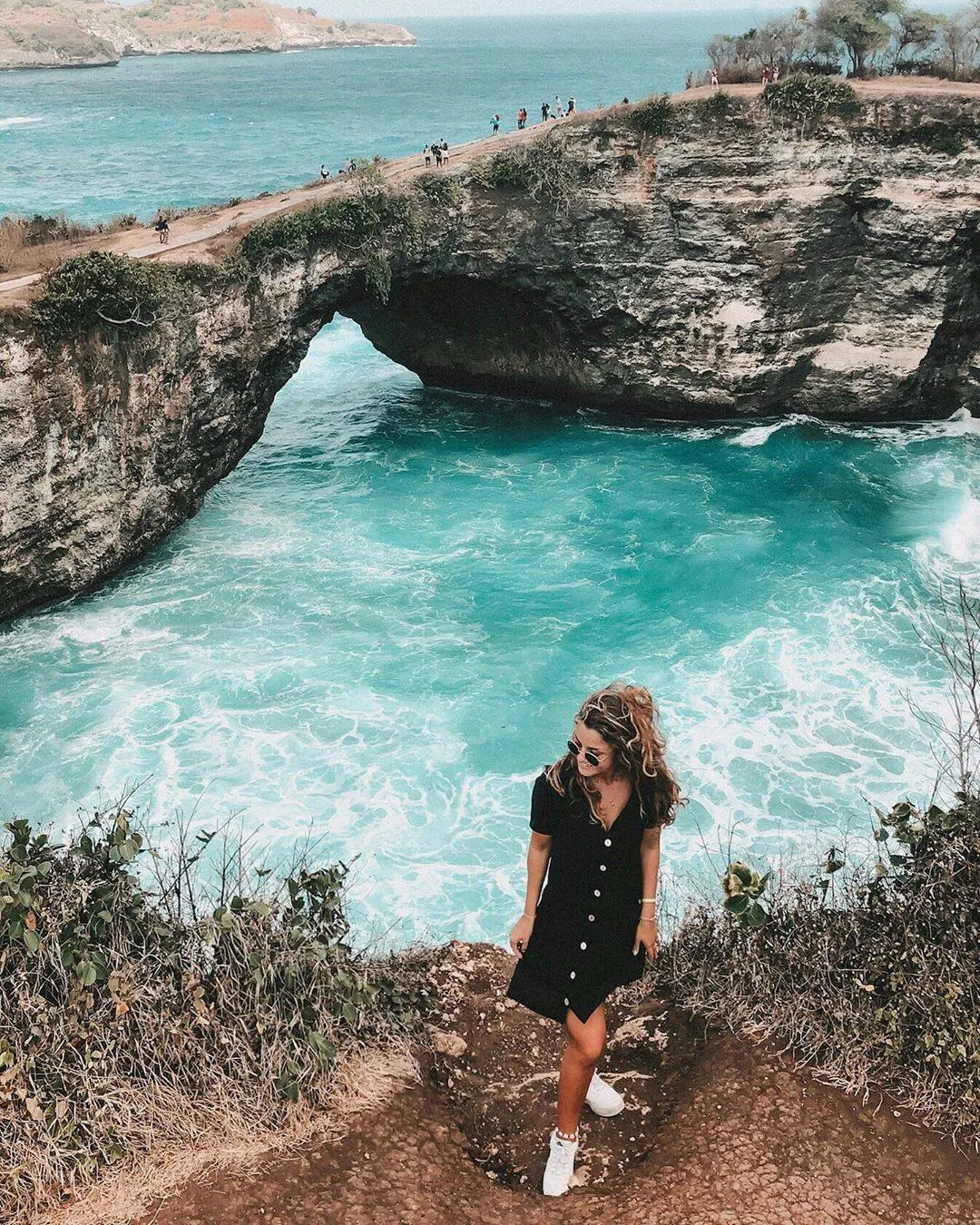 5. Atuh Beach
Atuh Beach is located in the village of Pejukutan, Nusa Penida Island, Bali. This beach is a fantastic beach with a beautiful scenic haven on earth. The clarity of the turquoise waters, the gorgeous white sandy beaches, the towering high cliff walls, beautiful green nature, and best of all, it should be all yours, your private beach!.

6. Teletubbies Hill
Teletubbies Hill has a beautiful landscape with many turfs since it has become a tourism destination in Nusa Penida Islands. This site is perfect for visitors looking for remote, natural, and straightforward, away from urban life. You can deep explore by following the pathway around the hill to sense the natural wonder. Walking around and touching or just contemplating the expanse of nature could conjure your mind.
7. Peguyangan Waterfall
Be warned that you may not actually see a waterfall here! The stairs are definitely somewhere to take pictures, but your legs will be screaming at you later. At the bottom of this cliff with very steep stairs is a temple that is nothing spectacular but straightforward. You will need a sarong to visit at the bottom as you will need to pass through the temple to get to the waterfall, which is actually very small and can not be accessed when the tide is high. The walk down certainly gives you some great views, though.

8. Tembeling Beach
Just a 5-minute walk from the natural pool is a white-sand beach where you can relax for a few hours. Don't forget to look at the secret beach on the other side of the cove.

9. Tembeling Natural Pool
Waterfalls are supposed to be here, but they may not be depending on what season you're visiting. The real draw here, though, is the natural pools with water so incredibly clear. You'll have a good chance of having the place to yourself (maybe with some monkeys), and you can cool down in the pools surrounded by limestone rocks and jungle after the hard ride in (the road here is terrible too).

10. Banah Cliff Point
If you're looking for one of the best viewpoints on the island, then Banah Cliff Point should definitely be your thing to do on the Nusa Penida list. The road to reach it is undoubtedly one of the roughest and rockiest journeys we encountered on our Nusa Penida tour. Although if you can withstand the bumpy roads, you'll be rewarded with an epic picnic spot.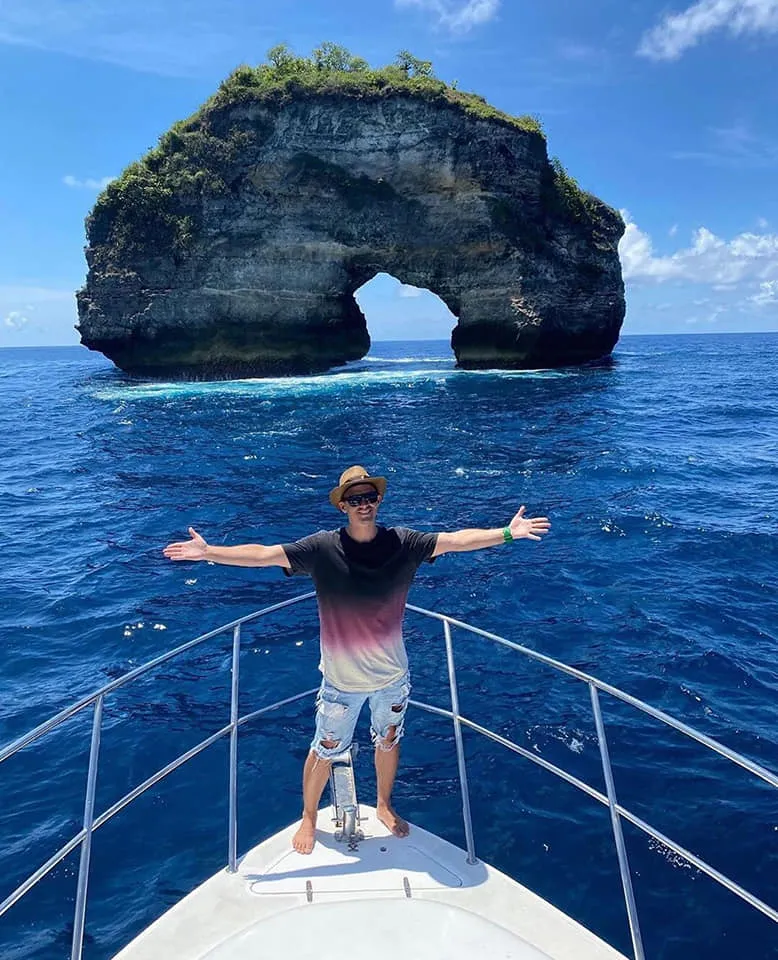 11. Rumah Pohon Tree House
Rumah Pohon treehouse, famous on Nusa Penida, as a photographer's dream! It is located on the edge of a tall sea cliff overlooking Diamond Beach.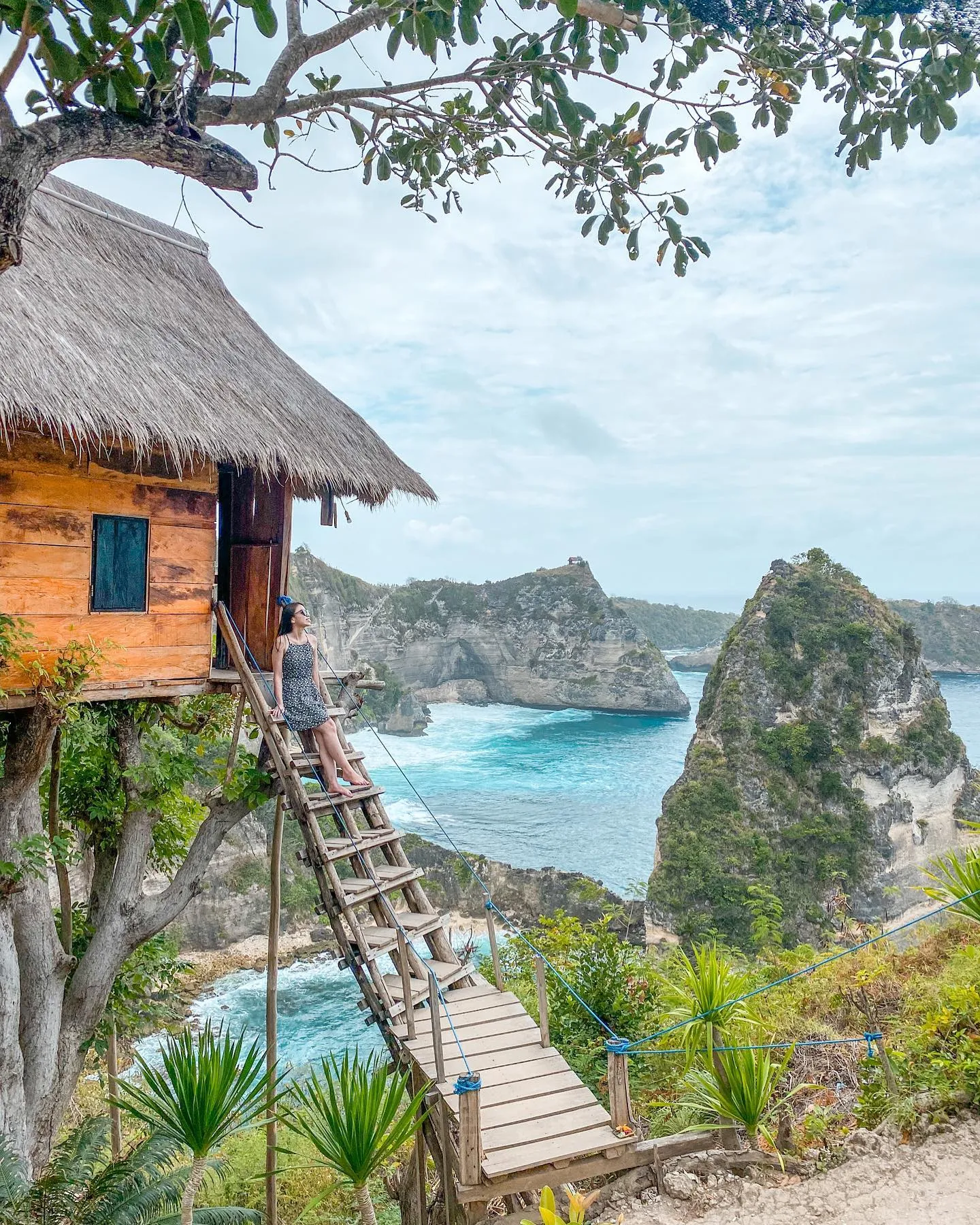 12. Diving at Crystal Bay
Driving on Nusa Penida is tough, and you'll want a break at some point. Crystal Bay is the perfect place to do so. It's the best beach to chill out on on the island that's not hard to visit. It's smooth roads all of the way in. You'll find bean bags, lounge chairs, and some stalls selling local dishes, snacks, and cold drinks while you relax in the white sand. The water is crystal clear, and it's another prime spot for snorkeling. You can rent Snorkel gear and boats from here.

13. Goa Giri Putri Temple
Goa Giri Putri is one of Nusa Penida Island's major cultural attractions. There are six temples in the main cave, which have different functions on each temple. At the cave's exit, there is a temple with a statue of Dewi Kwam I'm with typical ornament Pagoda decorated by many lanterns on the cave ceiling.

14. Snorkeling in Manta Point
Manta Bay is known for snorkeling because it's a prime spot to find manta rays, but you don't actually need to get into the water to see these gentle giants.
If you're afraid of everything underwater like I am, then you'll be happy to know that from Manta Bay Viewpoint, you just may be able to spot them swimming close to the surface. It gives you a good idea of how large they actually are because you can see them from the top of a cliff!

15. Thousand Island Viewpoint
Another great viewpoint! Thousand Island viewpoint is close to the southside of Atuh Beach and is worth popping over to so you can get some shots of the gorgeous coastline. This viewpoint is also called Pulau Seribu (in Indonesian), translating to thousand islands. It's down some stairs to get to the viewpoint, but nothing too crazy. There are railings made out of sticks to help you from falling, but I wouldn't lean on them!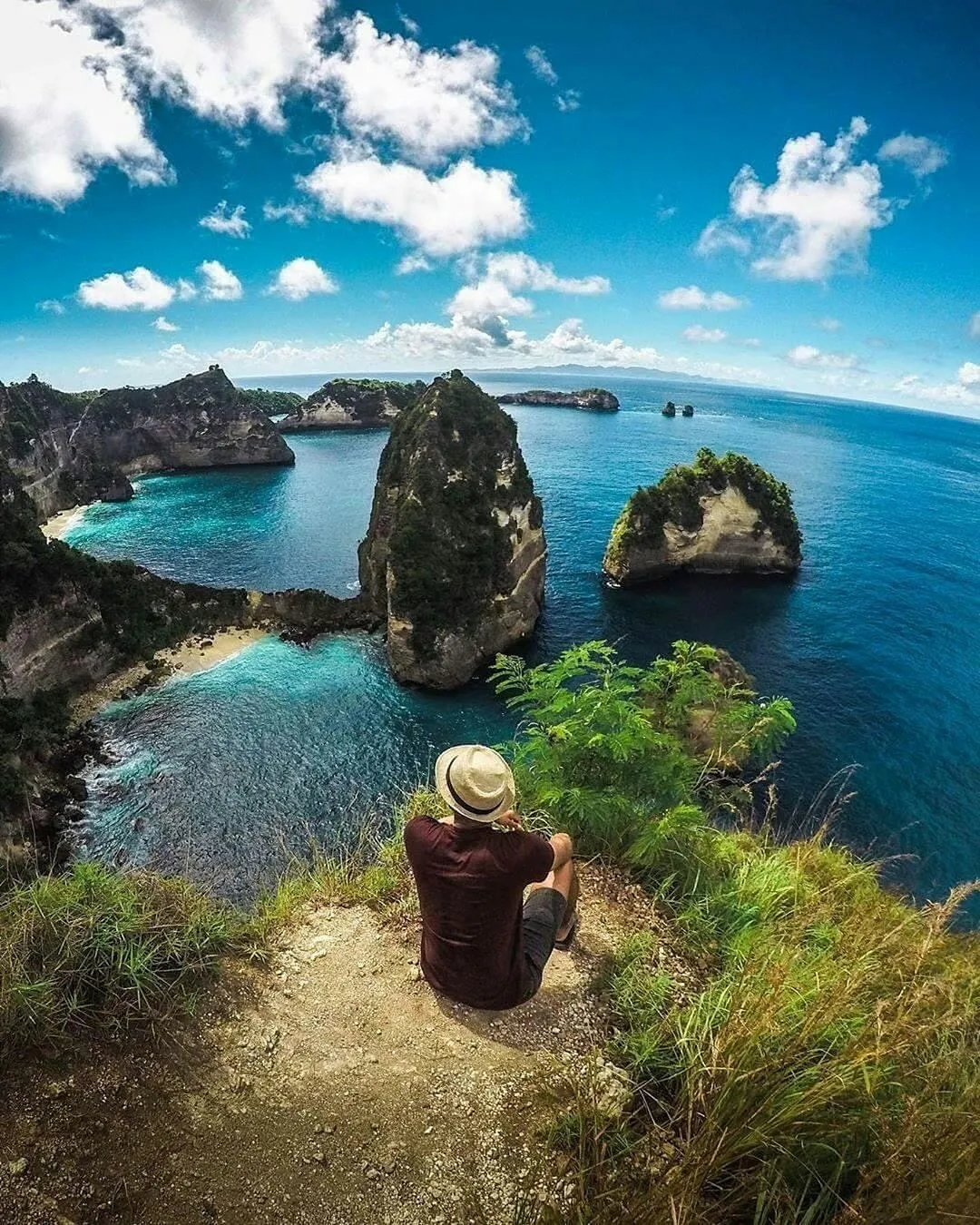 16. Pura Puncak Mundi
Pura Puncak Mundi is a temple positioned at the highest point on the island of Nusa Penida. You can see the lovely beauty of the island from this temple, with lush greenery stretching for miles, as well as monkeys moving about in various locations. The temple is filled with devotees from neighboring communities on the full moon and other significant days for Balinese.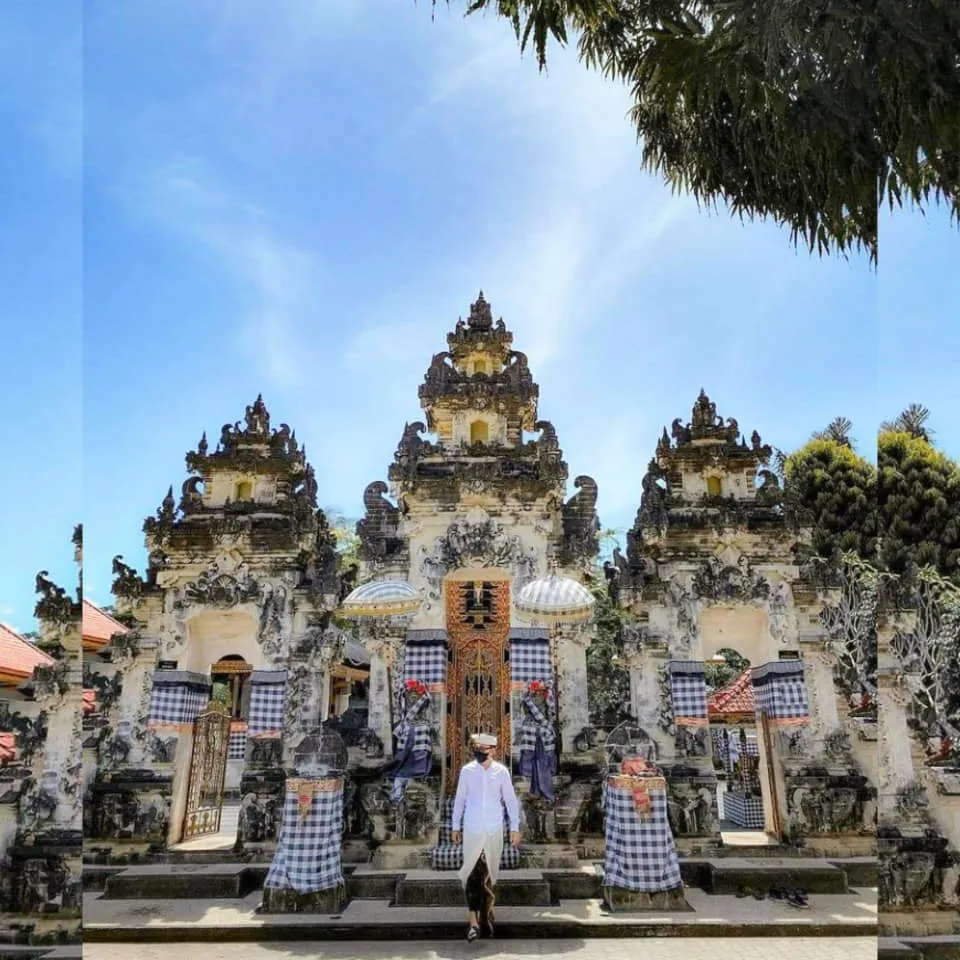 To enter the Pura Puncak Mundi temple, both men and women must wear a sarong, which they do not have on loan. Furthermore, strangers are not permitted to enter the inner sanctuary. The people who hang out around the temple will most likely be perplexed as to why you're there.
17. Suwehan Beach
Suwehan Beach is on the southeast coast of the island of Nusa Penida. The hike down to Suwehan Beach is short and straightforward. You begin at the top of a large cliff and descend a series of uneven rock stairs. The beach is incredible, and it is similar to Diamond Beach in that it has perfect white sand, limestone cliffs, and a tall photogenic rock known as the Jineng stone. It is worth visiting for its clean white sand and refreshing sea breeze. You can swim at the beach, but be cautious of the strong current.

18. Saren Cliff Point
Saren cliff point is located on the southwest coast of the Nusa Penida island. When you get to the top of this towering cliff and gaze about, the scenery appears to be breathtaking, and they inspire all kinds of artistic expression. Saren Cliff Point has no entrance or parking fees. It's about an hour's trip from the main docks and lodging in northern Penida by car or scooter. If you're traveling by scooter, be aware that the road to Saren is one of Penida's roughest, and it can be dangerous in some sections if you don't take it slowly!