Best Things to do in Phi Phi Islands
Last Updated On June 25, 2022
There are many reasons why Phi Phi islands should be on your bucket list of places to visit in Thailand. With its pristine beaches, stunning rock formations, and vivid turquoise waters teeming with colorful marine life Phi Phi has been crowned one of Thailand's favorite destinations. The Phi Phi islands are an archipelago of 6 islands: Koh Phi Phi Don, Koh Phi Phi Leh, Koh Bida Nok, Koh Bida Nai, Koh Phai (Bamboo Island), and Koh Young (Mosquito Island), located 43 km west of the coast of Krabi. Phi Phi Don and Phi Phi Leh can be considered the two main highlights. The only inhabited and the largest one is Koh Phi Phi Don. Our list here features the most popular sites that you must definitely visit.
1. Koh Phi Phi Leh & Maya Bay
The uninhabited Koh Phi Phi Leh is the second largest among the Phi Phi islands. Maya Bay is the main highlight of this island. It is a place that gathered all, including clear-crystal waters, bright white sand, and lush tropical vegetation. The island has no shortage of visitors from all around the world, while it's the season that runs from November to April. Another hotspot is the Viking cave, where you will see incredible rock painting, and it is lying on the northeastern side of Koh Phi Phi Leh.
2. Phi Phi Viewpoint
If you want to enjoy the whole Phi Phi islands in one sight, this may be the best place. It is set at an elevation of around 186 meters, and it will take only 20-30 minutes to reach the top. As the path is well-trodden and paved, stroll up to the top. There are plenty of places to rest if need be. At the top, there are some shops where you can refresh yourself with cold drinks, ice creams, and other snacks. The top view is magnificent with both Tonsai Village and Loh Dalum bays. If there's a light shower, you will be lucky enough to see a rainbow over Tonsai Village. It is best to visit there before 10 am for an excellent view.
3. Bamboo Island
Heart shape Bamboo island, also known as Koh Pai, is one of the six islands of Phi Phi archipelago. It is a stunning tropical hotspot for those who like to escape crowds. The island is surrounded by a strip of bright white sandy shores, while its central part is covered with lush green bamboo trees and casuarina. There is a beautiful coral reef. Hin Klang lies between Phi Phi Don and Bamboo Island stands. So Bamboo island offers ample opportunities for great snorkeling experiences. You can reach Bamboo Island via a long-tail boat ride from Tonsai Village or Sea Gypsies Village. The journey will take around 40 minutes from Tonsai and 15 minutes from Laem Thong Beach. As the Bamboo island belongs to a national park, you'll have to pay an entrance fee to get there.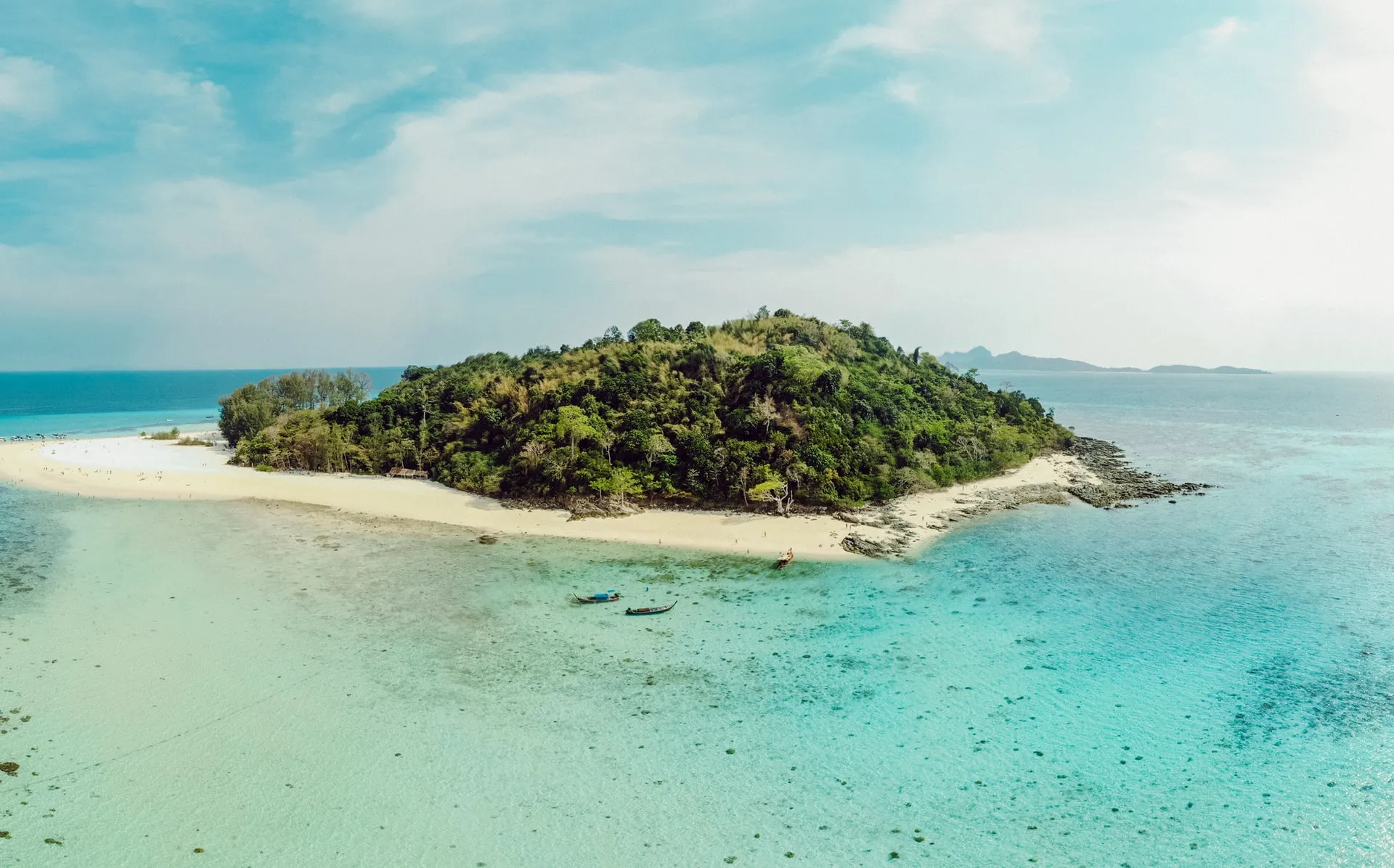 4. Viking Cave
Lies at the bottom of a tall limestone cliff, Viking Cave is one of the most visited sites in Koh Phi Phi Leh. On the Eastern and Southern walls of the cave, you can see some paintings locally called Tham Phaya Nak. Possibly the artist were sailors who took shelter inside the cave during storms. In addition, you can be able to explore one of the most profitable local industries, harvesting swiftlet birds' nests. It takes roughly 30 minutes to get there by long-tail boat from Tonsai Bay.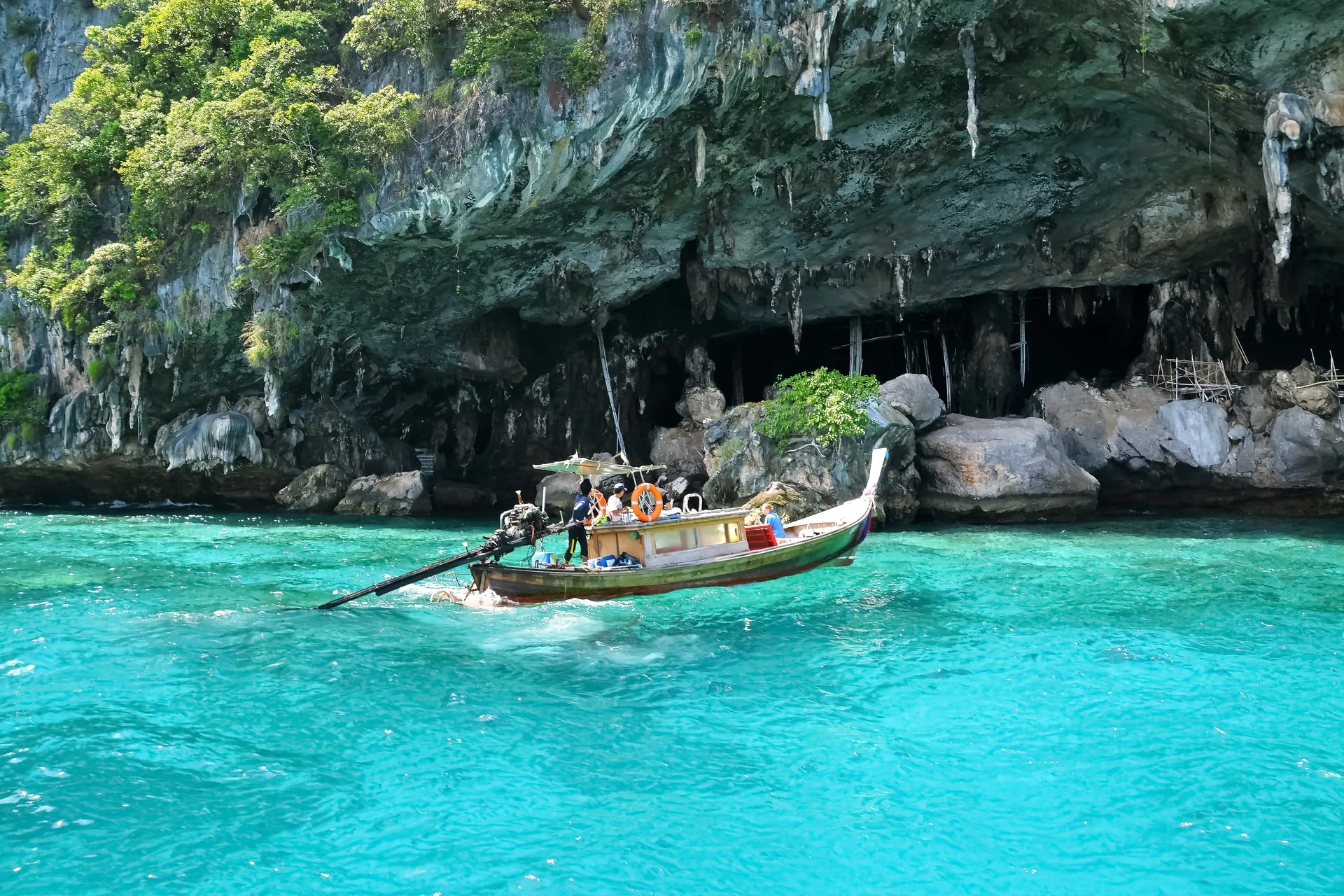 5. Diving in Phi Phi
As the Phi Phi water claims many world-class dive sites, diving is one of the prime activities in Phi Phi. There are many PADI dive centers dispensing courses available on the shores. Shark Point, Anemone Reef, and the King Cruiser Wreck are the most visited dive sites. Maya Bay, Koh Bida Nok, and Nai are located on and near Koh Phi Phi Leh, all can be reached within 40 minutes from Koh Phi Phi Don.
6. Shark watching
Phi Phi offers this rare opportunity for its visitors. The most popular Shark watching spot is off the eastern end of Long Beach, also known as Phi Phi Small Shark Point. There is another shark-watching spot located on the west coast of Phi Phi Don Island, which can also be accessible by scuba diving. Blacktip reef sharks are the most common species of sharks that you can see during the tour. They aren't aggressive or harmful. Rather, they're quite timid. While you're on a boat safari, you will encounter a couple of sharks surrounding the place, swimming in circles. It will be a fascinating and dramatic experience. The peak movements of Sharks can be spotted in the morning, depending on the flow of the tides.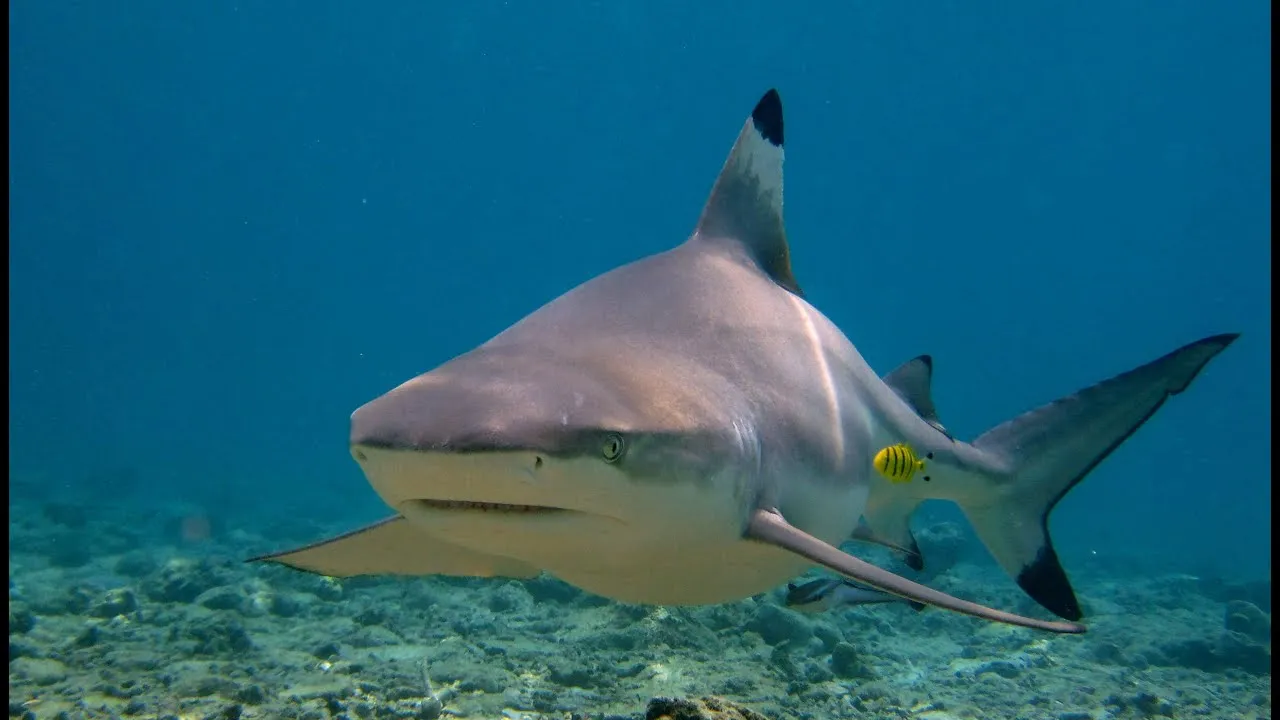 7. Moo Dee Bay
Situated on the east coast of Koh Phi Phi Don, Moo Dee Bay is well known for its 300 meters long beach bordered by tranquil blue water. It is also an ideal place to escape from crowds. The beach offers pleasant snorkeling opportunities, mainly at both ends of the bay. The beach is very quiet and relaxing from morning to afternoon until about 3.30 pm. You can find some shops that sell food and drinks on the beach. As their prices can be steep, bringing your food and drinks is best. There are many options to get here. The easiest way may be to hire a long-tail boat near Tonsai Pier, which will take around 15 minutes.
8. Rock Climbing in Phi Phi
If you're an adventure enthusiast interested in rock climbing, Krabi Province offers this opportunity for you. You will find some world-class natural limestone cliffs that make up most of its topography, on the Tonsai Beach and Diamond Cave, along with the cost. In addition, Phi Phi Don Island also shares this same topography. You can find thrilling climbing walls on Koh Phi Phi Don and Koh Phi Phi Leh. You can take information on routes that are properly rebolted with stainless steel or titanium bolts by the local shops situated near them. And also, you can attend half-and full-day climbing tours led by highly trained instructors. Tonsai Tower, Drinking Wall, Ao Ling Wall, Hin Tak, Hua Ling Wall, Ao Pilay Wall, Maya Bay are the most popular rock climbing spots in Phi Phi.
9. Shipwrecked Boat Tour in Phi Phi
This boat tour allows you to enjoy exotic seascapes combined with a pleasant atmosphere. While you are sailing to fascinating spots in the Andaman Sea off the coast of Phi Phi Island, you can taste various cocktails. The yacht is well known among young travelers for fun parties, but everyone is welcome to join the fun. Usually, the boat tour stops
at seven famous destinations as Maya Bay, Monkey Beach, Viking Cave, Table Coral City Reefs, Pi Leh Lagoon, and Snake Cave. In addition, a secret location where you can enjoy the breathtaking sunset view. As the tour included freshly prepared lunch, dinner, and snacks, there was no need to worry about food. In addition, alcohol onboard, including beers and cocktails. Juices, water, and sodas are also available. The crew is very friendly, and they provide free T-shirts, meals, shots, party games, and a photo opportunity.
10. Cliff jumping
Phi Phi offers some world's best cliff jumping spots. It is a thrilling water sport that's quite popular among adventure enthusiasts. Not its risks, it should be approached with an organized tour. Visitors should start from 3 meters and gradually increase up to a 20-meter leap into the briny. There are some tours that can be found, which are combined both snorkeling and cliff jumps.