Top 10 Waterfalls You Must Visit in Sri Lanka 2024
Last Updated On September 14, 2023
Sri Lanka, a country quite famous for its biodiversity, has many vistas that anyone can indulge in their visual sights. The pristine waterfalls with breathtaking views are a major part of that. Here are the top 10 waterfalls that you must visit if you ever come to Sri Lanka.
1. Diyaluma Falls
The second-highest waterfall in Sri Lanka, and the world height ranking, 619th, located in Koslanda, has a magical view that captures the gaze of countless visitors. This waterfall has different levels, and the foot is located just one hour from Ella. On the way to Diyaluma Falls, you can embrace lush, emerald views as the verdant greenery unfolds before your eyes. When you reach the top of the waterfall, you can immerse yourself in the natural pools to your heart's content. This is a work of art that is almost unbelievable in how Mother Nature created it. There are pools on different levels so that you can jump from a higher one to a lower one. The feeling that you get when taking a dip here is a rarity that few other destinations can match. But be extra careful when it comes to the pools near the edge where the river takes an enormous drop off the cliff. It is better if you just enjoy the scenery over the edge and let your soul captivate all the beautiful views that surround you.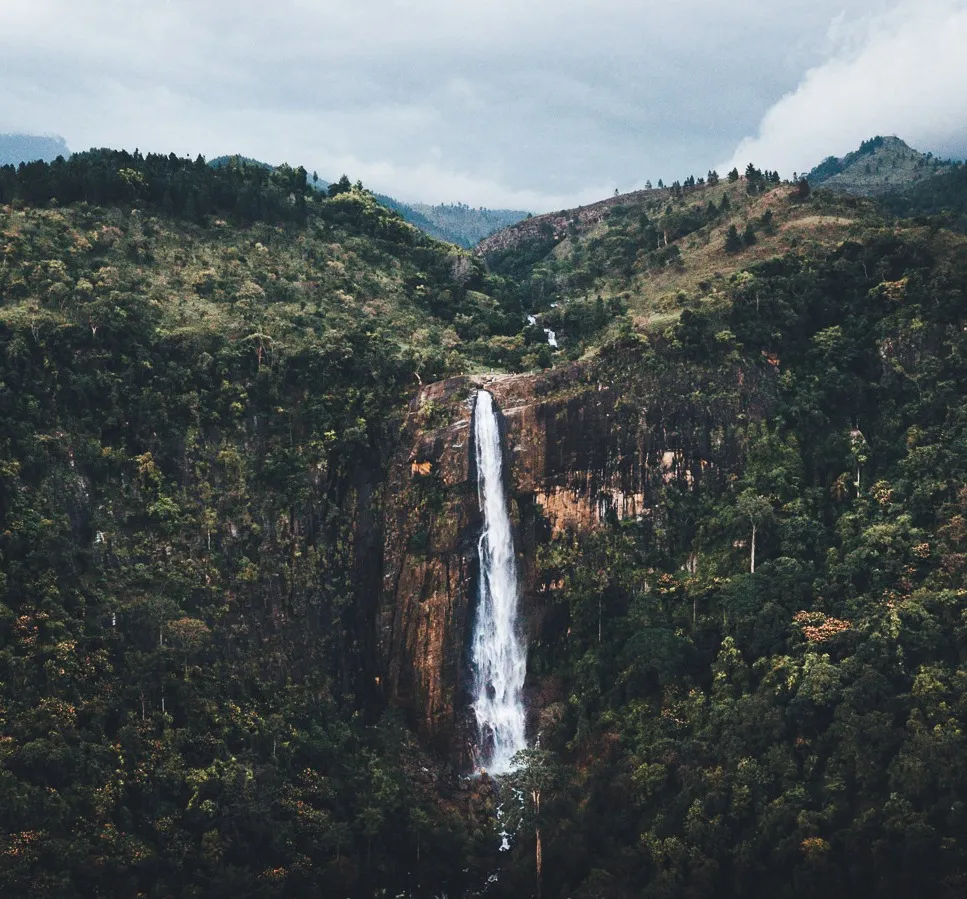 2. Dunhinda Falls
A picturesque waterfall, created by the Badulu oya, and located about 5 km away from Badulla. This waterfall has earned its name due to the smoky dew it generates as it cascades from a height of 64 m. To reach Dunhinda Falls, there is a walk of nearly 1 km, and on the way, you can also spot another waterfall known as Punchi Dunhinda. At the end of the walk, a veil of mist will unveil the beauty of Dunhinda Falls before your very eyes. Even though this is unreal scenery, do not try to swim in the pool since it is said to be extremely dangerous. So just enjoy the view and there is a suspended bridge and a stage that will help you to immerse yourself in the vista even more. There are few monkeys along the way, so it is advised to refrain from consuming food openly on this path. This serene waterfall is worth visiting year-round, but June and July would be the ideal months for a visit.
3. Devon Falls
Another wonderful waterfall situated in the Nuwara Eliya district begins as a tributary of Kothmale Oya and cascades down a height of 97 meters. There was a coffee plantation nearby the falls owned by a pioneer English coffee planter named Devon. This waterfall was named after him. This is also quite famous as the "veil of the valley". This is a tiered waterfall which has awe-inspiring scenery. This is situated in a place where anybody can stop by but if you want to capture the most beautiful view, there is a viewing platform which is situated in Dimbula. The base of the waterfall is also worth a visit, and you can reach it via lush tea estates where the beautiful greenery will blow your mind.
4. St. Clare's fall
This waterfall is quite famous as the little Niagara of Sri Lanka. It measures 50 meters in width and 80 meters in height and is one of the widest waterfalls in Sri Lanka. It tumbles gracefully over three rock outcrops, ultimately converging into a substantial pool below. If you are to visit Nuwara Eliya through Hatton- Thalawakale road, you have to visit this eye-catching waterfall. This is located near the upper Kothmale dam, and it has been affected by the Kothmale hydropower project, nevertheless, the government has affirmed its commitment to release enough quantity to maintain a continuous flow between sunrise and sunset. To reach the fall, there is a walk of about 500 meters through a tea plantation, a mind-calming view of greenery. There is also a multi-tiered viewing platform which is the perfect vantage point to savor the view of this cascading waterfall. There also exists another waterfall downstream from the main one, named Kuda Ella which is 50 meters in height.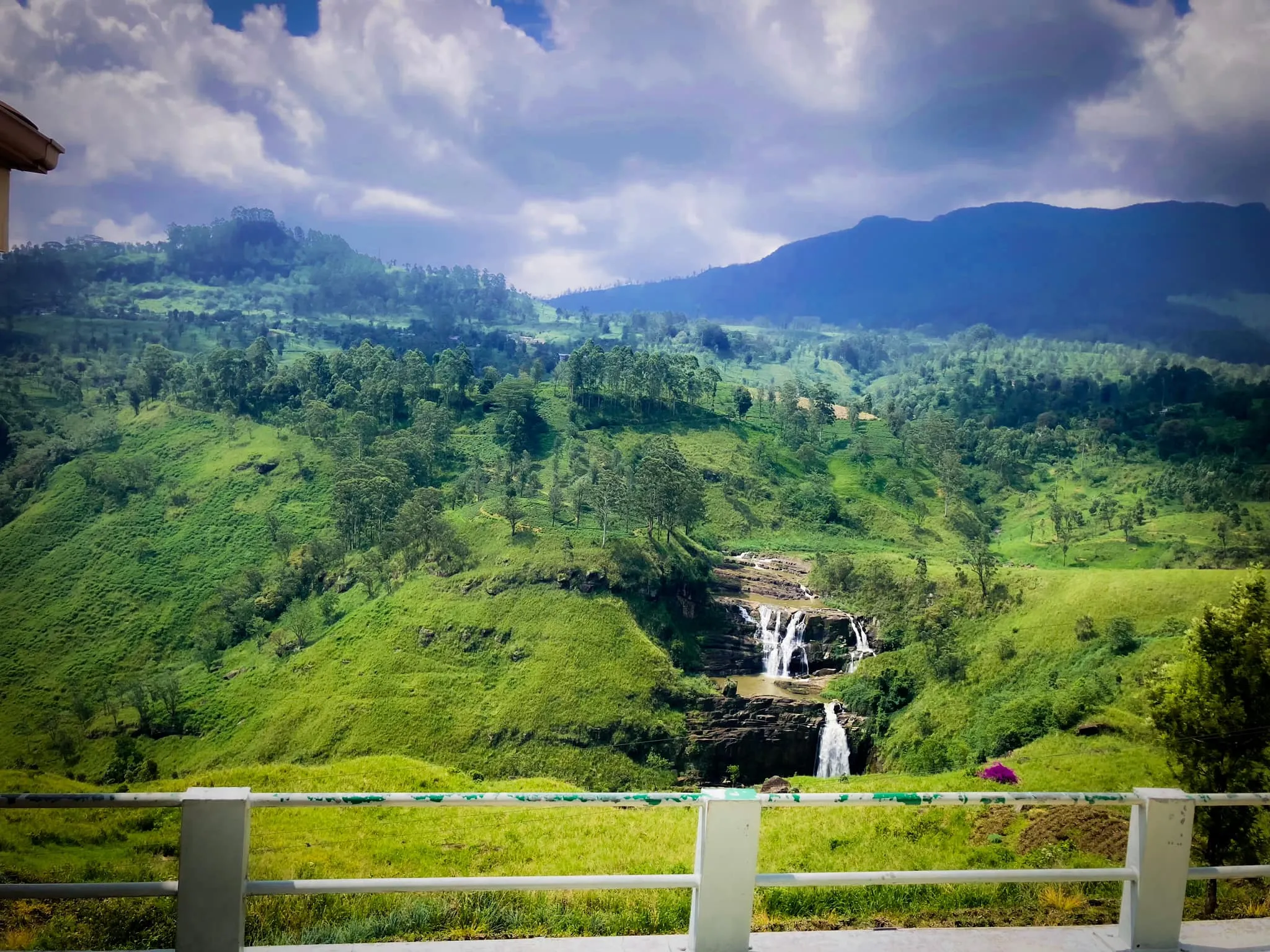 5. Ravana Falls
If you ever have a chance to visit Ella, never miss out on the wonder of the beautifully cascading Ravana Falls. This location can be found within the Ravana Ella Wildlife Sanctuary, nearly 6 kilometers from the Ella Railway Station. As the name implies, this fall was named after King Ravana. There is a story that Sita, the Indian princess he kidnapped had been hidden in a cave located behind this fall. During the wet season of the country, this waterfall takes on the appearance of an areca flower with withering petals but during the dry season, the water level drops significantly. This pristine waterfall descends from an oval-shaped concave rock outcrop, plummeting from a height of 25 meters. While you can climb some of the rocks for an adventure experience, it provides you with a better view of the waterfall. You can also take a leisurely swim in the pool, enjoying a refreshing dip on a hot day.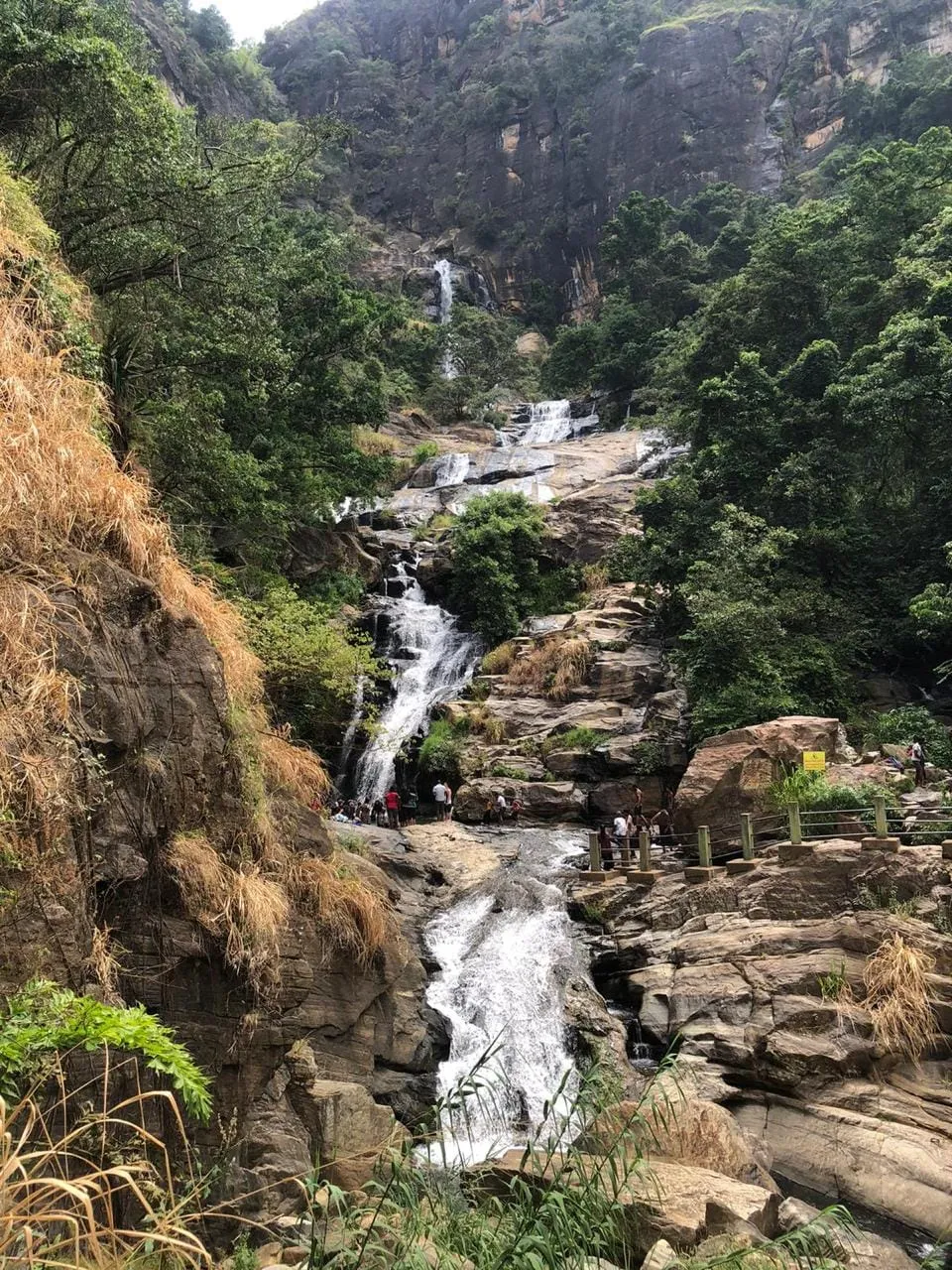 6. Bambarakanda Falls
The highest waterfall in Sri Lanka, which is 263 meters tall, ranks as the 461st highest waterfall in the world. Bambarakanda Falls is situated in Kalupahana in Badulla District and the watercourse of this fall is Kuda oya which is a tributary of Walawe River. This is located about 5 kilometers away from the A4 highway and it is visible from the road. But to capture a more enchanting view, there is a slender path that winds its way through a pine forest. There are some mountain treks and 4-wheel tracks that you can enjoy through the mountains. Yet, the vista stands unmatched by any of these. To reach the base of the waterfall, it takes a 15-minute walk, and near the base, there is an area where you can sit and enjoy the view. For photographers in search of captivating sceneries, this fall presents a splendid opportunity. Hiking in Bambarakanda Falls is also quite famous among visitors. April to September is considered to be the prime season to go on a hike in Bambarakanda Falls because in other months the waterfall is either in a torrential rush or very dry. To reach the top of the waterfall, there is about 1.6 km and it is nearly a 1.5-hour walk.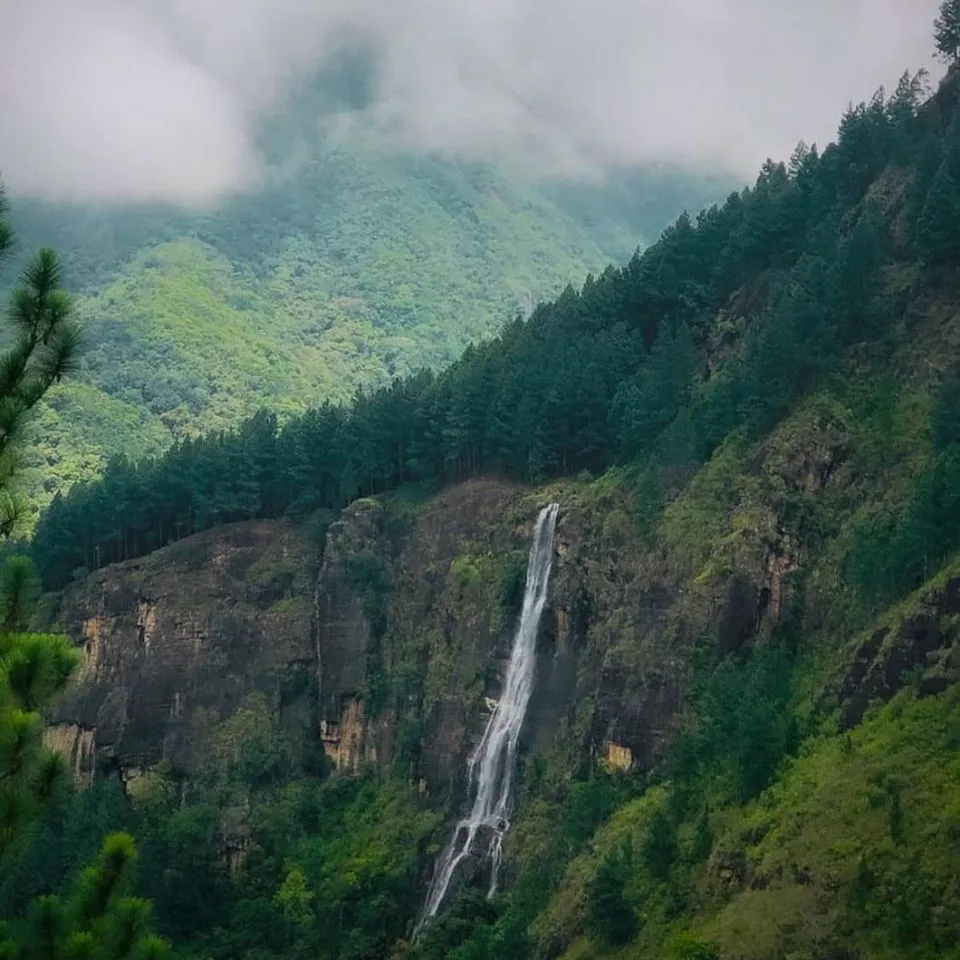 7. Bopath Ella
Bopath Ella is situated in Kuruwita which is a village in Rathnapura district. This has earned its name due to the shape of a leaf of the Bo tree. The watercourse of this waterfall is Kuru Ganga. This is 30 meters tall and surrounded by dense virgin forests which are rich in biodiversity. Bopath Ella is considered to be one of the most attractive waterfalls in Sri Lanka and one of the most famous tourist attractions. This is easily accessible and there is a viewpoint that offers you a superior perspective for watching the waterfall. To reach the base of the waterfall, you have to cross the water stream, but this can be dangerous during the rainy season because the rocks get all slippery. You can have a nice little dip in the bottom if you desire. Locals believe that this waterfall is haunted and there is a hidden treasure inside it. As they say, thousands of human lives should be sacrificed to get it. Another famous story is that ancient kings had used this fall for bathing when they were going to worship " Maha Saman Devale" in Rathnapura.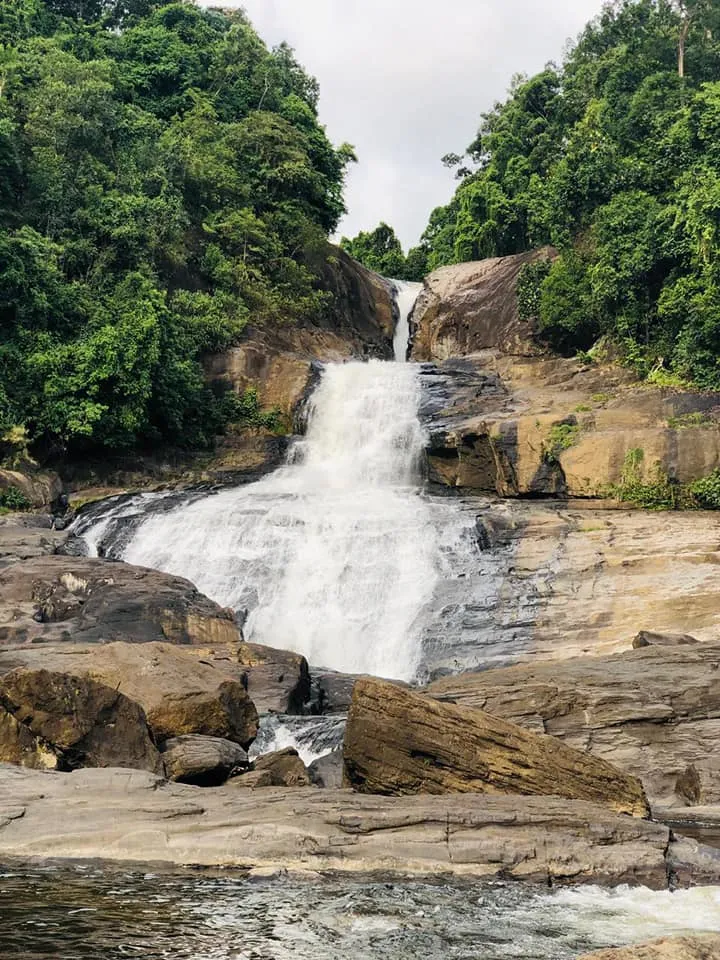 8. Bakers Falls
If you ever get a chance to visit Hortain Plains, do not forget to reach out to Bakers Falls, which stands at a height of 20 m. This waterfall was named as a tribute to Sir Samuel Baker, who is considered the founder of Nuwara Eliya and was also a famous explorer. This magnificent waterfall is located three km away from the Hortain Plains National Park entrance and along the way, you can enjoy the scenery of lush clusters of Rhododendron and Fern bushes. Once you reach the 'map of nature trail' location, there are two paths. One is headed to mini world end, where the Baker's Fall would be the last spot in that path. The other road is directed towards Bakers Fall so you can see it first. When you reach the waterfall, you will witness its graceful descent amidst a symphony of rocks. If you are not interested in going down a trail to Bakers Fall, you can just enjoy the view of that broad mesmerizing view from the two storied wooden stages. Rains can be expected throughout the year in this area and the average temperature is around 16 C.
9. Laxapana Waterfall
This waterfall ranks as the 8th highest in Sri Lanka and 625th highest in the world ranking. Laxapana Falls is situated in Nuwara Eliya district, in an area called Maskeliya and the watercourse of this fall is Maskeliya oya which is a tributary of the Kelani River. This pristine waterfall cascades down a height of 126 meters and forms an amazing pool at the bottom. This is located near the two power stations, Old Laxapana and New Laxapana, and this is partly an energy source for them. Not only is the waterfall itself a beauty, but the surroundings with lush greenery and breathtaking views will also calm your soul. Whether you are looking to capture the best pictures or seeking thrilling adventures, this place should be on your list of destinations. Traditional stories say that the Lord Buddha had mended his saffron robe in this place.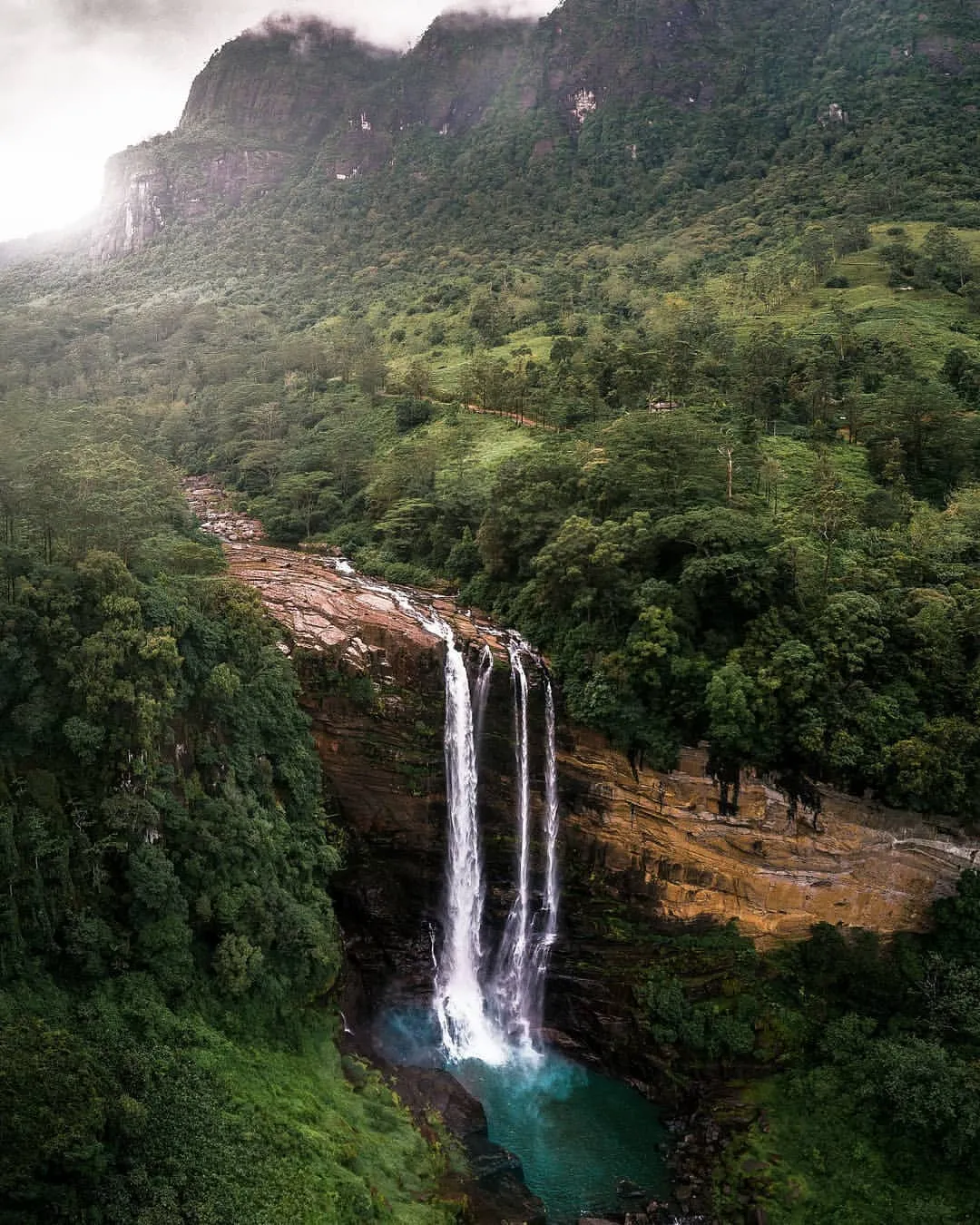 10. Ramboda Falls
A waterfall with a height of 109 meters, ranked as the 11th highest in Sri Lanka. This is situated in the Pussellawa area. It takes about 1 hour to reach this from Nuwara Eliya and it is a trip of nearly 25 kilometers. The watercourse is Poona Oya, a tributary of Kotmale Oya and Ramboda Falls is a tiered type waterfall with two drops. This is a huge tourist attraction in Sri Lanka because of the natural pool at the bottom of the waterfall. Visiting this in dry months would be better, otherwise, trekking can be a bit challenging since the rocks get slippery. February is considered to be quite good for visiting Ramboda Falls. This place is an enchanting paradise for bird enthusiasts who are looking forward to capturing the natural beauty of feathered wonders.