Ramboda Falls
Last Updated On December 30, 2021
Ramboda Falls is situated in the Pussellawa area in the Nuwara Eliya district on the A5 highway at Ramboda Pass. Ramboda Falls is 109 m (358 ft) high. It is the 11th highest waterfall in Sri Lanka and 729th highest waterfall in the world. This is also known as "Puna Ella". It is formed by a tributary on the Kothmale River, namely Panna Oya. Though it is not a well-known fact, Ramboda falls consists of 3 parts called Ihala Ramboda Oya Ella (Upper Ramboda Oya Fall), Ramboda Oya Meda Ella (Middle Fall), and Pahala Ramboda Oya Ella ( Lower Ramboda Oya Falls)
Ramboda Oya, which flows majestically through Ramboda valley creates this beautiful trilogy of waterfalls within the perimeter of a few kilometers, closer to Colombo – Kandy – Nuwara Eliya main road. The first and the most famous one, the Upper Ramboda Oya Fall is situated about 1.5kms away from the main road and if you stop at Tea Bush Hotel in Ramboda (where you can also get a good view of Puna Oya Ella Falls), you can get a glimpse of the upper part of this fall. To reach this waterfall, you need to take the footpath starting near the Middle fall, which is just next to the main road. The uphill climb to see this 12m tall beauty is an enjoyable hike and steps are in place in the path until you reach there.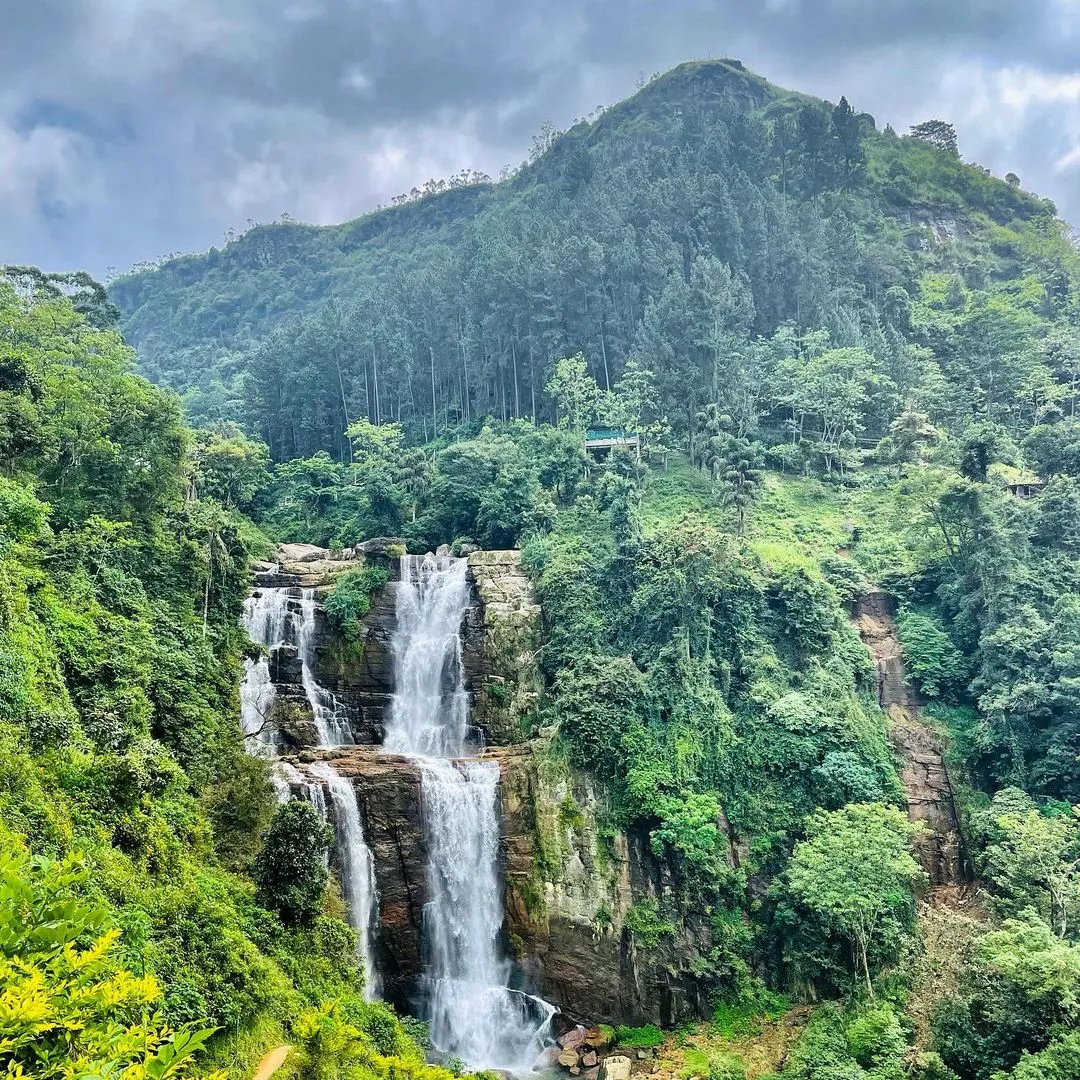 The second part, the Middle fall is situated right after the Ramboda tunnel and is 6m in height. This is a popular bathing spot for travelers. You can see the topmost part of the upper fall from the bridge if you look well.
The last one, Lower Ramboda Oya Falls is situated around 500m below the middle fall and is not visible to the main road. The water body crosses the main road and goes further downhill to create this 15m beautiful waterfall. The best place to observe this beauty is from Ramboda Falls Hotel. The restaurant of the hotel offers the best view and you can zip a hot cup of tea watching this magnificent site. There is also a footpath to reach the base of the fall from the hotel. Ramboda is a beautiful destination with many waterfalls and a beautiful view extending towards Kotmale valley, having Kotmale Reservoir and Mahaweli Maha Seya in the backdrop. On your next travel, make a stop at Ramboda, and don't forget to visit all three of these waterfalls, adding them to your checklist.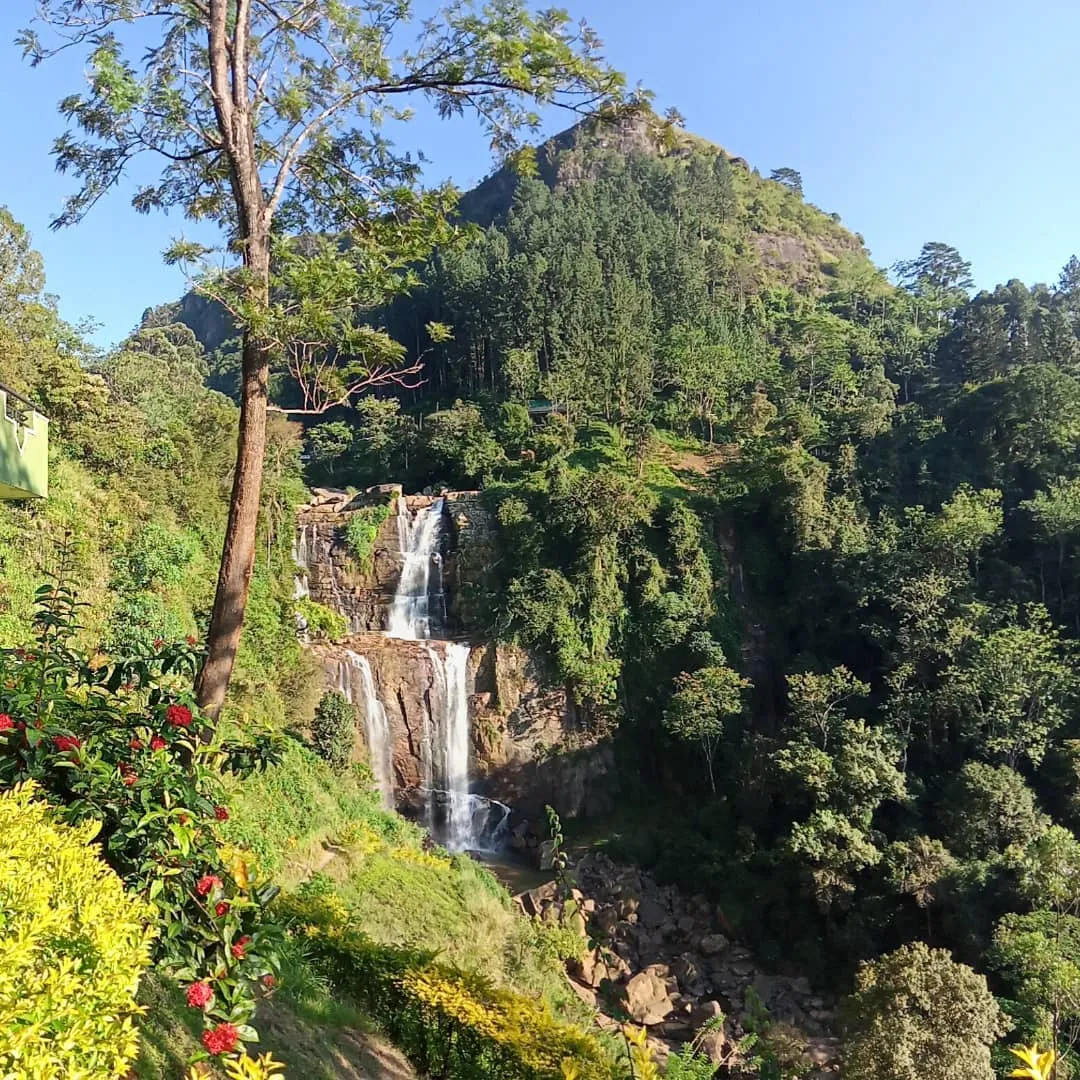 How to get to Ramboda Falls
From Colombo
Take Colombo – Kandy – Nuwara Eliya (A5) highway and reach Ramboda. Pass the Ramboda tunnel and reach your destination.
From Kandy
Take Kandy road (A1) and turn left to Colombo – Kandy – Nuwara Eliya (A5) highway after crossing Peradeniya bridge.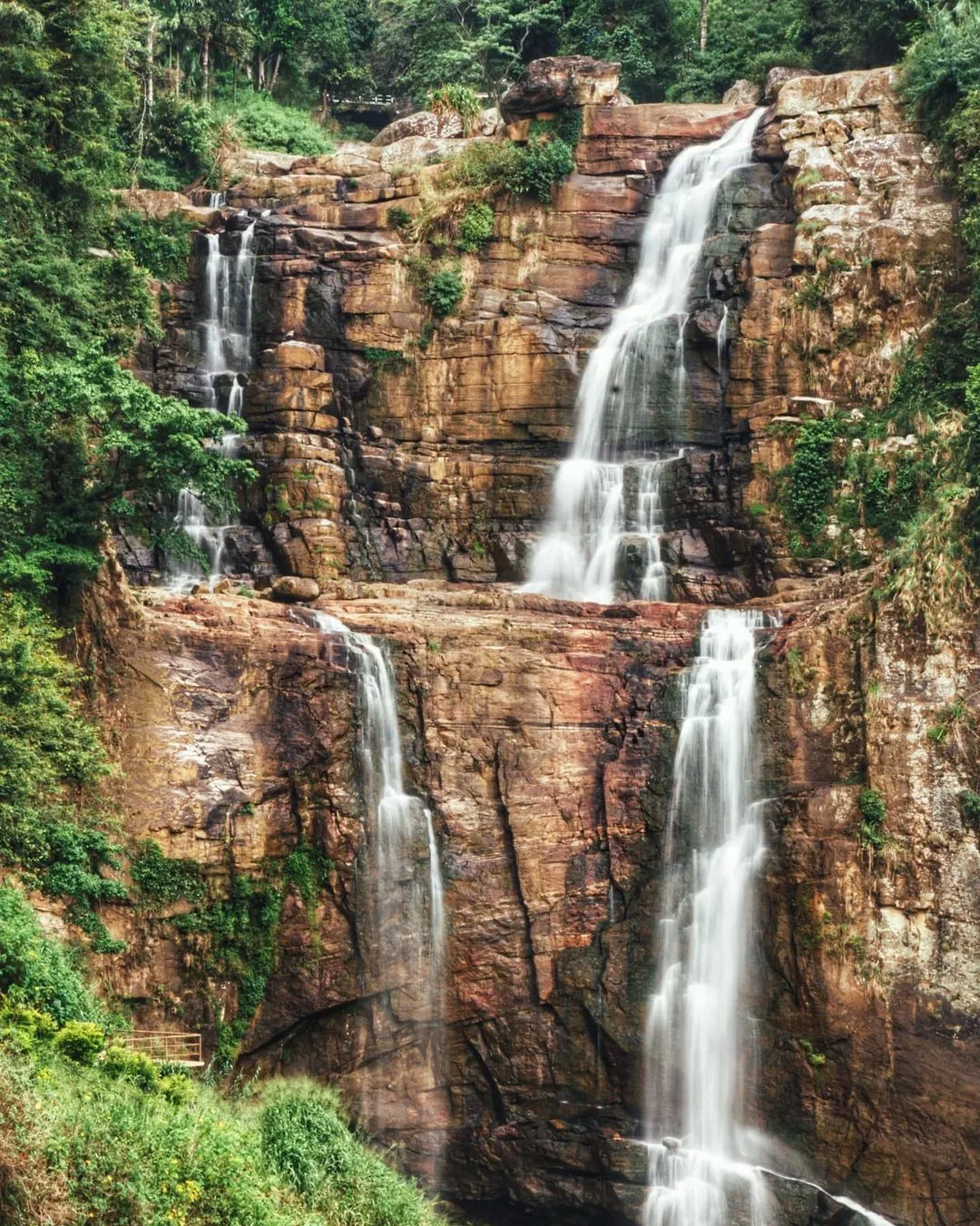 Best time to visit Ramboda Falls
The Ramboda Falls is at its most spectacular during the rainy season, when rainwater swells the cascade. The falls are accessible in daylight, but for the best photos, visit the base early-ish in the morning before the sun appears over the top and spoils any pictures.