20 Awesome Things to Do in Bali 2022
Last Updated On February 14, 2022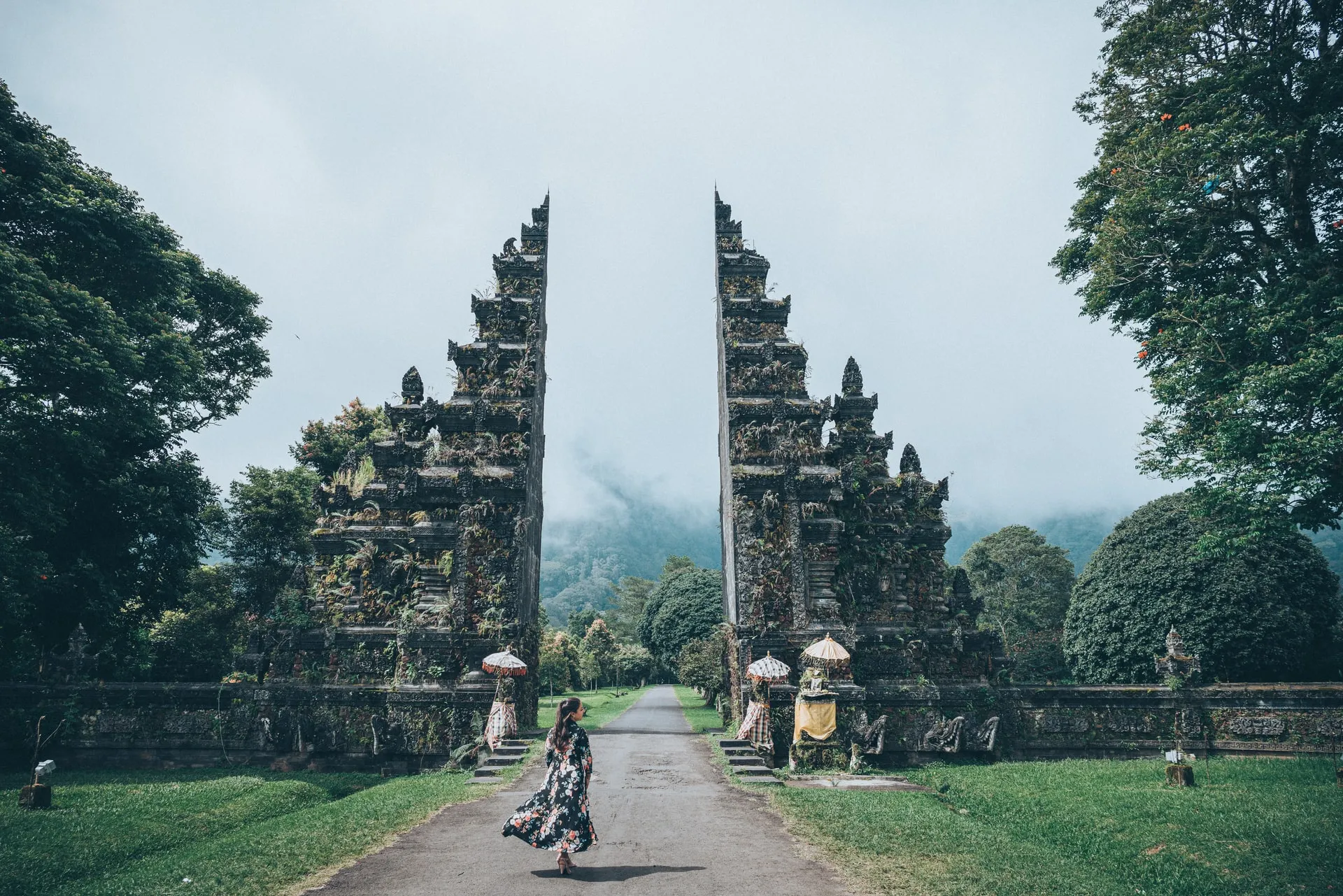 Bali is one of the world's most popular travel destinations, and for a good reason: this island, also known as the "Island of the Gods," is one of the most beautiful places on the planet. Bali is a surfer's paradise, surrounded by greenish-blue waters and fringed by golden beaches. If you're searching for a beach holiday, there's no better place to go than this stunning island in the middle of Indonesia.
Apart from the sea and beach, Bali has plenty of other attractions to visit, including temples, caves, waterfalls, museums, and marketplaces. One of them is Ubud, where a great place to learn about local tales and Balinese traditions if you appreciate history and culture.
If you enjoy adventure activities, a trip here will not disappoint you, where you can expect a wide range of water sports, muck and wreck diving, and the opportunity to fly through the jungle canopy like Tarzan.
Whatever you choose to do in Bali, you'll undoubtedly find it, and you could easily spend a month here and only visit a fraction of the sights. The most challenging part of a vacation here is deciding where to go first and what to see.
#1. Explore the paddy fields of Tabanan
The emerald-green rice terraces in the river gorge north of Tegallalang village (sometimes also spelled as Tegalalang), around 9 kilometers from Ubud center, are photography-wise probably the most famous rice fields in Bali. The cool and breezy area has a vista that spreads out in front of you in the form of rice terraces all over the slopes across the timeless valley. From Kuta, it is just a 1,5-hour drive away and the location is easy to find.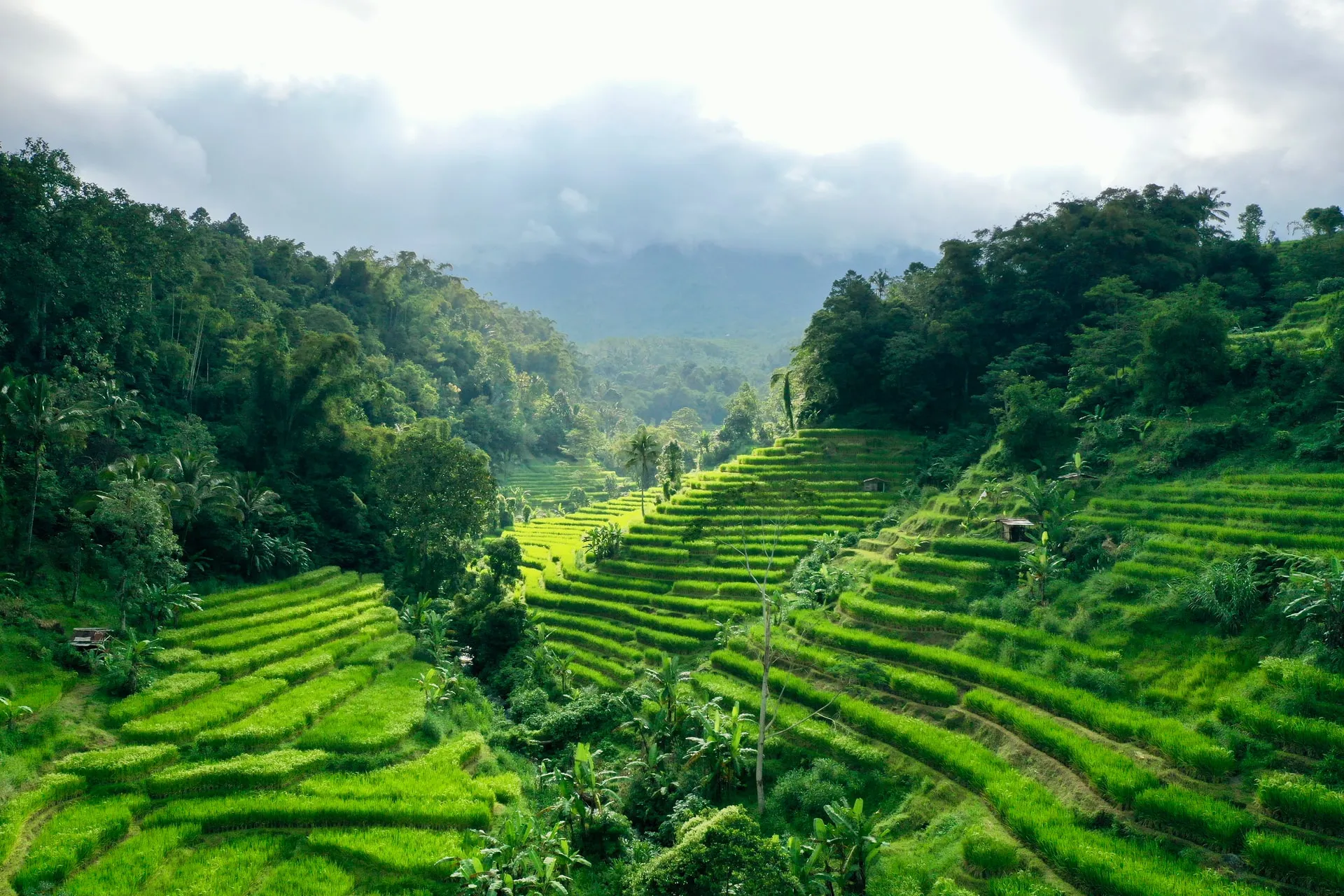 Photo by Andreas Felske on Unsplash
#2. Visit the hidden Tegenungan waterfall
Need a break from the hustle and bustle (and heat) while in Bali, particularly the capital of Denpasar? Look no further than the conveniently located Tegenungan Waterfall.
Located approximately 30 minutes from Denpasar City, the Tegenungan Waterfall gives visitors a breath of fresh air — and water — while surrounded by luscious and rich green foliage. Tegenungan Waterfall is one of the island's few waterfalls not located in the highlands or mountains.
Upon reaching Tegenungan Waterfall, visitors must pay 10,000 IDR (~$1) to enter. The short walk to the water is flanked by tiny shops, restaurants, and warungs on each side of the street. After reaching the end of the road, locals and tourists alike begin their descent down a litany of stairs, culminating at the bottom of the falls.
Visitors can pose for photos or even take a dip in the clean, freshwater pool constantly supplied by the gushing fall. There is a small wooden bridge across the stream that gives visitors access to more stairs if they desire to climb up to the top of the falls and peek over the edge. More nominal fees are required the higher you climb, but the views at the top are worth every penny.
Read More: Ultimate Guide to the Tegenungan Waterfall in Bali
#3. Sunrise in Munduk
Munduk is higher up north in Bali and the climate is more foggy and rainy, which makes it greener than near the coast. The pool photo below is at Munduk Moding Plantation.
#4. Kelingking Nusa Penida
Nusa Penida owns some mind-blowing views and natural beauties. Visiting Kelingking on a Nusa Penida Trip is a must-do on your Bali Route. A 40-minute boat ride from the Sanur harbor will take you to the most impressive views you will have around Bali.
#5. Surfing in Bali
Bali is surfing. Kuta for beginners and loads of other spots like Uluwatu or Canggu for the more experienced surfers. To the beginners out there: Grab a surfing board, find an instructor on the beach and you are ready to go!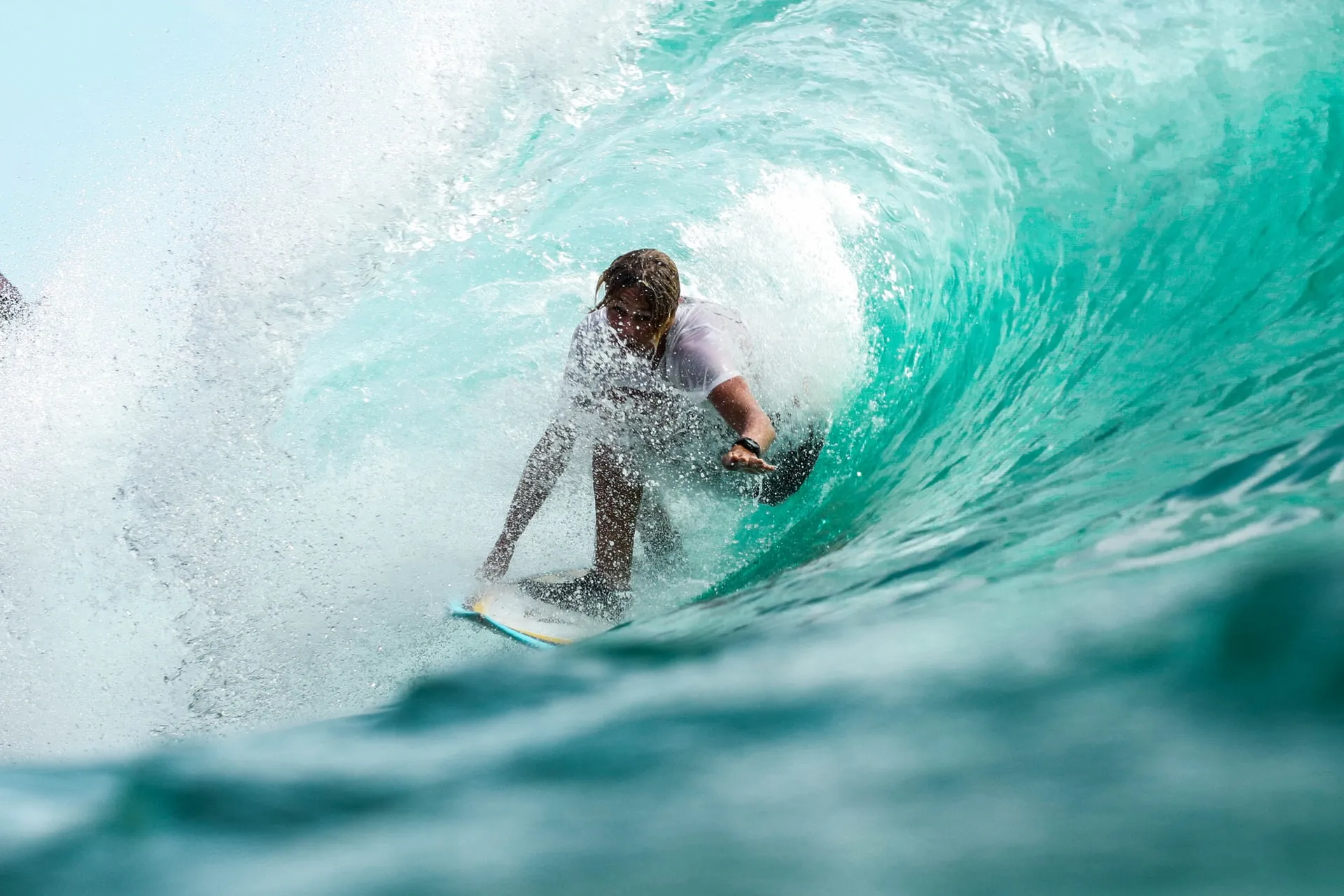 Photo by Jeremy Bishop on Unsplash
#6. Monkey Forest in Ubud
This place is a temple, a lush forest, and the natural habitat of hundreds of monkeys. Tourists are drawn to this spot for the charm, fresh, cool air, and the company of playful monkeys throughout the visit.
Photo by Marcus Woodbridge on Unsplash
#7. Sunbathe on Balangan Beach
Balangan beach is located on the southern of Bali island. This beach is just 25 minutes from Denpasar Airport or 5 minutes to GWK (Garuda Wisnu Kencana) and 20 minutes to Uluwatu Temple.
Balangan Beach is a white sandy beach stretch 200 meters with a panoramic view of the Indian Ocean and blessed by the spectacular sunset that creates a romantic nuance for every visitor who visits this beach. This beach is also endowed with an enormous wave that is demanded by all surfers in particular for experience up to professional surfers. The beach is located in the white stone hill area of Pecatu, south part of Bali Island right in Uluwatu peninsula, become the famous place, and selected as one of the best surfing points in the island of god. This beach is very popular among surfers ranging from local and foreign surfers. Balangan Beach is a very beautiful beach and perfect for relaxation on the white sand while enjoying the tropical atmosphere and sea breeze.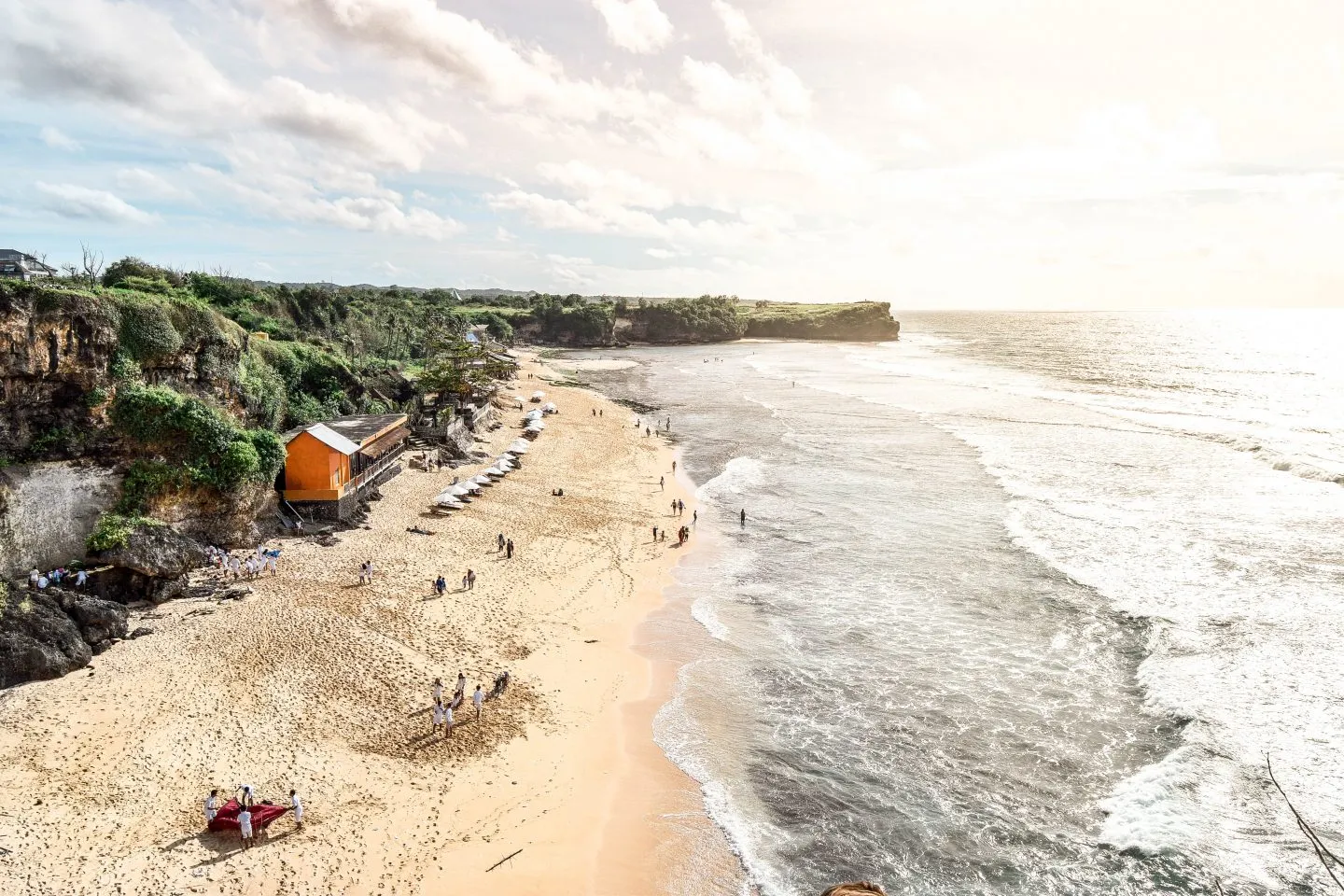 #8. Visit Diamond Beach
Diamond Beach is a stunning hidden beach located at the bottom of a sheer cliff on the eastern tip of the island of Nusa Penida. This is the next beach over from another Nusa Penida gem known as Atuh Beach.
However, the coastline of the entire island is incredible. There are so many amazing viewpoints from the top of the towering cliffs that look down to those classic blue waters Nusa Penida is famous for.
Read: Diamond Beach on Nusa Penida - Most Beautiful Beach in Bali
#9. Get off the grid at Munduk
The simple village of Munduk is one of Bali's most appealing mountain retreats. It has a cool misty ambiance set among lush hillsides covered with jungle, rice fields, fruit trees, and pretty much anything else that grows on the island. Waterfalls tumble off precipices by the dozen. There are hikes and treks galore and a number of really nice places to stay, from old Dutch colonial summer homes to retreats where you can plunge full-on into local culture. Many people come for a day and stay for a week.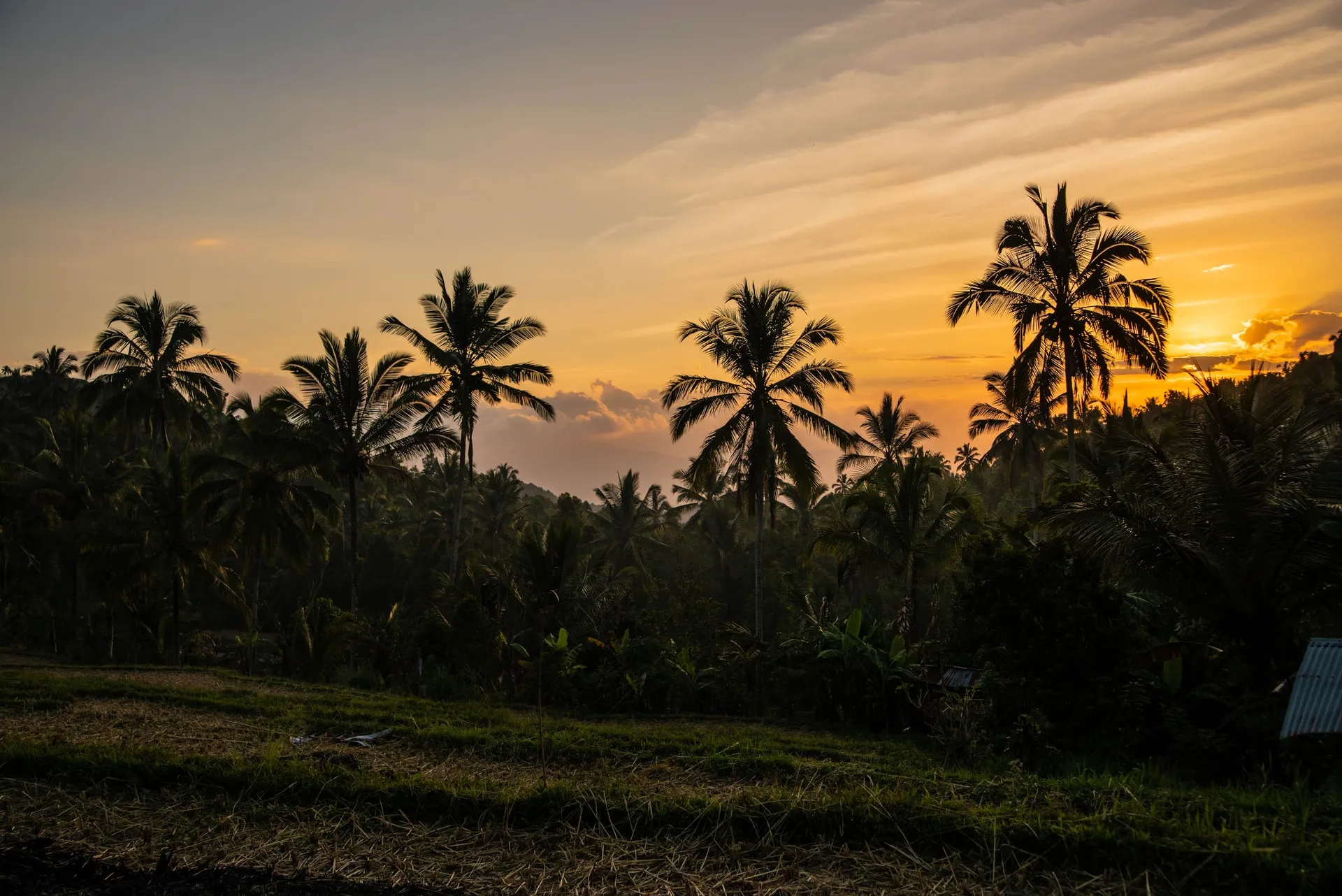 Photo by Une fille en vadrouille on Unsplash
#10. Visit Uluwatu Cliff
In the deep south tip of Bali, the limestone cliff drops go straight down into the ocean. Uluwatu Cliff, officially named Karan Boma Cliff has a height of 70 meters! The sunset from this location is one of the things you must see in Bali.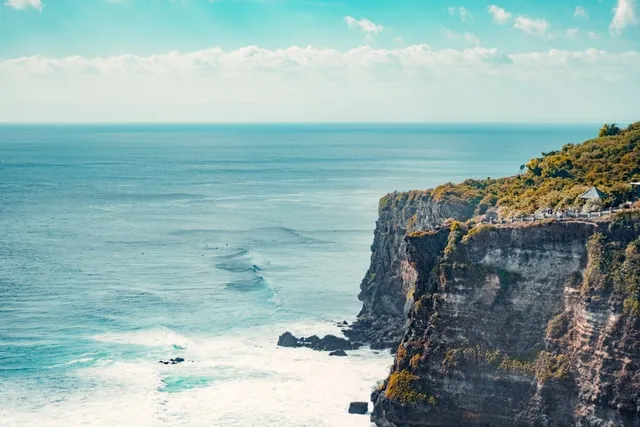 Photo by Siti Rahmanah Mat Daud on Unsplash
#11. Hike Mount Batur
A two-hour hike up the mountain will bring you to the island's best spot for basking in the sunshine's first rays. Watch the sunrise with Mount Abang and Batur Lake in the background. Highly Instagrammable.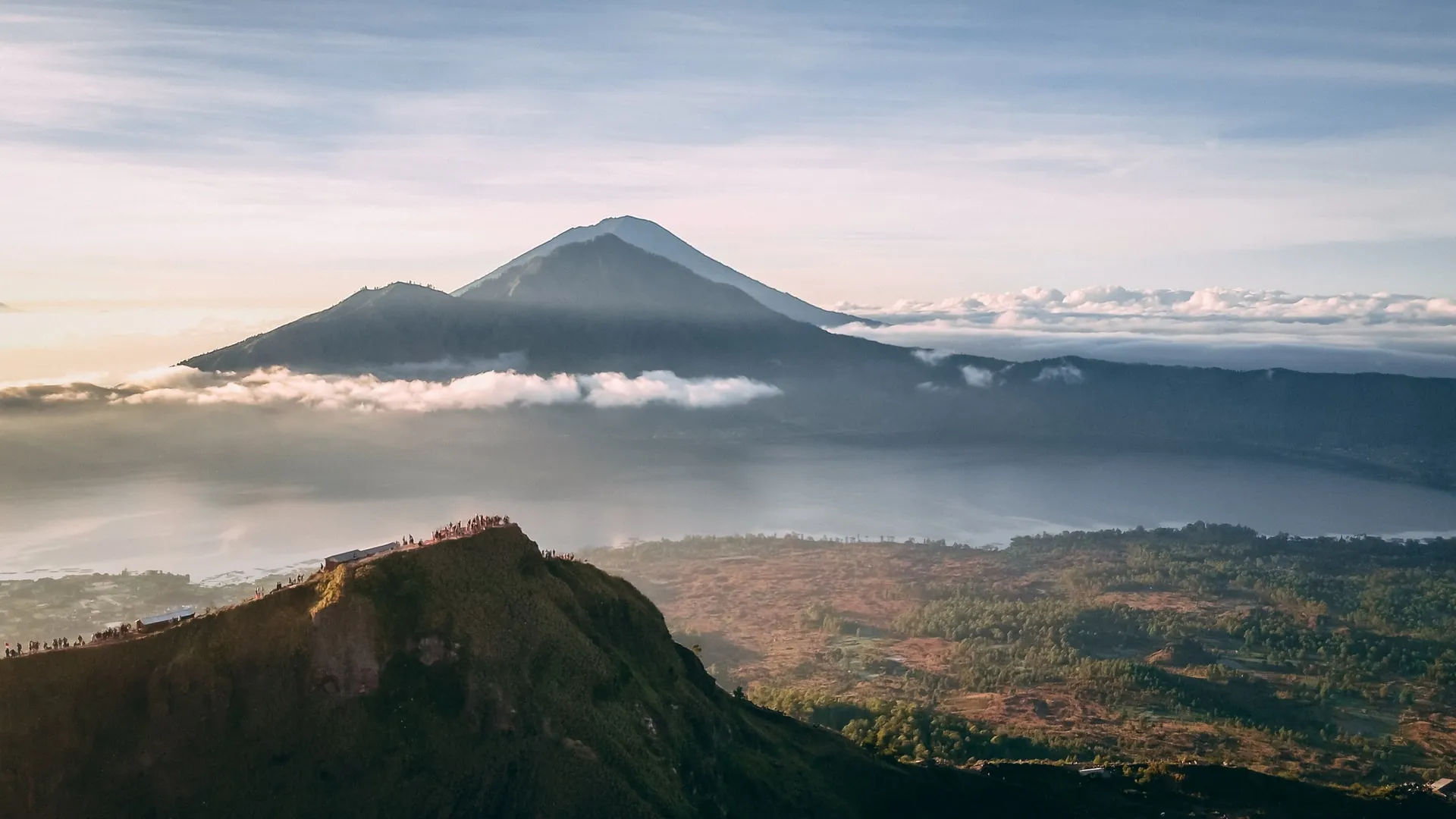 Photo by Juan Cruz Mountford on Unsplash
#12. Visit Ulun Danu Temple
Pura Ulun Danu Beratan is located on the shores of Lake Beratan in Bali, Indonesia. Believed to be built in 1663, it is a major Hindu Shivaite temple. This amazing temple is located 1200 meters above sea level. From Seminyak, Bali this temple is a drive of 2.5 hours. There is an entry fee of IDR 50,000 per person to this place. The usual opening hours are from 8 A.M to 6 P.M.
The temple grounds are spread out with lust green vegetation. There are well-laid pathways leading to the edge areas of Beratan Lake. The location is scenic and a very good photo spot in Bali.
#13. Kecak Fire Dance
The Kecak Fire Dance is a dance performance in Bali. A group of 65+ human vocals acting as instruments that strengthen a story told in the form of dance. Witness the dance at sunset on a cliff-top amphitheater at Uluwatu Temple or in the center of Ubud town.
#14. Visit Kuta Beach
This may not be the island's best in terms of natural beauty (although it's still pretty incredible), but Kuta Beach is world-famous and with good reason. Today it is one of the liveliest spots on the island, offering countless fun activities – from surfing to eating and shopping, from dawn to late at night.
Photo by Hakan Nural on Unsplash
#15. Tirta Empul Temple
Locals believe that the sacred water flowing at the Tirta Empul Temple has the power to heal and cleanse their bodies and souls. Soaking in the spring water in this serene and historic temple is an experience not to be missed.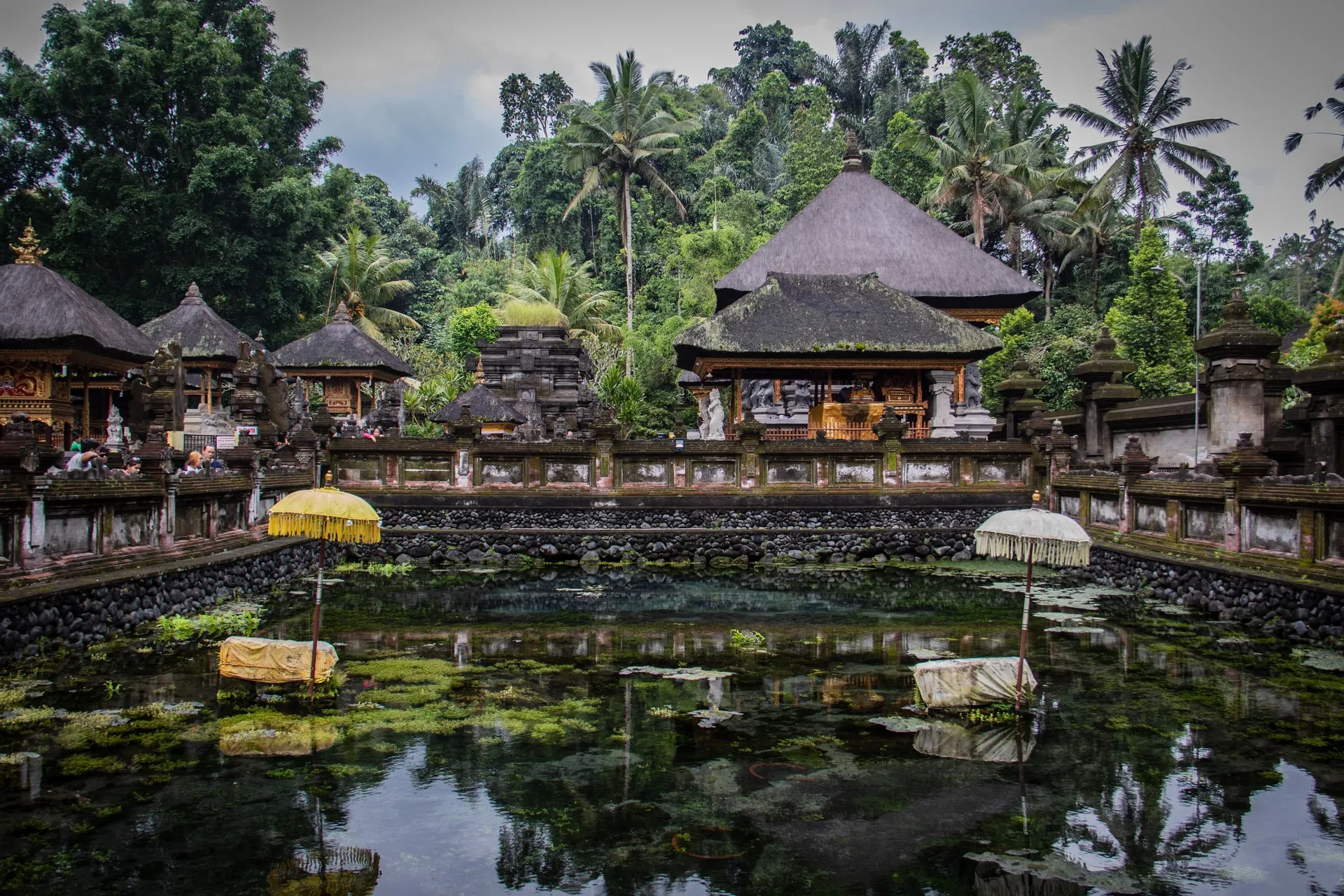 Photo by Nick Fewings on Unsplash
#16. The Sidemen Valley
Sidemen valley is located in Karangasem Regency in eastern Bali, just south of Mount Agung and about an hour east of Ubud. This place offers not only magnificent views and landscapes but also a glimpse into the traditional way of life, which is rare if you only visit the popular hot spots of Bali.
When you take a stroll around Sidemen, it's evident just how intimate the communities are, as you will see just about every local person stop and talk to one another, working together in the fields and taking coffee breaks in the shades.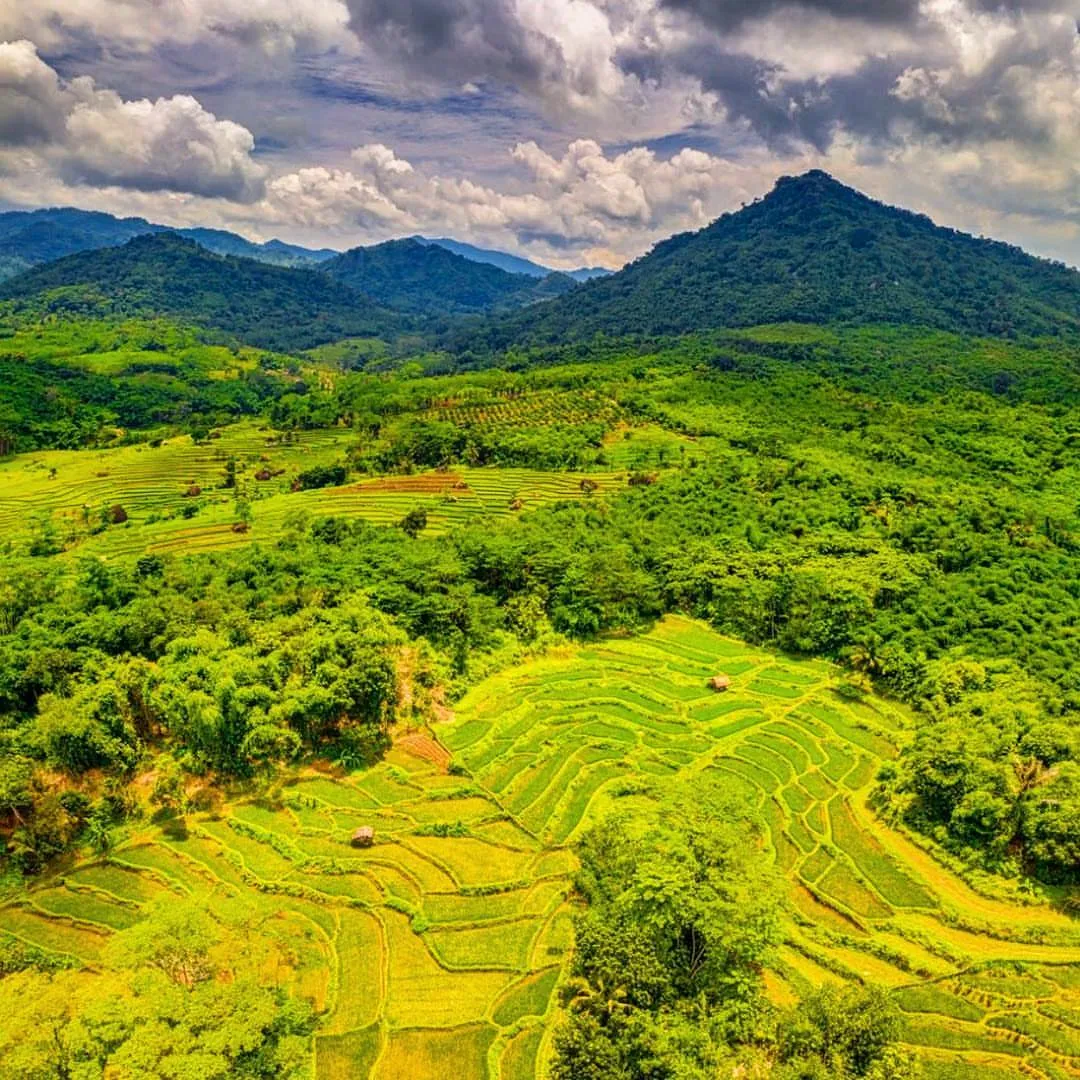 #17. Lahangan Sweet
Lahangan Sweet is one of Bali's newest travel attractions. in here you can see the towering Mount Agung to your left and a far-reaching view of the Bali coastline to your right from atop a lush green mountain range in East Bali. On a clear day, you might be able to view Mount Rinjani, which is located on the island of Lombok. Visit Mount Agung at sunrise or sunset to see the light sneak over the mountain, illuminating the rice fields, valley, and skyline brilliantly. For the finest view, climb up to the tree platform.
Read: Lahangan Sweet on Bali - Viewpoint of Mount Agung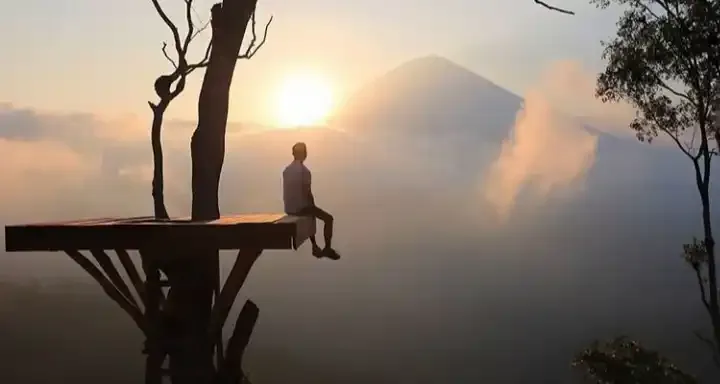 #18. Tukad Cepung Waterfall
Tukad Cepung Waterfall is one of these places that you might want to consider putting on your travel checklist.
This waterfall still remains the best virgin waterfall of Bali. The sunlight falls on the glistening waterfall creating a rainbow, which feels as though it is projected right up to you. Well hidden between rocks, Tukad Cepung Waterfall is definitely one of the most unique spots in Bali. This place is comparatively cooler and offers an immense sense of peace and tranquillity.
The waterfall can be seen between the rock formations and if you are lucky enough, the sun rays will create an amazing show just for you.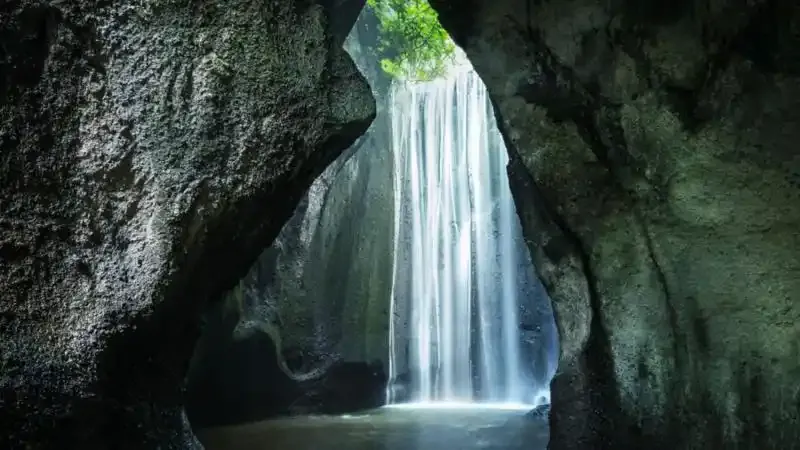 #19. Penataran Lempuyang
Penataran Lempuyang is one of the popular Gates of Heaven in eastern Bali. Take a day trip to explore the temple that has stolen the hearts of locals and tourists alike before heading to Tirta Gangga Water Garden and Ujung Water Palace to get another glimpse of Balinese culture.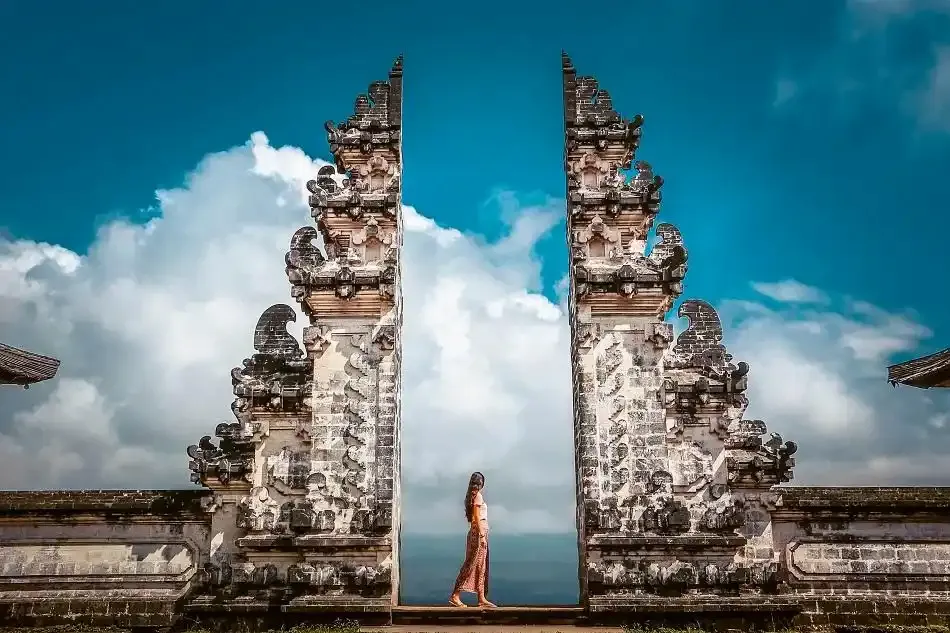 #20. Ubud Traditional Art Market
Ubud is the cultural hub of Bali and home to many traditional artists producing unique and authentic products that represent the island. Tourists can find anything here, from art pieces to humble souvenirs.